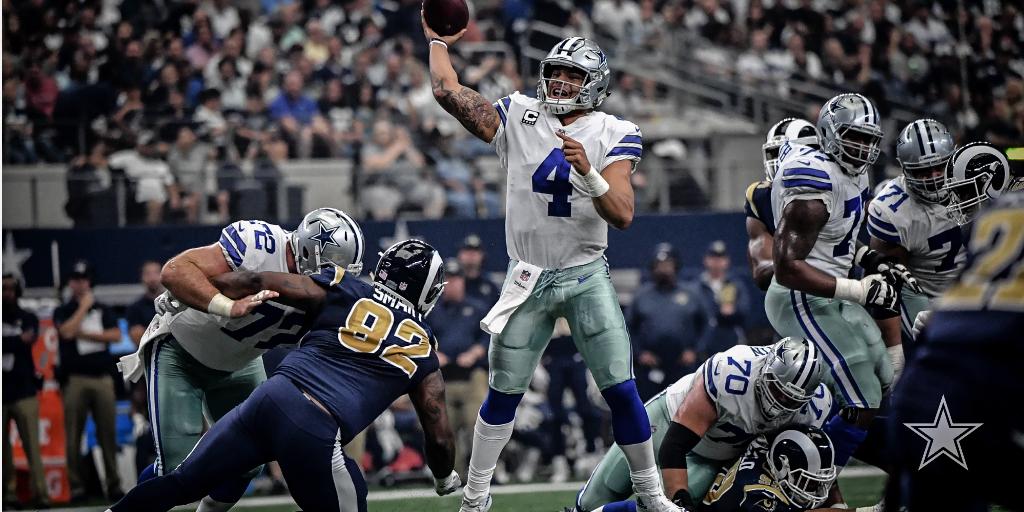 I've said it countless times and will never relent, any season rests on the shoulders of the defense. Fortunately, we've finally got one that you can lean on. Been over ten years since that was the case in Dallas. Critical to this season than in many a year due to the struggles of the offense to score touchdowns. In the final paragraph from my pregame post last week, the next to last sentence, I wrote: "Watch our D and see how they're playing and you'll know the chances to win this game!" Well, if you got to that point of my writings, you had to feel pretty darn good after the first three series by the Seahawks. Our defense, gave them nothing! Three and outs …..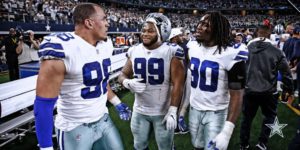 Saturday's victory should make everyone aware of the tone setting by this years defense and how they must come up big or else. In reading my own writings, its as if the coaches shared the game plan with me. But it wasn't terribly difficult to see the keys to a win and that we had the better team, starting with the eleven guys on defense. First thing I always look for is who has the better defense. Then who has the better skill players on offense, starting with the QB. From there you look to see who has the better chance of executing against the opposition's units. Its not rocket science, but its also having the ability to evaluate w/o bias. If I bring the "homer" in me then, I'm doing both of us a disservice. Its a struggle for me, when my Boys have a defense that can lock a team down. Then I feel they can win every game, with just a little offensive spark. We're not perfect out there, its not the defenses of the early 90's but its close. At some positions, we're much better, such as at the corners. The two young linebackers, with consecutive numbers (54 & 55) are simply terrific. How good will they be in another year or two? We're all loving watching them on defense, although we may only see them for a few plays every 15 minutes, but that's a good thing too.
In the Seattle game it was simple, Dallas was the better team, thus just had to play that way. Before I get into the Rams game, wanted to touch on two things that got under my skin in the Seattle game. My single biggest fear going into that game was Jason Garrett making a risky move or missing something all together. In the last few minutes of the first half he elected to go for a 58 yard FG. Brilliant if you make it, snapper head if you don't, as you set your opponent up at midfield. The score was 3-3 and ultimately his decision set them up for a short field and virtually handed them the lead, as they made their FG and we're down 6-3. Fortunately, the Dallas offense in the two minute drill, did what they couldn't do to that point and notched their first TD of the game. The second thing that chapped me was the INT that Dak threw, thanks to the pass interference by the Seahawks LB'er who blew up Noah.  The refs stuffed their hankies in their pants and didn't have the guts to wave off the INT because of interference! Had the defender been playing the ball, then fine, but he was in chase mode and trying to stop the TD. Nearly cost the Cowboys the game and little was said about it. Troy was on it at first, but when his compadre in the booth soft peddled it, Troy backed off on chastising the refs for a blatant pass interference.
Ok, on to Saturday nights game! Each round of the playoffs gets harder and harder. The teams get better. Our task is to take down the Rams. They got off to a great start this season before tapering off, ever so slightly. Their QB Jared Goff was lighting it up, week after week. However over the last month, he struggled with the simultaneous injury issues with Todd Gurley's knee. No running game, less time in the pocket. This game will not be a walk in the park. For one, it pits the ole coach, Wade Phillips, with the man who took his place. The game means a ton to Wade to beat the Cowboys after unceremoniously being ejected midseason after that 1-7 start. A wrinkle in the game might be the weather as it rained overnight in LA and is due to keep raining until early afternoon. Frankly, I was hoping it would rain during the game, to keep the casual Rams fan home or at least quiet them down. My pastor asked if I'd attend the game and frankly since leaving the press box back in the 70's I've only returned once to watch a Dallas vs Giants game in the Meadowlands. But the Lord must come first, so I'll be watching the game on tape!
That's just the behind the scenes story. But this game is about their offense against our defense, for starters. Then our offense versus their defense. Let's take a little look at them at a very high level. They have an up tempo offense, spearheaded by Todd Gurley, with WR's that are all good interchangeable parts. They've got an elite RB just like the Cowboys. Where they're better with the Gurley/Elliott duo, is they are more creative in getting Gurley into space in the passing game. The Cowboys edge with Zeke is that there defense gives up over five yards per rushing attempt. Their defensive line is led by Aaron Donald, the best D lineman in the game today. He's got every attribute you could possibly want in the defensive lineman. Speed, quickness & power are all there and will be a handful for the Cowboys line. Zack Martin, our best interior lineman, perennial All Pro had a few tough snaps with Donald last year and that was when his knee was strong enough to make it a fair battle. Now, that knee is problematic and challenging for him to anchor down, let alone get off the ball with it. Donald will certainly line up over the rookie, Connor Williams. To have any offensive success the Cowboys can't allow Donald to be a play maker on Saturday night.
The Cowboy defense must bring pressure on Jared Goff, enough to get him out of rhythm at the very least. What I like is that the Twin Towers of Lawrence & Gregory, bring serious speed off the edge. The front seven must keep the pressure on Goff and get him to let go before he really wants to. After that its about controlling Gurley, if not making him a non factor, a tall order. But those two linebackers, yeah, LVE & Smith, can do that. They have enough speed to get after him before he gets north south. That will be critical. The secondary, needs to play really well, no one out of position and everyone tight in their coverage. Offensively, the Cowboys need a quick start. My feeling is that the Cowboys need to get out of the gate quickly. FG's will drive me crazy, as that can get them behind quickly. The Boys need to slow them down and getting a quick lead will be needed to keep them in the chase position. Need more than Amari out there getting receptions! Would love to see the Cowboys defense force them to be limited to FG's. If the Cowboys are to win this one, it will be a close game. Having 10 of 11 wins by eight points or less this season, speaks volumes to how things work for this years Cowboys team. Need to keep the scoring down and that's what this defense has done since mid season.
Each team will have similar defensive goals to shut down the others running game. Team that is most successful is likely to win this game. Given that Dallas had the better run defense thru the year, I like Dallas in this all important playoff game. Key note, is that Dallas will need at least three touchdowns to get this victory!
Here's a little something from last weeks game that you might enjoy!
On to the next one! #FinishThisFight pic.twitter.com/UDpbDasgMO

— Dallas Cowboys (@dallascowboys) January 6, 2019