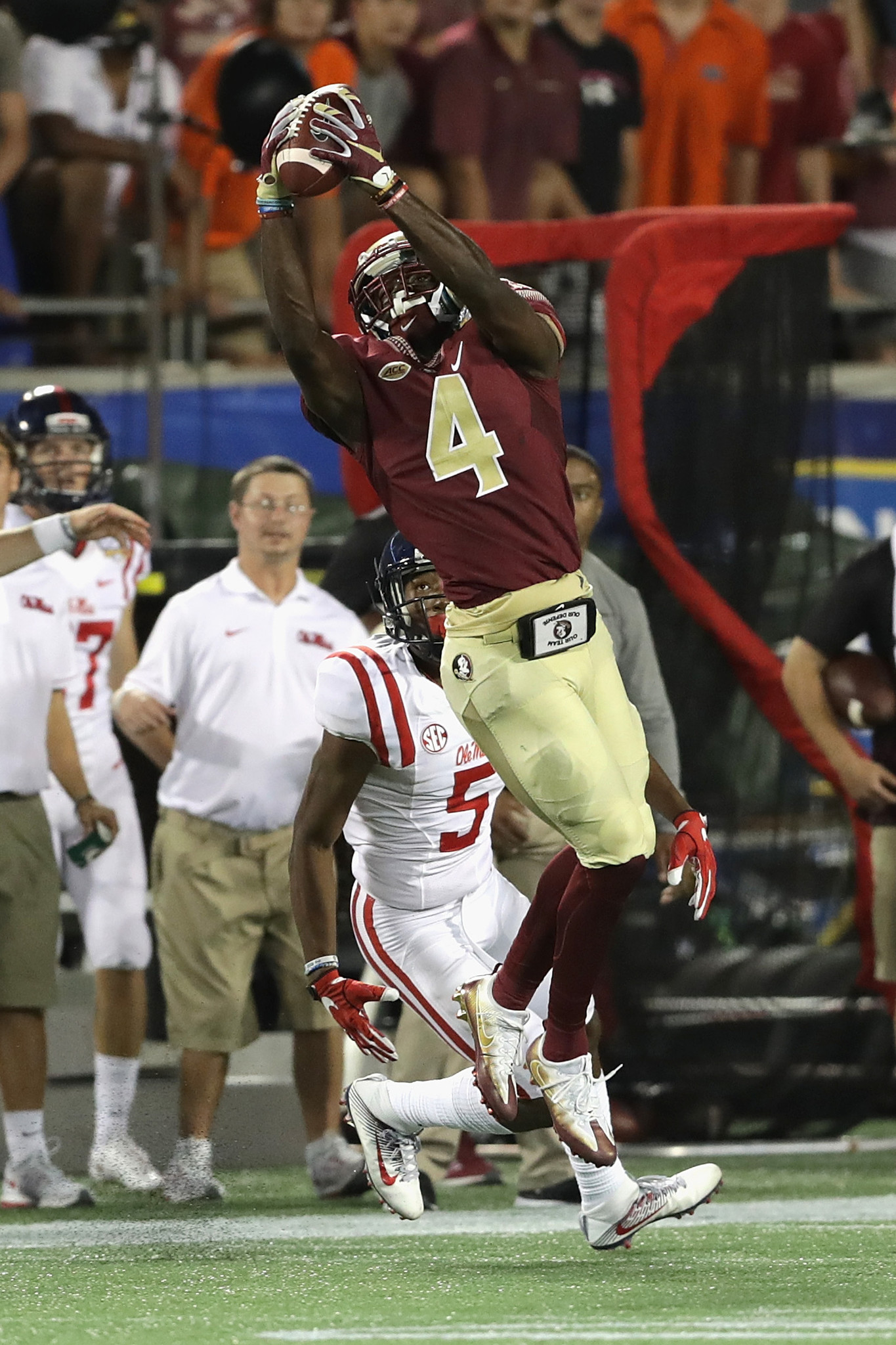 Cornerback
Florida State University
Listed Height – 6'1"
Listed Weight – 198 pounds
Overview
Tavarus will be a junior this year at Florida State University. He didn't see much of the field as a freshmen after being a very highly touted recruit out of high school. As a sophomore this previous season he absolutely flourished though, being a Bronko Nagurski award Finalist (given to top defensive player) & winning the Jack Tatum trophy (given to the top defensive back). McFadden tied for the season high in interceptions at 8 and added 6 pass breakups. Also finished with 19 total tackles (3 TFL). He looks to play a pivotal role in one of the most talented defenses in college football next year.
Strengths
McFadden stands at a listed 6'1″ 198 pounds with some nice long arms. He shows excellent foot quickness and balance. Turns and loosens his hips very smooth. Usually you see a guy his height be stiff and leggy, falling off balance in their transitions. You don't see this at all with McFadden. Does a nice job of staying low in his backpedal, giving himself a better opportunity to redirect and mirror WRs routes. Most of the time he's playing man coverage up at the line of scrimmage, sometimes pressing. Does a nice job of using his long arms to jab WRs at the line and redirect their routes, without drawing flags. I don't have the stats on his penalties but I only saw one against North Carolina when I was watching him and I didn't even agree with that call, felt feet just got tangled up. Uses the sidelines well, using his positioning to suffocate WRs into the boundaries. I believe 7 of his 8 interceptions came off of that situation. All near the sidelines, mostly on under-thrown balls. He turns extremely well down the field, watching the WRs eyes to determine when to turn. Does an excellent job of tracking the ball down the field and snatching it away from his body at it's highest point (or lowest point with his Int against Syracuse). He's very controlled in his movements, you don't see him take himself out of a route with false steps. Not grabby at all in his tight coverage, the refs certainly don't know his name.
Weaknesses/Concerns/Room for Improvement
As good as Tarvarus was last year, he hasn't even tapped into his full potential. He was really just covering with pure ability out there last season. It wasn't very often he anticipated a throw and jumped a route. I want to see him locate and drive on the ball better underneath, get some more pass breakups or even interceptions. You saw flashes of him getting great jumps on the ball underneath, he needs to finish the play and catch the ball or knock it down. He isn't a physical force driving underneath so he needs to do better at using his length to get his hands on the ball. He needs to get his hands on guys more at the line. Leaving guys with free releases left him exposed against explosive athletes on routes inside. For how good his interception numbers were, I feel they were a little misleading, he missed some opportunities underneath for some ints and could've had more down the field. He had a funny miss PBU or int against Louisville where the ball bounced all around and ended up in the WRs hands, where the WR nearly scored a long TD from it. If he starts making plays on even more balls, teams may not even bother throwing his way. I would also like him to be more of a playmaker after his ints this season, he has shown some good agility so let's see some better returns. In "off coverage", I see some good potential there, doesn't look completely lost like a lot of man corners do, if he develops awareness there he could become more of a complete cover corner. Had a nice int against Deshaun Watson of Clemson from a underneath zone look. I question his long speed and make-up speed. Not to say I believe he's slow (I didn't see him get beat deep or anything), I just haven't seen him get tested deep by elite speed and haven't seen him have to make up speed deep. I believe he has good speed not great speed. I have seen him allow separation across the length of the field over the middle but I think if he was more physical at the line it wouldn't have been much of an issue. My main concern with him is his physicality, an issue that I'm not sure will be resolved this year, if ever. As a tackler, he seemed pretty uninterested and terrible at it. Doesn't come with nearly enough force, often attempts tackles off balance and whiffs. Doesn't show much of any technique wrapping up. He's listed at 198 pounds but he seems like he plays lighter, has a slim frame with lanky skinny arms. I said earlier that he does well pressing guys at the line, well he struggles doing this against physical WRs though. Mike Williams of Clemson now a top ten pick of the Chargers and Antonio Callaway of Florida come to mind as people who really abused him physically. Williams completely ran right through his attempts to press him and beat him for a 15-ish yard gain in their game. Callaway on a screen tossed McFadden off of him as he was attempting to press him, caught the screen then threw McFadden aside again with a stiff arm to gain extra yards after the catch. So I could really see him struggling against physical WRs in the NFL as well.
The Rundown
Overall, I really like McFadden's ability and untapped potential to be a complete cover corner. He has very nice height and length for the position, that will make him a very intriguing player for many teams around the league. Has the ability to be a big play maker with his ball skills and I believe he can be even better in that area than he was last year. Concerns about his frame & physicality are much bigger questions than anything you see with him covering guys. I would love to see him get tested with elite speed just so I can see how he responds. Needs to get better as a tackler. Going to be hard for him to fall out of the first round in my opinion. Could easily become a top 15-20 pick.
Scheme Fit?
As are a vast majority of Florida State's corners, McFadden is more of a man corner with consistently good flashes of being a top notch press man corner. With him having some experience in playing off coverage, I'd say he has potential to be a complete corner who could play in most schemes. However, to be a fit in a underneath zone coverage scheme he would need drastic improvement as a tackler. That being said, he should be a man/press man corner. I could easily see a cover 3 based team falling in love with him when they watch the way he corners WRs against the sidelines and goes up and makes plays on the ball away from his body. That is what we saw the cowboys play a lot of in 2017 and appears to be their scheme for the foreseeable future.
Draft Position?
Potential Top 15 Pick
1st Round Lock ?
Highlights/Game against Clemson's Mike Williams
Other Comments
If there's someone else you want me to do a report on, let me know and I'll definitely check him out. You can either leave a comment on this report or you can tweet me @dexterharris28 on twitter.