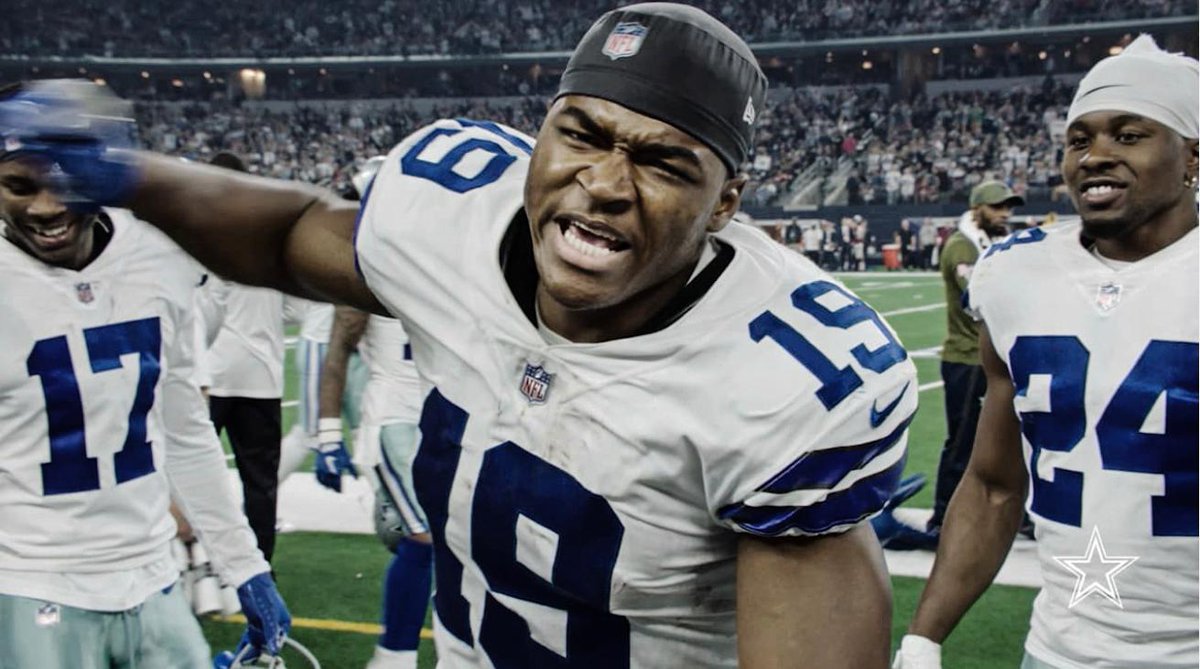 If things pan out over the remaining five games, this will have been the pivotal game that we can look back on. Just a shade over a month ago, as the Cowboys hit their bye week, they were down two games to these same Redskins. At least for the time being they're sitting in a good seat tied with the Redskins heading into the game versus Drew Brees & Co. Let's look at this game and how things came together.
Dallas got things rolling on their first possession as Zeke knocked it in from 16 yards out off left tackle. Let's stop there for a moment and remind ourselves of who that was out at tackle. Cameron Fleming got the late word that he'd be starting when the stinger in Tyrun's neck was bad enough to take him out of this contest. That meant that there were now three changes on the Dallas offensive line since the start of the season. A year ago, this team struggled mightily when the blind side wasn't protected during Smith's absences. Realize in this game that these key players & starters were out: Sean Lee, Tyrun Smith, Travis Frederick, Connor Williams, Taco & David Irving. In the past, that would have been a recipe for grave concern and generally losses. Now, the team is building with quality depth to get thru those injuries. This team couldn't win in the past without Lee or Tyrun, let alone both. Major tip of the cap to the players that have stepped in for each of these injured players and to Will McClay and his staff for finding the badly needed depth for this roster. Here's Zeke's dash to the end zone. This should be a major takeaway from this game.
Zeke to the ?
& tops it off with a donation right into the @SalvationArmyUS red kettle?

You can donate now by texting "kettles" to 91999 pic.twitter.com/TO8iAATfcX

— Dallas Cowboys (@dallascowboys) November 22, 2018
While Zeke carries the rock, its these guys up front that are doing the heavy lifting for him. Take two  minutes to watch and listen to former Cowboy, Brian Baldinger break down a few plays. Since the offensive line coaching change three games ago, to Marc Columbo, these guys are doing great work in front of Zeke, who's gone for 394 yards & three rushing TD's, on just 68 carries, a 5.79 YPC clip. Add in his 18 receptions in these three games for 137 yards and one TD. Extremely productive. We can talk about all the playmakers whose star shined bright in this game but there were two names, we really didn't hear a blessed thing about them. Did you hear the name Ryan Kerrigan, a true Dallas nemesis? We were spared hearing his name and his muscle flex pose after his sacks because of the really solid game by La'ell Collins. The man didn't gain a yard, didn't catch a pass, no highlight plays, but big time kudos for the work he did to control their perpetual motion DE. Great job by #71 …..
.@dallascowboys here they come, love em or hate em the #Cowboys are playing great complimentary football and @EzekielElliott is the engine that drives this team. Excellent work from #Flemming and #Sua'Filo. #BaldysBreakdowns pic.twitter.com/2kLGEYVgBy

— Brian Baldinger (@BaldyNFL) November 23, 2018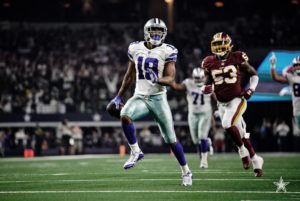 If the title lists Amari Cooper, perhaps we should get to him. Clearly, this was his break out performance in Dallas, in his 4th game with his new team.  He hauled in eight passes on the night for 180 yards and two touchdowns. True it was great to watch him rip off these two touchdowns, one of forty and the second of 90 yards. What was great about those two receptions is how he took off and hit his stride and drew away till he hit pay dirt. However, it was most of his other receptions on the night that were very impressive to this observer. His receptions provided five first downs and three of them came on third down. That makes a ton of difference in a game and something sorely missing this year, until "the trade". Zeke doesn't break 100 yards if not for pass plays that extend drives and increase his touches. While I readily admitted my feeling about losing a first round pick to go after a QB, I was on board with the trade to get a top receiving talent in Amari. How can you not love his route running and his ability to get separation with his moves. Throw in the speed aspect and he's the total package on the outside. The next two clips, below, are those two touchdowns that put the Cowboys in control of this game. Until the first TD, the team was struggling offensively in producing drives and points as Washington had just gotten the lead 13-10 early in the 2nd half. Bam, back in front 17-13 a little over two minutes later. Great answer! Stay tuned as the defense stopped Washington forcing them to punt and bam, bam, Cooper hits them for the 90 yarder to move the advantage to 24-13. Those two plays, for a moment reminded me of one of the greats, who made me a die hard, life long, Cowboy fan, Mr. Bob Hayes. Stepped on the gas and it was over! Thanks Coop ……
#CowboysNation Feast your eyes on this @AmariCooper9 TD! #WASvsDAL pic.twitter.com/z1oRqpr4Hc

— Dallas Cowboys (@dallascowboys) November 22, 2018
.@AmariCooper9 going back for seconds ? #WASvsDAL pic.twitter.com/yGW47EaeA7

— Dallas Cowboys (@dallascowboys) November 22, 2018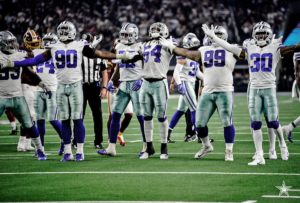 After that 2nd Cooper TD, the game was playing into the hands of the Cowboys. Coming into this game I was banging the table for this defense and the backers (LVE & Jaylon) focused to shut down Adrian Peterson, forcing McCoy to win the game basically by himself. Frankly, everyone was flying to the ball, great work by the corners in particular to bottle up the outside run attempts. While McCoy threw for 268 yards and 2 TD's, he also had three completions to the Boys in white & blue jerseys. I've included clips for all three interceptions, which I had to do because the first two were by my Pet Cat's from the last two years, Anthony Brown in 2016 and Xavier Woods in 2017. The third was an incredible play by a very gifted athlete. Only his athleticism and superior balance enabled Tank Lawrence to make the pick as his man was intent on going low and hitting him with a cut block. Demarcus fought that off and made a case for playing CB at some future time with those hands hauling the pass in. LOL! Entering this game Dallas only had 4 INT's (two by LVE) so getting three was outstanding and worth bringing them to you.
.@nino9brown early feasting with this interception. #WASvsDAL pic.twitter.com/lEY027GAEI

— Dallas Cowboys (@dallascowboys) November 22, 2018
.@ChidobeAwuzie tips… @Its_hollyWOODS PICKS.

The @DallasCowboys' third interception of the game! #DallasCowboys

?: #WASvsDAL on FOX pic.twitter.com/V9PfgUQNTA

— NFL (@NFL) November 23, 2018
Give Tanks! @TankLawrence with the INT #HotBoyz #WASvsDAL pic.twitter.com/3XJqg53B29

— Dallas Cowboys (@dallascowboys) November 23, 2018
Fortunate to find this clip by Brian again, that shows the line play focusing on Lawrence. Excellent work by Tank and nicely analyzed for us.
.@dallascowboys @TankLawrence keeps showing up every game every play and changing the game. Drawing max attention and defeating it. I ❤️ watching DALLAS D and the effort they play with. It's a good resume'. #BaldysBreakdowns pic.twitter.com/q236Zw6Tsf

— Brian Baldinger (@BaldyNFL) November 23, 2018
The final scoring play by Dallas was one we've grown accustomed to seeing our QB's twist and spin to extend plays and coming up with sensational results. Here Dak, seemed like a deer in the headlights but escaped out the back door, did some razzle dazzle and essentially put Washington out of its misery.
Giving @Dak!

Runs it in for the TD & jumps in the @SalvationArmyUS red kettle. #FightForGood

Donate now by texting "kettles" to 91999 pic.twitter.com/LFl7JWsUdp

— Dallas Cowboys (@dallascowboys) November 23, 2018
At times throughout this game I was a bit chapped that our defense was yielding yardage to McCoy, granted they were passing on most downs. But it disturbed me for a time, until I realized that while the game was still undecided that the defense did what I'd hoped and kept them to only 13 points midway thru the third quarter. Once Dallas took the lead 31-13, it was all about playing "tick tock" and running out the time remaining. It softened my angst with McCoy being as productive as he seemed to be. Getting three holiday gifts from him, is really what you want and the Lawrence INT set Dallas up at the Redskin 17, leading to that Dak TD.  Rare to get a turnover, let alone one that lands the Cowboys in the "red zone"!
Well, I've given some light on the offensive lines performance, the work of the latest rendition of the Triplets and sprinkled in some defensive standout performances. These were many of the positives to take from this game. I'll rewatch the tape and get back to you with the things that concern me. We now move on to facing the hottest team in the league in the New Orlean Saints. This game should serve to show how far they've truly come or how far they need to go. Gives us something to ponder entering this upcoming battle next Thursday evening.