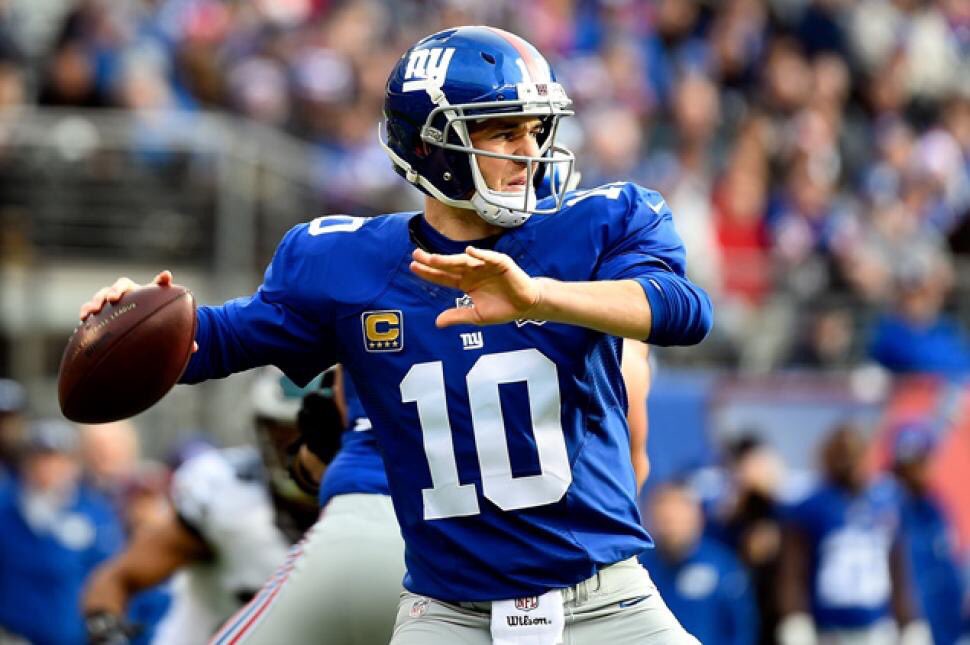 Having grown up in NY and having worked at the old Yankee Stadium for both the Yankees & Giants, I have a fairly good perspective of the sporting landscape. As it relates to the QB of the NY Giants, Eli has been anointed by the most influential sports media in the country and will one day wear a gold jacket. However, I don't believe him to be what I expect from a HOF QB. The upper crust of NY sports media feel that they have a QB to put along side Joe "Willie" into the HOF. Evening the score with the Jets! This is none other than Eli Manning, son of Archie, brother to Peyton. The question is does he deserve to be in the HOF?
I'll make the same case I've made for seven to ten years and that's a resounding no! Much like Joe Namath, they both were anointed with great expectations and they did deliver SB wins. Eli, to me was and is about the most ordinary QB of the past 15 – 20 years. When family and friends from NY do battle with me on this, I ask them, who would you most compare statistically to Eli to in today's game? They generally can't come up with anyone very easily. He can't be in the top five in any given year, can't make it into the top 10 but slithers between 11 & 20. For me, the best comparison is Jumpin' Joe Flacco. They are both statistically very much alike. Now honestly, of all the "franchise" QB's out there, Flacco is probably the worst. I'm not talking about the draftees that just flame out, these are the one's that are the actual franchise QB's for better or worse. But the record of Flacco's is actually considerably better than Eli's. Flacco is 90 & 60 while Eli is 110 & 100, in fairness Flacco's  team has been able to win because of their defense, going back to the days of Ray Lewis. You'd like your QB's to have at least a 2 to 1 ratio on TD's to INT's, neither one has that. Eli has 334 TD' & 222 picks, while Flacco is 193 to 128. I'd be remiss if I didn't inform you that Eli has led the entire NFL in Interceptions in three seasons in his career.  This is the one statistical category that Eli's been able to find his name at the top. Completion percentage finds Eli at 59.8% and Joe's at 61.7. Neither are top 5 or 10 in these categories at any time in their careers. Yards per attempt, Eli is at 7 yards, while Joe is at a robust 6.7.
One of the best measures of a QB is the QBR that's been around for many years. Its a great compilation of completion percentage, yards per attempt, TD passes, etc. A QB should be striving for a rating between 90 – 95 and they've had a good year. Only a few have ever had seasons over 100 in a given season. There are only 14 QB's with a rating over 90 for their careers, showing how difficult it is to achieve. Eight of those 14 are or will be in the HOF. I'll go out on a limb and say Peyton makes it first time he's eligible. FYI, Eli & Flacco come in at 39 & 40 as their ratings are 83.9 & 83.8. Both of these guys fumble fairly frequently with Eli at 110 and Flacco at 77. On a per game basis they turn the ball over roughly twice a game. In my attempt to be fair to ole Eli, he was able to post a QBR of 90 or better in four of his 14 seasons. The common denominator for these two guys, were that they played with defenses that when push came to shove, could actually shut down the opposition making it possible for them to win in spite of their QB's.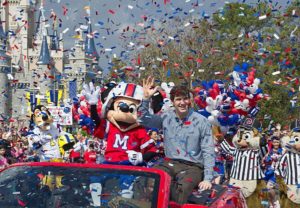 Eli & Flacco have won out, but it was the defenses behind them that delivered the rings. To be fair & honest they both had out of body performances in their SB winning playoff runs. They performed way above their norm, but even a poor, unfortunate blind squirrel finds an acorn on occasion! When Eli's teams won in 2007 & 2011 the defenses held three opponents in the playoffs to 17 or less points, only GB hit 20. I watched each of those games and their pass rush was bringing serious pressure, getting sacks, fumbles & interceptions. Part of my argument is even Eli could put up 20 points in a game. But they did get the job done. You've seen their regular numbers, but in Flacco's SB year, he threw 11 TD's and 0 Int's. Go figure?
Enough of the comparisons of two of the most ordinary QB's of the modern generation. Wanted to use a comparison to show how ordinary or below average Eli really is. Not many are in the upper strata of a Rodgers, Brady or Peyton, but the deep fall off the cliff with Eli is enormous by comparison. Eli's teams in 2007 & 11 came alive when the playoffs started and they ran the table. Should a 4 game winning streak put Eli in the HOF? I'm not buying what they're selling. I get it that when we watch a game on TV we hear a guy like Jon Gruden fawning all over every player out there. At least that got me to avoid MNF or mute the TV when my team is playing. Well that's how the NFL sells their game, they hype up every player. They have their own network, NFLN, that is basically a way to promote the game and decide who is going to be in the HOF. They pretty much designate their on air analysts based on their potential to be elected to the HOF. The mere exposure and promotion of their own, makes the vote a done deal in my opinion. I wasn't on board with Kurt Warner, being the he was a turnover machine too, but he did have a few really good years and overall was a better QB than Eli.
Eli's the Brandon Carr of QB's! He's always able to answer the bell and make it to game day as evidenced by his 211 consecutive starts until his head coach wanted to get his butt fired. A lot can be made of a player who can take the shots and still lace them up the next week. I just have a hard time finding that as a way of making the HOF. Just because your team gets hot at the right time, shouldn't be the litmus test for a guy putting on a gold jacket. It's a marathon in a career. Eli's played 13 years now and has only had 7 seasons with a winning record. You take away those two runs of his and he's clearly ordinary or below average. The guys played over 200 games and two playoff runs put him in the hall? By the way, Eli's team has been in the playoffs four other years. In those four years he threw for 3 TD's and 9 interceptions. Clearly poor efforts. There's just nothing special about him or his game that merits the gold jacket.
My brother in law, a hard core NY'er and Giant fan, him and I duke it out each year we get together on this topic. All he can say is, "but he won two SB's" and of course I tell him, "the other 52 guys might think they got it done"! Not that I get a vote, but there's no way on God's green earth that Eli gets my vote!
Agree or Disagree? How would you vote?