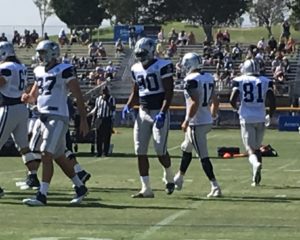 The Cowboys played their second preseason game against the Rams in Los Angeles on a little warmer evening. The outcome wasn't important to this observer, but rather who's flashing, making plays and showing improvement from week to week.
The players who I thought had the best games were Xavier Woods, Rico Gathers & Cooper Rush. The Cowboy offense was inept during the series when led by Kellen Moore. Certain things have become obvious. The coaches appear stout in their support of Moore as the backup no matter what anyone else thinks about the position.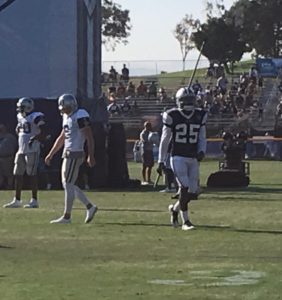 Offense gets the publicity, but my 2017 Pet Cat, Xavier Woods flashed with solid open field tackles and several led to stops on 3rd down. One that I saw was a TFL yet he wasn't credited in the boxscore. As a deep safety we saw him property execute a PBU in hitting the WR squarely at the numbers and on the ball. For a minute we thought we had a turnover. Noticed that he was in nickel/dime and down low several times, also being used as a blitzer off the edge. He needed to make some plays and he did so in this game, a big night for him. When you make plays, they'll find ways to get you on the field!
Cooper Rush put himself in the discussion for making the 53 man roster, but there are still three more weeks to go. He looked poised in the game, same in camp this week. Moved the ball around well but always knew where Rico was! Speaking of Rico, he did what he did in last weeks game and he did what he did the days I saw him in camp. Why should the Rams be able to cover him, when none of our guys could. I still have visions of when Rico and Xavier went 1 on 1, the size differential made it no contest. What I liked during the week was how well he was running his routes, sharper in the cuts, than what I'd been hearing. His blocking on plays seemed adequate, but did get flagged for a hold, which was a good call. Surprisingly, the stripes couldn't see Tapper being held the same way? His TD route down the seam was great and Rush dropped it in beautifully. Check out two views of the TD play down below! Rico's getting more snaps than any other player on the 90 man roster and its reaping dividends for a young man working hard to learn his craft. He needs to get snaps and targets with the 1's and 2's in the games ahead. That'll be the true bench mark to how far he's come and whether or not he can hold up as a blocker to earn, in season snaps.
Other players that made an impression were mostly on the defensive side of the ball and we've got a video of our 1st round selection, Taco Charlton. You wouldn't know he was involved in more than one play if you listened to Siciliano and Marshall Faulk on NFLN. Taco was out there being effective, applying pressure and flashing his abilities. His sack came from the right side, which I though interesting as most of his camp snaps seem to be from the left. You have to love a DE coming across the field to make the tackle. Damontre Moore made a similar play earlier as well and showed good strength on a TFL early in the game. Enjoy the video at the bottom of this piece featuring Taco! Kavon Frazier was active with five tackles. Mark Nzeocha was very active himself and barely missed a sack on Mannion. Last week was Jerry Jone's week, well Joseph & Lenny Jones got the Jones name out there in this game. They did themselves well with their play. Lenny was creating pressures, knocked down a pass and of course had a sack. While Joseph seemed to fly up to make a few tackles too. Considering how we're losing DE's to suspensions and injury, Lenny's flashing at the right time. Lets see how he does the next few weeks. Although he didn't seem to play a lot, Damien Wilson impresses me with his speed to the ball. People may be asking about the night that Tapper had and frankly while he may not have made plays, his just being out there was big. He sat out a few days this week nursing a hip I believe. Getting him in meaningful snaps was a good thing and he was moving well.
Noah Brown looked really good up until that fumble caused by the cosmic air flow in the Coliseum. It was a good night for him in his battle for a possible spot as the 6th WR. Don't see them keeping that many, but you always want to make them think and consider you. Certainly had a better night than Andy Jones, but he was playing during Moore's snaps and that had its limitations in his evaluations. La'ell needs snaps at his new position, as many as he can each remaining game.
A lot of people on Twitter were calling for Moore to be knocked down to #3 on the depth chart if not outright released. Its a little hasty and remember our opinion doesn't matter to the coaches. Can Moore win a game or two if Dak were out, is the real question to be asked? Moore from the HOF game could have won that game. Last nights game, I didn't think he stood a chance. He lacked feel and effectiveness in running the offense. Almost the definition of a back up QB, a guy who might win two out of four or five games. That's what the coaches are looking for, now is he the guy that can do it? I hope we don't find out! I don't see them making any moves at QB before camp ends, they seem to be happy as is. Rush showed last night that he could be that guy that can be developed. For the moment we should be happy if we've found a QB to be developed as a back up to Dak. Before we go crazy over him, lets see him in the next three games and maybe let him play against the other teams 2's and step up the quality of the opposition. Have to step them up to judge fairly. Going against 3's isn't the greatest test of one's ability.
Here's Taco's highlights for the night …….
Big game for the @dallascowboys rookie.@TheSupremeTaco Charlton's #DALvsLAR highlights! pic.twitter.com/SQ2h5RDWOD

— NFL (@NFL) August 13, 2017
Two views of the TD pass ……
This @rush_cooper TD pass was absolutely PERFECT…

Wow. #DALvsLAR pic.twitter.com/jMaWGLBm9K

— NFL (@NFL) August 13, 2017
Interesting side view of the TD, with Rico coming at you!
? SIDELINE CAM ?@rush_cooper + @kinggatz2 = @dallascowboys TD! #DALvsLAR pic.twitter.com/qghfoelVpd

— NFL (@NFL) August 13, 2017
Xavier's hit!
Check out safety . Xavier Woods laying the wood to force that fumble, #DALvsLAR #Cowboys https://t.co/0InTfNGCaN

— rdreporter7 (@rdreporter7) August 13, 2017