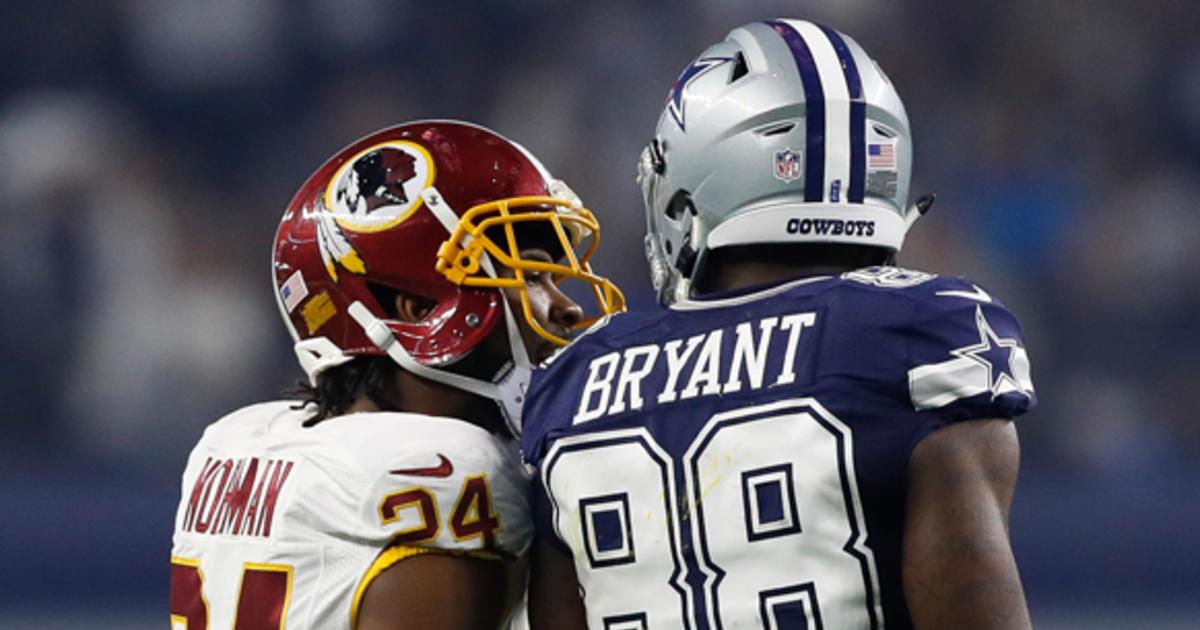 The schedule maker in the NFL did us absolutely no favors this season. I wasn't thrilled when the schedule came out and it gets worse as the season heads down the stretch. Typically after the Thanksgiving Day game, the Cowboys get a 10 day break. Instead they played the standard Sunday game on November 19th, versus the Eagles, the 23rd the Chargers and now on the 30th we get the Redskins. Three games in like 14 days, thats ridiculous. The NFL did this to their cash cow, the Dallas Cowboys to get them on TV more. What other team plays two Thursday night games in one season? No rest for the weary is never more true and at the same time hurting an already battered team.
We enter this game coming off three consecutive losses by at least 20 points in each contest. As a fan, I'll be pulling for my guys to step up & step on our division rivals. However, after watching them never really being "in" these games for more than a few minutes, I have to face the fact that a victory isn't likely. We're at home! Well that hasn't worked out in our favor this year, we're 2-4 in the House that Jerry Built. The two teams come into this with identical records at 5-6. But at least they're putting up some points when they play, while we've only been able to put up a paltry 22 points these last three games. That point total would have been a mediocre outing for our offense in a single game, let alone three.
True I wrote a story the other day detailing or pinpointing my analysis of the issues and challenges that the offense is going through with the heart of the engine, sitting home for six games. I'll be rooting hard for every handoff, every pass and yelling at the refs as I normally do, nothing changes. I just don't see a huge change coming, yet I'll expect a few different wrinkles.
Scott Linehan has taken some shots fired at him by fans and the media alike. When you understand that the offense was finely tuned to function with certain personnel for optimum success then when those parts aren't there, this offense can and has struggled. The whole season had been a struggle offensively, which to that point I felt was more about the loss of Leary & Free than anything else. Players come and go and each year the team is a new unit, I get that, but losing those players caused problems. Had it only been Leary that left we'd have done fine as Collins would have slid back into the starters role at LG. He wasn't as good as Leary, IMO, but he was solid and perhaps better suited to working in the tight space at guard. But remember this year, we went 6 games with no less than 28 points, yet were only 4-2 in those games. Special teams disasters handed the Rams one game and Garrett blew the final 2 minutes against the Packers and we lost that game. Realize thought that Linehan's play calling was good enough to post those 28 plus points each week.
What has also happened is that the execution of the plays being called is nowhere near as sharp as it was last year. We have WR's dropping balls, which just can't happen in tight games. Is that Linehan's fault when they don't catch, the balls that should be, routine receptions? The blocking hasn't been up to standards whether its a running play, where the back is getting slammed three yards behind the line of scrimmage. Dak's taken shots too it seems after the last game. I get that he could be more accurate and yes, that was the knock on him coming out of college and probably the reason he fell to the 4th round. Last year there wasn't an issue with his accuracy in at least 13 of his 15 games. Get what I'm saying? Last year he could sit back there, knock down a cold one and wait for someone to come open. This year, he's running for his ever living life on two out of three drop backs. That's ridiculous! Now people are getting on him? Who was complaining when the offense was putting up those 28 points or better this year? Yeah I didn't think so! Sometimes the fans get a little over the top in dealing with adversity. Could Dak have been better in these three games? Sure, there's always room for better, but for me, I was just glad he didn't have his back snapped into tiny pieces in that Atlanta game. Been down that road before haven't we?
If you thought we got torched with crossing patterns, well buckle up as that's about all the Redskins run. Their QB, Kirk Cousins likes to sling it around the yard and after watching last weeks tapes on the Dallas defense, he's probably licking his chops. On the defensive side of the ball, one guy, is licking his chops of matching up with Dez and that's Josh Norman. Totally expecting some changes on defense, if nothing else to just appease the fan base that changes are being made. We'll see what they do and how that effects the performance on the field. Naturally we all have thoughts on things to do but an important factor for me is to get the new kids on the block, experience! Need them to get game snaps, learn and grow for down the road.
My mantra has always and forever been, No D, No Rings! If you go back in time to the Super Bowl wins, each of the teams had off the hook defenses. I worked the press box in Tulane Stadium for our 1st SB win and that day, Bob Lilly led one of the most defense dominated games in Super Bowl history! The beating that the front four put on former QB, Craig Morton brought SB win #2 and seven turnovers if memory serves me correctly. The '92 team was only the best defense in the game that year and they devoured the Bills with a record 9 turnovers. Let those two defensive performances set in for a minute. The '93 & '95 defenses were top 5 and brought back to Dallas, the Lombardi Trophy. I came into this season with great hope with the addition of all the secondary players the Cowboys drafted. Hamstring injuries has kept two of them out in preseason and another out for the most part until the Thursday night showdown. Play them, get them the reps so we can prep them for the future. Playing them now, gives the team a true idea of what they have going forward. It doesn't mean they aren't going all out to win and what says, we don't have guys jump to the forefront and make a few plays?
Hopefully you all read my story after the Chargers game illustrating the problems that confront the offense and why they're struggling so mightily. Then you can understand the problems that have many of us questioning the confidence in our team. Doesn't mean you or I aren't die hard fans, but we also have to face the reality of what's happened this season and most recently the last three weeks. This game for the Cowboys is trying to right the ship that's way off the rails. An offense that can't seem to score and a defense that is struggling to stop whoever they play. Can they get the offense untracked? Can the offense execute the plays the are called? Can they protect Dak? Can the D Line get pressure on a QB again? Can the secondary hold up without an effective pass rush? How tired are these plates with 3 games in 14 days? Will they wear down in the second half? These are just a few of the issues that are before this team. Its had a horrific three weeks and just needs to take one play at a time & execute their assignments. Then we can get back to having confidence in their ability to pull out a few wins. This game is about a gut check in many ways. I see the Redskins as the favorite in this game and this is an NFC East duel between bitter rivals. I've learned that when the NFC East teams meet, you can throw the records out the window. We've won when it wasn't expected and I'll be in their corner  Thursday night and forever! Care to join me?