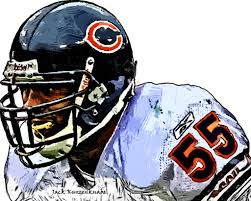 Last night at the NFL Draft got off to a rousing start with the 2nd pick of draft. SF owned the #2 pick and right behind them was the Chicago Bears at #3. Real or not the 49ers appear to have scared the dickens out of da Bears! The fear and trepidation was so severe, that the Bears were fleeced by all measures. This shows the sheer desperation that a team has when they don't have proven or prospective QB's on their roster. Credit John Lynch for the theft of the week, all because there was concern that someone, perhaps the Jets were willing to come up for Trubisky. To begin with, this years QB group was about as weak as its been in quite a number of years. However, Chicago gave up a bunch of draft picks. They were picked clean for the #3 pick in that first round last night, #67 in the 3rd round, #111 top of the 4th round, plus next years 3rd round selection. All for a guy with only one season as the starter of 13 games!
Making Trubisky the #2 pick you'd think that he'd start on day one or thereabouts and didn't this GM sign Mike Glennon for 15M per on a 3 year deal. Mr. Glennon shouldn't be house hunting any time soon. The kicker to this whole story was that until just a few hours before the draft, the GM, Ryan Pace hadn't told the head coach, John Fox of his intent to draft Trubisky. From this seat, that's not a good omen for Fox's longevity on two fronts. One, he's not involved in the process and the other is that the picks listed herein are preventing the team of acquiring young talent in rounds that you're looking for starters and depth.
.@Mtrubisky10 has arrived, Chicago. pic.twitter.com/wypXex27ON

— Chicago Bears (@ChicagoBears) April 28, 2017
Just occurring Arizona and Chicago just made a trade and Chicago recoups a few picks, albeit in the middle of the 4th and then a 6th round pick with a kicker thrown in for next year in the 4th round. Another example of a team desperate for a player, Buddha Baker and over paying for the pick. At first it appeared to be a QB, but this trade again is a serious over paying for a 2nd round player.