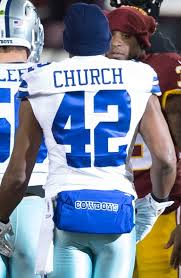 We went into today's start of the league year needing to beef up our defense in a big way.  Well that went from important to a Defcon Level 4, in the blink of an eye!  We lost key players on the defensive side of the ball in the early hours or at least it appears that way.  Barry Church has agreed to a 4 year 26M deal with the Jaguars and congrats to him cashing in on one nice contract in his career.  The one that surprises us is the Falcons snagging, Jack Crawford to a 3 year deal for 10.3M.
Church was a nice solid player and maybe a shade above of how I categorize players.  Above average, average and below average and Church crept slightly, above the "average" category.  At 6M per year he's too rich for the teams cap situation, although we all know, funny things can be done with NFL contracts.  As to Jack Crawford, well he was a great depth player, able & willing to take snaps anywhere, anytime and did so capably.  That Swiss Army knife that every team craves as he could fill in at all 4 spots up front.  At 3.1M per year, that's also too rich for the Cowboys for a rotational player.  His flexibility will be missed.
Perhaps the biggest loss not many will talk about is Terrell McClain.  He was the key guy up front in the Boys having the best run defense in the league this year.  Yes, having a defense you can pass on skews the run/pass ratio.  McClain's loss at the 1, will be one spot we've got to shore up as well.  Worse yet he goes to Washington to shore up their run defense.  Not the landing spot we wanted to see for a guy of his ability.  For my two cents, the loss of McClain is bigger than Church.  I'm not afraid of going with Jeff Heath, who has developed nicely and makes plays in the turnover battle that others don't in limited snaps.  He might get exposed or be the next Greg Weddle as a savvy guy on the back end.  Teaming with Byron Jones, he might be just fine.  We drafted Kavon Frazier last year and we should keep an eye on him to see if he's going to be a depth player this year and starter down the road.
Now to the days bombshells that occurred in the NFC East.  Our fierce rivals stepped up yesterday and today and signed quality WR's.  Each are dangerous and will stretch our defense considerably as things stand right now.  The Eagles added Alshon Jeffrey & Torrey Smith.  Neither are in the running for the top tier of WR's, but they bring size, speed & experience.  They will improve the Eagles offense considerably.  The Giants, the dreaded GMEN jumped on bringing in Brandon Marshall, released earlier this week by the Jets.  Fortunately, the Giants are still locked in with the inconsistent, yet dangerous Eli.  They only need to score points to be dangerous and this is a big upgrade with a proven Pro Bowl caliber player.  
Given the loss in the secondary with Church and two CB's no longer under contract, Carr & MO, we're now needing to find two to three CB's thru the draft or free agency.  I've railed on Brandon Carr for years, not so much the contract but by his limitations.  But I can't complain about his performance in 2016, it was solid and much of it might be attributed to his switching of sides.  That obviously made a huge difference in his play.  We can't down play his durability either.  While we all hoped for more upside from Mo, getting him to game day healthy just wasn't possible.  It's simply time to move on and find other capable corners and one's who can be on the 46 man roster.  Mo gave us everything he had and for that we're a grateful lot.  This year appears to be a strong draft class at corner and we must grab several.  Based on the size of the WR's joining the NFC East, size becomes a factor in the selection process.  Anthony Brown was my pet cat last year and he didn't disappoint me.  Shows a lot of promise and as he gains experience, I'm hopeful of seeing a few more picks from him down the line.  
We have to gather quality players on defense in this draft.  Fortunately, we have two guys that may see the field this year on the defensive side of the ball that spent the year on IR.  It will make them feel better if they can get on the field and stay there.  Jaylon Smith, naturally has the potential to be that catalytic player at the Mike.  They expect him to participate at mini camps shortly but would really like to have a complete view of his status before the draft.  If he could be the player he was or even close, then they've knocked one out of the park!  Then there's Charles Tapper who can hopefully bring a little pass rush ability.  Expecting a lot out of a DE in their 1st year of play is usually a mistake, but 4 or 5 sacks is a realistic goal.