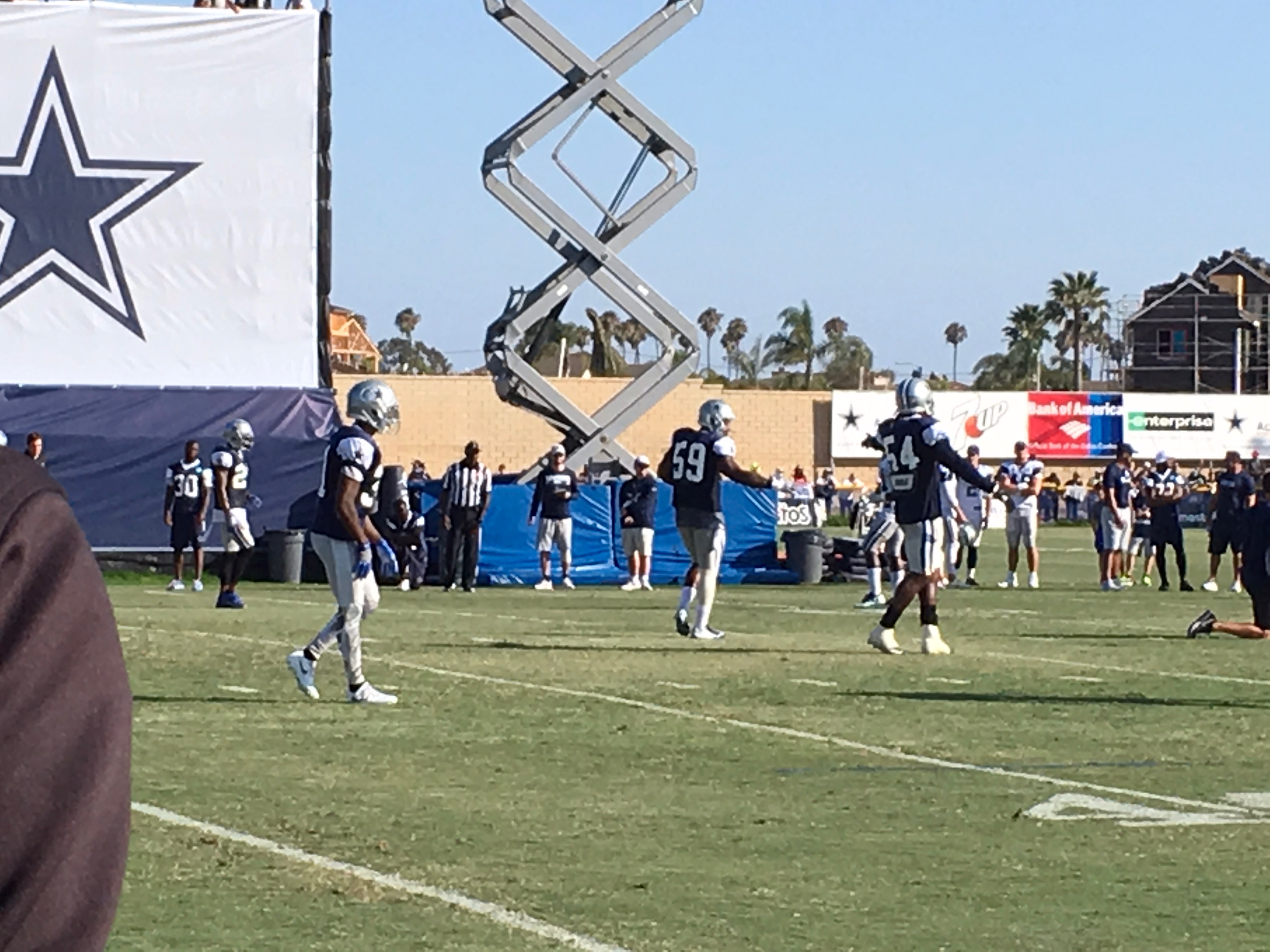 Today was all about the defense in my review! The huge bonus was not only Jaylon Smith getting snaps, he was getting all of them with the 1's! It worked out perfectly, with Sean Lee, being on of several vets getting that day off. Gave us the opportunity to see Jaylon out there in full team play for probably close to twenty snaps overall, maybe more. The have their plan for him as they get him into game shape and allow additional time for the nerve to regenerate.
How did he look? Well first of all he looked smooth, very smooth for all but one rep. He moves like a cat, but on one play I thought he did have a little limp going as he ran across the field, from his right to his left. I may have mis-stated that he was playing at the Will, when in fact it may have all been at the Mike. What threw me was seeing Hitchens to his left every pre snap and his filling in for Lee. We don't get the cleanest view nor time, to get the greatest perspective. Regardless its about how did he move and react. There was one play early where he fell back into his drop, Dak read the coverage and checked down to Swaim. Well, let me tell you, Jaylon saw it a tick or two before Dak threw it. He was driving on the spot and had Swaim lined up between the 8 & the 7! It would have been some hit! Jaylon's first play was impressive, in that it was a running play and he took on three blocks and held up well. It was something that I/we had to see how he handled being blocked. Would he be pushed back at all? That wasn't the case as he slid down the LOS. Passed that eye test very nicely on this play when the trash in front and to his left was mounting up. On the other hand, there was a play where he went to one hole between the LG & LT and Zeke wanted no part of that and bounced to the right for a modest gain. Got into his drops well, no issue there. All in all, it was great seeing him getting these quality reps working with the 1's. Just a gut feeling but I'm guessing they hold him out of the Rams game, but we don't know when he'll see game action in the preseason.
All that being said, Hitchens has looked good out there and is not handing the Mike to Jaylon by any means. Nice problem to have if they're battling it out and we strengthen the LB play.
Yesterday, we were able to see Ryan Switzer field a few punts and bring them forward 10 yards. Today, he probably had the play of the day. They had Switzer & Beasley out there on the same play in fact. A short pass to Switzer, turned into 6 pts as he navigated rather easily between the defense for 60 plus yards. He read the defense very well as he darted thru it.
Yesterday's write up I said how easy Zeke makes things look and for all but one play did the same thing today. Last year in the first few weeks people were questioning him in rushing his moves, well he's being so patient to watch and wait for the holes to open for him. However, he was the check down for Dak and didn't bring the ball in cleanly, having it pop up into the air. He swiped for it and still couldn't bring it in, but Byron Jones had no problem doing that and likely had 6 pts for his efforts. Byron's continuing to make plays on the ball here in camp.
There was a drill which the DL were running, albeit against the dummies. No matter, the speed, power and hand movements were what I was able to see. Several guys showed more than the others, by a wide margin. Lawrence was extremely powerful, fast and has a plan with his hands. Next up was Benson Mayowa, strong and fast, wth quick hands. The two other notables were my selection as our best DL this year, Maliek Collins, fast & quick and Stephan Paea. For tackles these guys flew thru the drill. I was hoping for more from Tapper as he may be needed to help in the early part of the season. He's practicing in a limited role and all I was really seeing from him was work in drills.
The secondary also had my attention today and Awuzie was making plays or at least in good position. In 1 on 1 during the compete period, my guy Xavier Woods drew Rico Gathers. It was the drag play, down the middle 7 yards, hard right. Xavier did a nice job of staying with him, but the throw from Dak was perfect, to the outside and head high. Rico kept Woods away with his frame and made the contested catch. Woods swiped at the ball several times to no avail. Frankly, it was a good play for both. The spot on pass made the difference! Today Dak was much sharper with his passes. He ripped one to Terrance for about an 8 yard gain on a comeback route that had to be perfect as Nolan Carroll was inside Terrance's jersey, so it seemed. Great coverage, great route, pass & execution.
A player that doesn't get much of the spotlight was Geoff Swaim. He had a solid day being available when needed by the QB's.
Today sitting out practice with the "vets" day were Sean Lee, Dez Bryant, Orlando Scandrick, Jason Witten & Darren McFadden. Cedric Thornton & Marquez White were on the cords with what we're hearing as hamstring issues. Jordan Lewis & Anthony Brown.
We've taken plenty of videos and when we return home tomorrow we'll go through them and share the best of them with you.