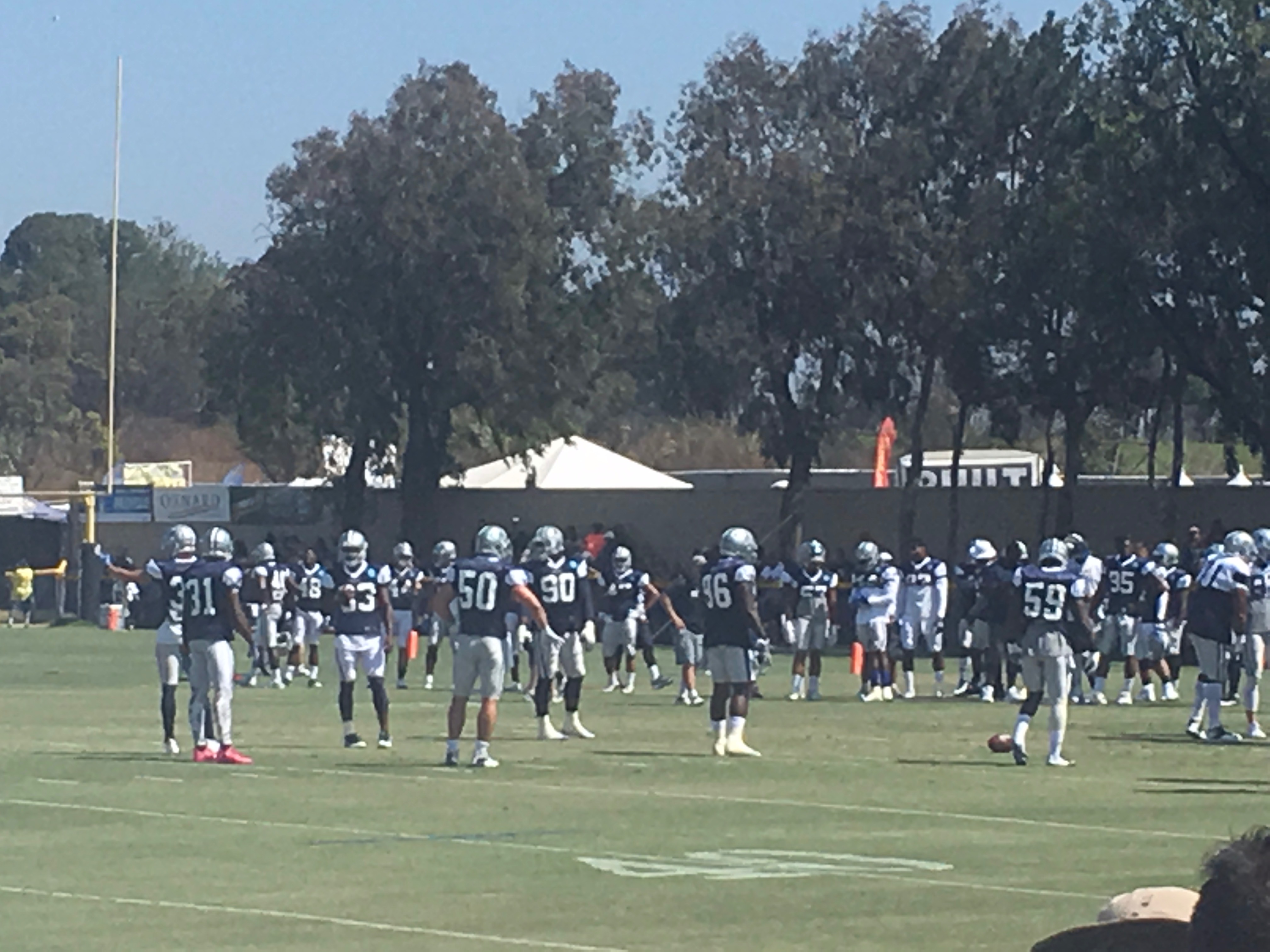 Today was our final day at the Oxnard Training Camp! My focus all along was to take a good and hard look at our defensive players. Yet, you can't help but notice certain things regarding the offense. The men in white, have a huge advantage in that there are ten returning starters. The big thing to know about Dak is that he's in complete control and growing by the minute. He's excelling at the high pointed ball & back shoulder passes. Its obviously something he's been working on with his WR's.
The defense is truly a work in progress and why the majority of my time was watching the guys in the dark blue jerseys going thru instructions and drills with their position coaches. We can all probably agree that a major concern is that defensive line. Rod spends his entire time with the D Line and doesn't let them give anything less than 100%, drill or no drill. In watching those drills its obvious that the more experienced players at DE (Lawrence, Mayowa, Crawford, Moore & Irving) are far ahead of Tapper & Taco among others. The power of Lawrence is really impressive and how difficult it is for anyone to get Irving under control as he works his way around or thru the line. DT's Collins & Paea stand out with speed and power.  Not until today, did we see Tapper get in a fair amount of work and legit snaps. No doubt he gets off the ball well, but it doesn't seem like he has a plan on how to attack the tackle. He does give them fit with his speed, so it's about his getting snaps & experience. Taco fills the eye appeal, yet he's learning and needs as many snaps as possible in these preseason games to give him the opportunity to be productive early in the season. It appears that with Mayowa, Moore & Irving out for suspensions to start the year and Crawford being out for an undetermined length of time, we're going to be short of experience at DE to start the season. Taco could be a contributor at LDE to kick off the season and may well be counted on heavily amongst the healthy bodies at the position. Cedric Thornton remained out making it impossible to judge what he's bringing to the table at the 1.
While all eyes were on Jaylon the last two days, it was great to see him getting his snaps with the 1's. Yesterday was planned, but it appeared that Lee came up gingerly, likely a hamstring issue and that elevated Jaylon to the 1's from that point on. We're going thru some videos to bring you the chance to see him at work. Always hard to judge his assignments but he appears to be in position for making a few plays. His drops appear good. There are times that I felt over the two days, that his stride was forced. Is that because of the brace? The next question becomes when does he get some preseason game reps? On one hand, you have to like that they're not rushing him into the action. I want to see him make plays, hit holes, show the burst in real action. Lost in the Jaylon hysteria, is that Anthony Hitchens isn't handing the position to Smith anytime soon. Not sure that anyone's talking about it but Kyle Wilbur's been a little feisty out there. Better have your head on a swivel, as he's been hitting with some serious pop. As much as we'd like to see Smith in there, based on his reputation and draft slotting pre injury, he's honestly not looked "better" than Hitchens or say, Wilson. That doesn't mean he's looked bad by any means. Its about making plays and until the last two days, he wasn't getting but a handful of snaps. The returning LB's have the luxury of being in the system a minimum of two year and that enables them to play faster. On the flip side, Jaylon didn't take a snap for about a year and a half, is new to the system and is coming off a devastating injury.
The secondary this week was without three of the young guys, as Jourdan Lewis, Anthony Brown & Marquez White were all battling with hamstring issues. Those projected as likely or possible starters all had the "look" worthy of starters. That would be Byron Jones, Heath, Scandrick & Carroll. Even with a day off yesterday, I came away with greater appreciation with Orlando. He may have that chip on his shoulder, but he's one that has honed his skills and knows the in's and out's of his position. He is just very resourceful in how he plays his man. Watching him versus younger less experienced CB's is a wide valley. Today's play of the day was the human highlight reel player, Dez going up one handed over Scandrick to bring down the TD pass from Dak. Our angle wasn't a great one and all we could see was that Dez pulled it in, but totally unable to see the one handed leaping grab. You can click on below and see that over at the team website.
Watch @DezBryant's ridiculous one-handed touchdown catch against Orlando Scandrick at Cowboys Training Camp.

?: https://t.co/4xbQGNkuyv pic.twitter.com/UnDTriPbux

— Dallas Cowboys (@dallascowboys) August 11, 2017
There were several offensive plays that stood out. Prior to the play by Dez, was another fine play by Dak, this time connecting for about a 30 yard TD to Geoff Swaim. As mentioned yesterday, all Swaim does is show up and make plays for & with Dak. We were going through some videos earlier and there was Rico showing up on a drag route and clearing the road as he went. The defense was fortunate they only had to get hands on him to end the play. The guy who got short changed was #16, Brown who made a great catch, high pointing a ball, for a TD from Moore (I believe). His fellow WR's loved the play so much they ran down the side line to get airborne to bump in congratulations with him.
Don't know the seriousness of the back issues for Tyrun Smith, but he sat out practice again today. Yesterday, I saw Lewis & Anthony Brown doing exercises, but didn't spot them today.
We have plenty of videos to go thru and pair with stories about the players we focused our attention on.