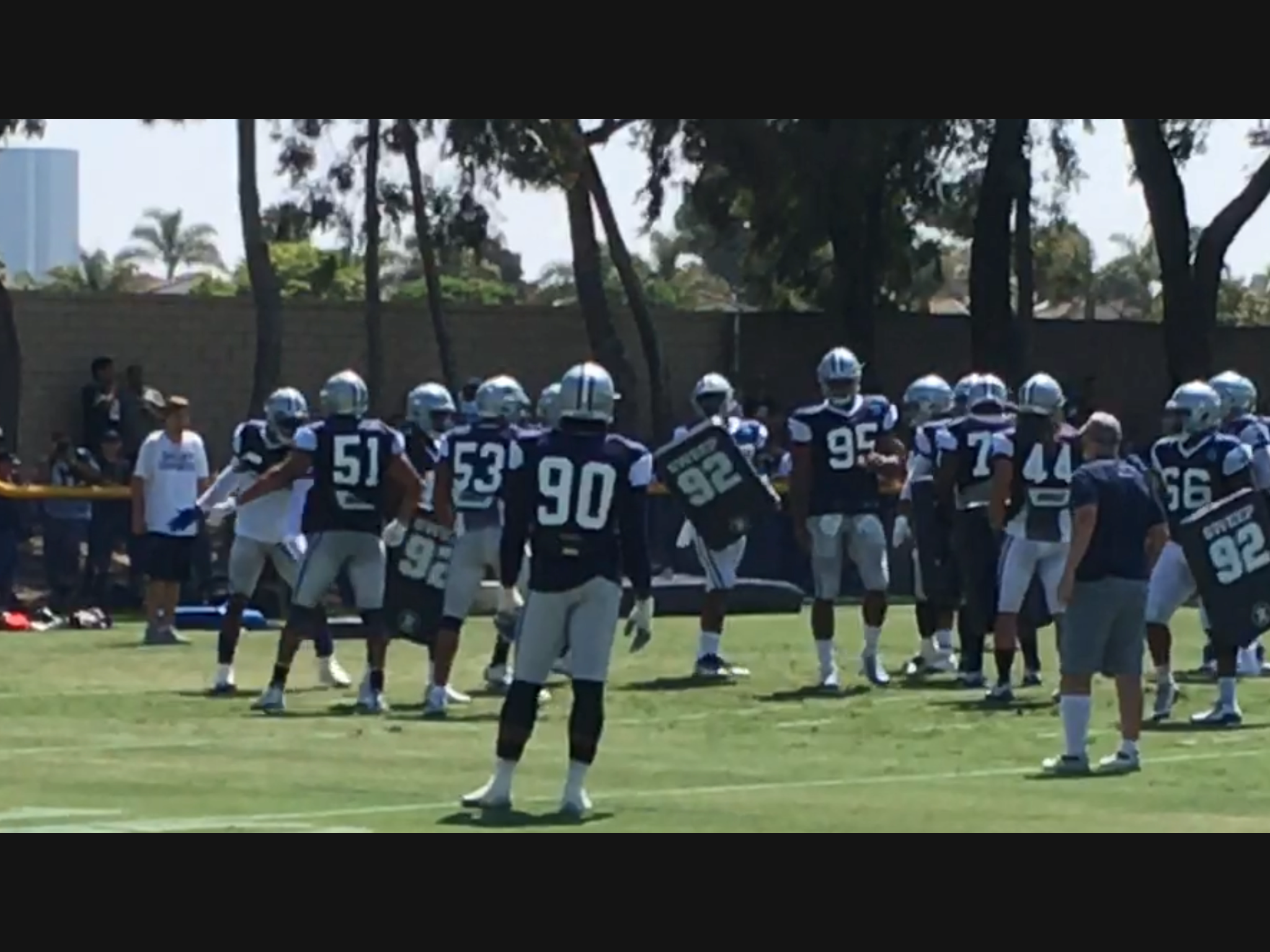 Last week we made the trip to Oxnard to see how the defense was looking and developing. The actual dates were August 8th thru the 10th, following the HOF game in Canton. Every day of practice, we can all find video of the more exciting parts of practice when the offense goes against the defense. Watching Dez making his usual array of athletic receptions, Zeke finding a hole or Witten schooling a defender. FYI, Dak is looking really good on getting the ball up high for the WR's to make the catch as well as the back shoulder throws.
It's easy to get excited watching the big named offensive players doing their thing against the guys in dark blue, known simply as the defensive guys. The key to the season lies on the men in those dark blue uniforms! What I promised I'd do for you, is take a closer look at the defense and bring back video of their working each and every day to get better & in sync with one another. That means we'll look at the actual drills they go through. Not as glamorous by any means as that "above the rim" catch by Dez, but important to the outcome of this season and beyond, especially with all the new faces on defense.
My thanks to my wife, Maria, for her great photography, videos and video editing skills in making these files for us. Hopefully you find them interesting. There will be several stories and videos on camp as Maria edits the videos for you to check out. There will be a few videos with actual plays for those needing a little more excitement. We have some isolated or focused videos on Jaylon coming as well.
This first video has several of the drills that the DB's were doing. High pointing a ball in one, doing the traditional backpedaling in coverage then driving on the ball for a pick. We see this drill executed by Duke Thomas scraping the WR after a completion as he tries to force a fumble. Finally, the safeties coming over in support down field and high pointing a ball for an INT. At times we wonder do they ever work on catching the ball and there's a drill here where they work on making the pick over their shoulder along the sideline. They worked constantly on take aways, picking up fumbles, forcing fumbles, switching on crossing routes and depths on drops in zone coverage.
Just click on to view each of the files below, should open a new window for you to see them.
This next video was very interesting to watch as first the LB's were working on the complexities of LB's blizing, then filling holes, The last half of this clip shows the DL joining in and the DL & LB's were working in tandem on run blitzes and passing down blitzes, This was an intriguing drill to watch as its the nuts and bolts of the defense working in a manner as to often surprise and overwhelm the offense. You might notice that, players are running a stunt on the simulated OL then Jaylon swoops in for the sack. They ran this play the other day against the offense and Jaylon picked up the actual sack of the QB in the full scrimmage.
In this final video clip that Maria put together for us we have a few plays focused on Charles Tapper, by special request by Cowboys3188dc. that we keep an eye on him. In the first play, he just blows past Skipper for an easy sack. The second attempt Skipper got the better of Tapper and moved him inside and washed him out. Remember that these were taken last Thursday, while Tapper had sat out the prior two days, only working on individual and walk thru's. It was a very positive sign seeing him get around the mountain known as Dan Skipper. When I saw Taco he was struggling to get off the blocks for the most part. His sack on Saturday may have given him the boost he needed going forward. It appeared that the game slowed down for him and he was playing faster in the game on Saturday.
Now here we are today, August 16th and Tapper is beating Chaz Green in the compete period. Progress is being made as Charles is getting healthier and building some confidence himself. He was one of our better DL in the HOF game, so lets see if he can build on that in the final three games.
Compete Period, Tapper vs. Green pic.twitter.com/BU6Xttxm9E

— David Helman (@HelmanDC) August 17, 2017
In last weeks reports from camp, we were bringing to your attention the work of Demarcus Lawrence & Benson Mayowa. They were clearly head and shoulders above all others at DE. DLaw got two reps today in compete against La'ell and it was really no contest. There's a drill I want you to see many of the DL go thru and you'll see the power of Lawrence explode before your eyes. Nate Newton has made it known that La'ell is left handed and it explains his lack of strength in his right hand to control the defender going to his outside hand. Got to clean that up real fast!  JPP is going to be bringing his A game, you know that. Mayowa schools Green rather easily in his rep during the compete period yesterday.
La'el vs. DLaw pic.twitter.com/PL9URh9jxb

— David Helman (@HelmanDC) August 17, 2017
La'el vs. DLaw pic.twitter.com/9ax8AaN1Vb

— David Helman (@HelmanDC) August 17, 2017
Mayowa vs. Chaz pic.twitter.com/b7PnPmm8lh

— David Helman (@HelmanDC) August 17, 2017