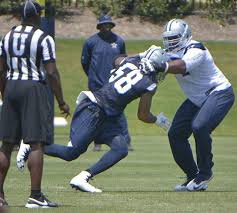 Hopefully, you all know who Will McClay is and how, with his influence, player evaluations have led to really solid draft classes as well as players signed as free agents and UDFA's the last few years! A player such as George Selvie might jump into your mind as he was pulled from the couch by Will McClay and performed well in his time in Dallas. Or a Justin Durant, another solid contributor who may make yet another return soon. We have another player that might become special with his arrival this year in Dallas as a free agent signing. This player was well regarded coming out of Texas A & M as a 3rd round choice in 2013 and will only be 25 when the season starts.
Talking about DE, Damontre Moore! Its not all sunshine & rainbows with Damontre, but I'd like to believe the Cowboys faithful will get behind him and welcome him back home to the state of Texas. A little home cooking might be just the ticket this young man needs to get his career kickstarted in the right direction. You want to see his past indiscretions, look them up. We're going to leave them in the past, hope he does the same and move forward. Was the real problem, that he was drafted by the NY Giants? Really, what self respecting young man from Texas, wants to play for the NYG's? All kidding aside, you can watch some of his Giants tape and see he's got a nice motor, is very active side to side, with significant upside. As a rookie, he seemed to get into the chest of the OT a little too often and got swallowed up and was able to be controlled, from what I saw on limited tape. Particularly from RDE. That's the problem many DE's deal with as rookies in their development. In his second year in that awful blue uniform, he netted 5.5 sacks. That was more in line with their expectations for him. His third & last year in that hideous blue uniform, he netted 3 sacks before being released by the team after just 11 games. This is where he has to mature if this is going to work. Enough said! He was picked up by the Dolphins, but didn't stick with them beyond that.
In 2016 he was looking for a new team, even visited with the Cowboys and supposedly was close to being signed. Eventually signed with the Seahawks and saw action in four games for them. The first tape shows some of his action in his time there. I could see a player that was learning his craft, using his hands and angles very nicely. In this first tape, skip to about the 40 second mark for actual footage of his snaps. Gives you an idea how they tried to use him and how he looked. The tape is against Brady and rarely does a defensive player look real good against ole Tom. Just gets rid of the ball that quick to negate the rush.
Moore has the ability to be one of those rotational players up front for Dallas, one of the Rushmen, as Marinelli refers to them. His tape shows he can work from both sides. In OTA's he was running with the 1's but without pads, don't read into that too deep, but it at least means that he was getting meaningful snaps & they're willing to give him every opportunity to show what he's got. All a guy can ask for.
Did I hear someone ask, can he play special team and is he versatile? The second tape, albeit only 9 seconds shows you his speed off the line to block a punt. In OTA's, Bisaccia, was willing to use him as the gunner on punts. OTA's are one thing, game time, another, but interesting. The Giants reportedly used him there in games. Not exactly the norm for a DE. On the DL, he played all positions in this first tape for Seattle, so plenty of versatility another attribute that the Cowboys look for up front. Hand down, standing up, Moore can handle it. Almost wonder if they'd use him as a free blitzer from a LB'er position. Considering that we don't have great blitzing LB'ers how about using a player who can stand up and bring the heat as the 5th guy?
I wouldn't fall asleep on Damontre this year. He might be a perfect addition into Marinelli's DL. Rod's not expecting for one guy to be a double digit sack master, though I doubt he'd bench the guy. But here's a young man, with actual NFL experience, who if he can get 15 – 20 snaps a game and had 5 or more sacks, Rod would be grinning ear to ear. Moore has done it before and a scout would tell you, see it once, I can see it again. First, he has to make the 53. The Irving suspension improves those chances, so his early season performance will determine his status from there. We'll have to hold our breath with Damontre a little, but the exhale could reward our faith and patience. Let's pull for one of Texas's own!
Disclaimer: Any and all digs directed at the NYG's are for the benefit of my brother in law in NY and two best friends in NJ & CT! For our readers, its for pure plucky comic relief!
This last clip is long and maybe a little hard to get thru. Not the greatest production but if you want to see what Moore is capable of then hang in there and see for yourself.