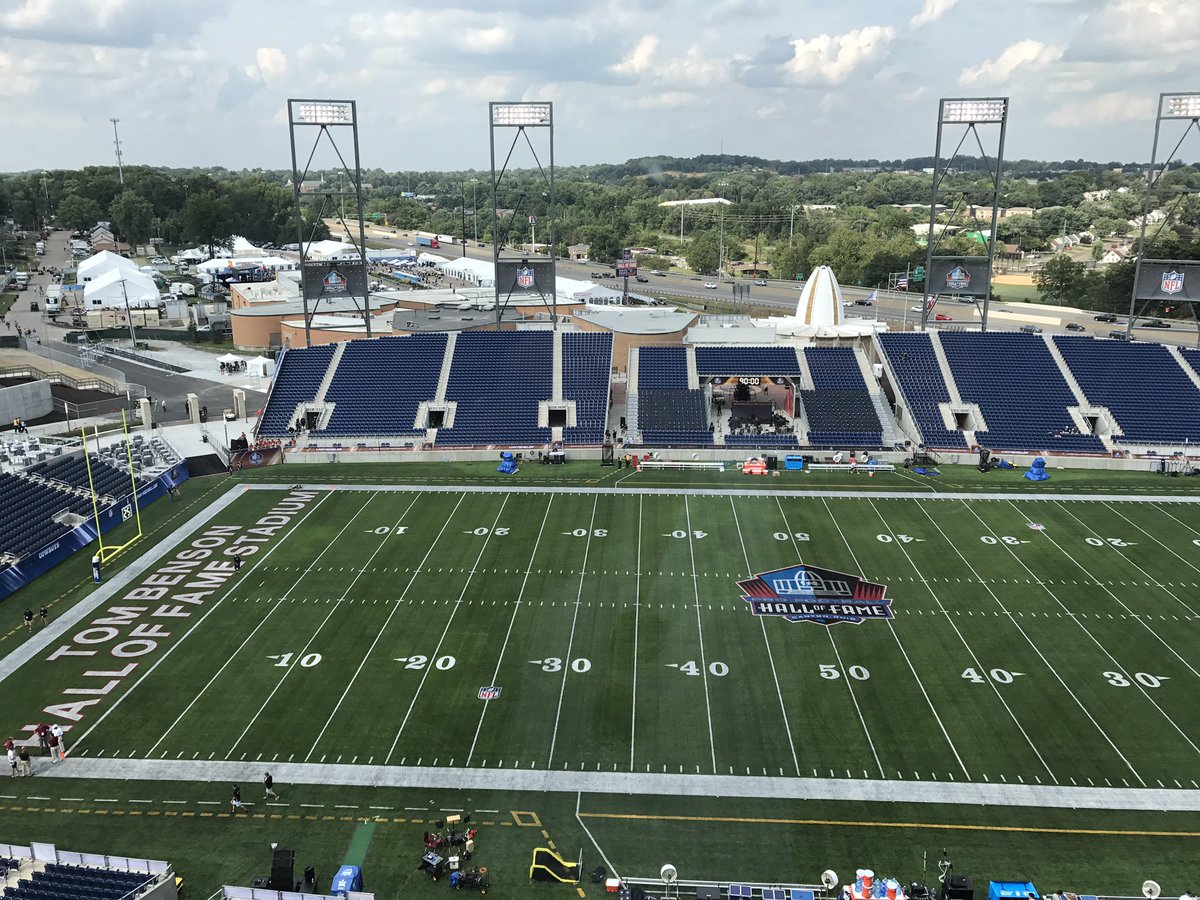 Unless you want to watch our future players as much as I do! It's time for some football and I'm excited! I know the starters sit this one out. I get that its "just" the HOF game and really, who cares, right? Well for one, all those guys playing care, the coaches care! They've all worked countless hours for this moment to come. This is the moment each first year player has waited for since Pop Warner days, since Friday night lights and Saturdays in Ann Arbor or Columbus! Or how about guys from Louisiana Tech, Wyoming or Central Michigan? This is everything to them in fulfilling their dream. Ask a Cole Beasley or Jeff Heath about preseason games. Or some kid out of Eastern Illinois trying to be something more than a "combine arm". Which player can develop into a contributor or one day be a starter for our Cowboys? It starts tonight for these men.
For me, I'm looking at each one of them with equal anticipation. Admittedly I'll be looking for the draft choices to see what they've got first and foremost. Yet I'm equally aware that drafted or not, they all have an opportunity to show what skills they have. Don't you want to know if these guys have the ability to help this team reach its goals? That's what these games are all about. How many of the drafted players (9) do you see making the 53? I don't see all nine making the 53 by any means, but if you told me today that six of them did make the squad, it wouldn't surprise me. Frankly, seven isn't impossible either.
Come Friday morning there will be a few players that are the talk of the town! Always seems to be a few guys who stand out and get their names out there. They go from virtual unknowns to being fitted for a gold jacket! Granted that this years squad has most position groups accounted for, personnel wise or so logic tells us. However, injuries and suspensions, unfortunate on both counts, alter the decisions on the 53.
We have position battles going on that are extremely important and these games will help in those decisions. Let's examine these positions that are yet to be decided: left guard, DT at the 1 technique, DE at LDE & RDE, SAM LB and who are your three starting CB's? Those are the starting positions that are unsettled, but how about the rotations at DE, LB, CB (Nickel & Dime) & at S? Are we keeping a sixth WR this year? How many RB's or TE's will make the roster? How much of an impact is the ability to play and excel on special teams going to affect the 53? These are all very intriguing to this guy and should be to you too!
Let's look at some of these positions and assess the importance of that position. The left guard position is easily the most important in my assessment. The engine that makes our offense go is that O line and the player selected to start at LG must be able to do an effective job in run & pass plays. The middle of the line is so important and we can't have a guy being a turnstile for every twist stunt known to a coordinator. Let's be realistic, whoever the LG is will be the weak link in the line until proven otherwise. He will be the target of every stunt and blitz. They'll move their best DE inside against this targeted player to get after Dak. If this guy can't get a push up front on running plays, it will make 3rd and 1 tougher as teams will assume that Zeke is following Martin on every key play.
We all know that DE is a hot bed of need but who will be the "starters" against the NYG's? Who will be the rotational guys? This is a little lesser of a concern as a rotation can be used and a "War Daddy" isn't showing up anytime soon to change that. I'm good with the talent at the 1 technique but who will step up and snag the spot, Thornton or Paea? Let the best man win! If you know me at all, its the defense that I'm most concerned with for our teams true success. Who's going to be starting at CB, which three? I'm expecting us to carry nine DB's, so is it 5 CB's & 4 safeties or do they go long in the secondary with ten?  They appear loaded with CB's and I'm expecting this to be real tough position to cut down. If Marquez White continues his early play in camp, he could make it six CB's. We have five safeties in camp with Blanton being a special teams ace, which brings Bisaccia into the equation. He's been known to "bang the table" for ST aces!
Back on offense, the running back position is stacking up to be an interesting one. Talk about quality backs that are vying for the back up to Zeke! Wow, McFadden, Morris & Hillman have all had success in the league. How about the week that Rod Smith has had? He's already a favorite of Bisaccia, which could push Morris & Hillman out. I'm on record that Morris is a quality performer in a zone blocking scheme, while McFadden struggles in zone plays. But Darren is a much better blocker in blitz pick up and a quality receiver out of the back field. Ronnie Hillman brings some juice to the position and can cut on a dime and could fill that Dunbar role which was never really utilized. Funny part is that its a position that fans never want to see anyone but Zeke out there. We'll likely carry four backs including Keith Smith at FB.  A tough decision here. I see a trade off on which special teams player will make the 53 and I'm expecting that Smith may just get that last spot. Just a little deductive reasoning. At the moment, it appears that we have the five WR's decided, especially with how solid Brice Butler has looked thus far. We have Andy Jones & Noah Brown making themselves known too. Its one of the reasons that the team signed McGown last week. They want veterans capable of finding the WR's so that the second team offense can get some work & really see what these other WR's have. Lenoir is a Will McClay dark horse pick up, so these games are huge for him. They can work the LG spot, the WR's 4-8 on the depth chart and look at the RB's throughout the game. Trades may be on the horizon for some of the players as the team gets ready for the cut down.
Don't believe that Jaylon will see the field for the HOF game, but he will in the weeks to come. How can you not find the preseason interesting?
Now I've laid out for you why you should be watching on Thursday night and what you should be looking for. Remember at least a half dozen of these players will be our starters, this year or next or even two years from now. This is a great time to find out for yourself what we have in the pipeline!