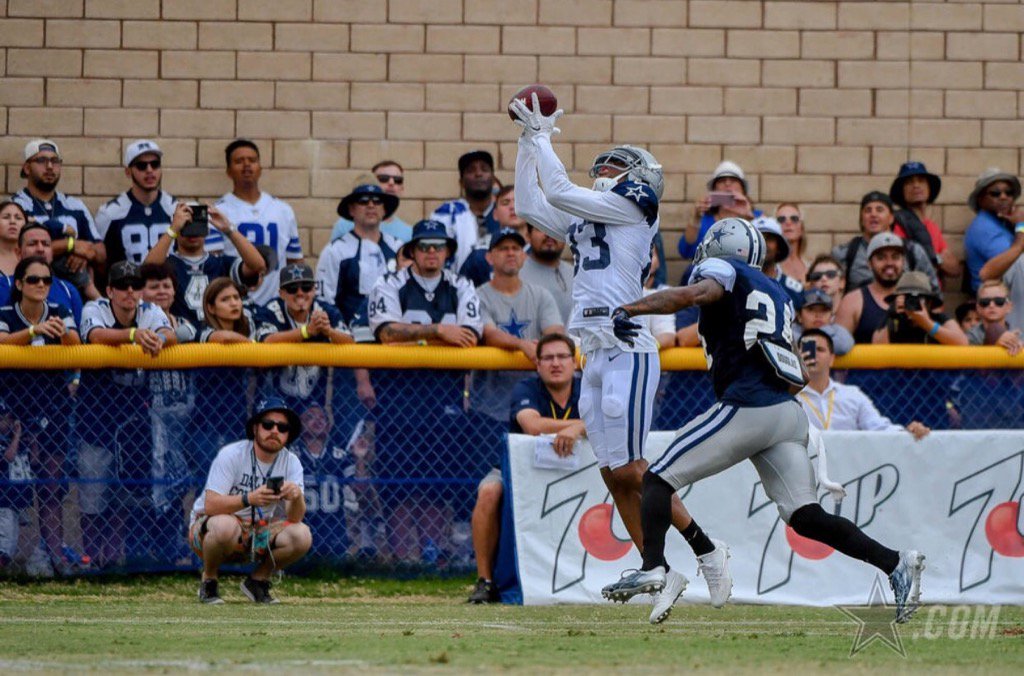 Sunday in Oxnard the Cowboys essentially had their Blue & White scrimmage. It was a fairly crisp hour of work for the team, including 1 on 1's, 7 on 7's and full scrimmage for the 1's and 2's.
One of the great plays of the day can be found in this first clip. In our recap of Saturday's practice one of the players I pointed out that was having a very solid week was Orlando Scandrick. That which stood out to me was how great his positioning and technique was in enabling him to blanket receivers with what looked like minimal effort. A real pro's pro! Well today he made a play that was just outstanding in that he closed the route for Beasley and when Bease went to make the catch, Scandrick picked the ball away without ever seeing the ball in flight! You can't do it any better. I watched on Periscope, which allows viewers to interact with one another. There was one person ripping into Scandrick as the worst CB on the team. Totally understand that he was coming off a down year, as well as a knee injury. Due to other more serious injuries he played through his injuries and his performance wasn't equal to prior years. I see a player that has been a top CB with serious experience and a football IQ, that few ever achieve. If he can play healthy this year, I see a very good year for him. I'm equally aware that the new kids will one day take his job, He's not handing it to them and they don't have the experience to take it just yet.
Orlando Scandrick with the play of the day… @NBCDFW pic.twitter.com/gVnIFV7IYr

— Pat Doney (@PatDoneyNBC5) July 31, 2017
This is a play the team needs to see in the regular season. Here Byron Jones comes over to help and picks off a pass from Dak, which appears to have been under thrown towards Dez.
Hello, Byron Jones. He picks off Dak in the end zone. pic.twitter.com/rJWE351IH1

— David Helman (@HelmanDC) July 31, 2017
This next clip is Noah Brown getting the better of Chidobe Awuzie on a go route, with a twisting effort to haul in the TD pass. Brown appears to have had a very solid week and one that could lead to the team having a tough decision on what to do with him. Going into camp it was a long shot in going long at WR, but if he doesn't hit that rookie wall, he might make it tough on the coaching staff in paring down.
Touchdown, Noah Brown. Fantastic catch against double coverage from Chidobe Awuzie and Kavon Frazier. pic.twitter.com/3BwkLlDT6m

— David Helman (@HelmanDC) July 31, 2017
Jaylon Smith appeared to get a few snaps but what I noticed was that he was a little slower than yesterday. He's done a great job getting physically ready for all this, but when the pads go on, its a different ball game. If my assumption is correct they made a good decision to limit his snaps & shut him down today. All in all, part of the process of getting football ready. There was an altercation today between Rico Gathers & Kyle Wilbur following a 1 on 1 match up. Rico was sent to the showers early by Garrett.
Rod Smith had another good day out there today as he stacks good work upon good work. His special teams play will make it a tough call on whether he makes the 53 or if Alfred Morris does. Morris isn't making it easy as he's performed well and seems to have more quickness than he did last year.
A subtle but noticeable assignment change shows the team checking out Chaz Green at tackle today, with no activity at LG. They're looking for that swing tackle and it seems they'd love it if he can nail that job down and also be the backup at guard as well. Unfortunately, Green was pulled with a shoulder injury which ended his day. This seems to be the story of his career as injuries have prevented him from work in camp and preseason.
In past years much has always been made of one, Dez Bryant and while he's not getting a lot of notoriety, let it be said that he's been tearing up the coverage when Dak's called his number. Only the focus on others has limited the props lauded on Dez, but don't mistake that for any diminished role or performance on his part. Dez is primed for an outstanding season!