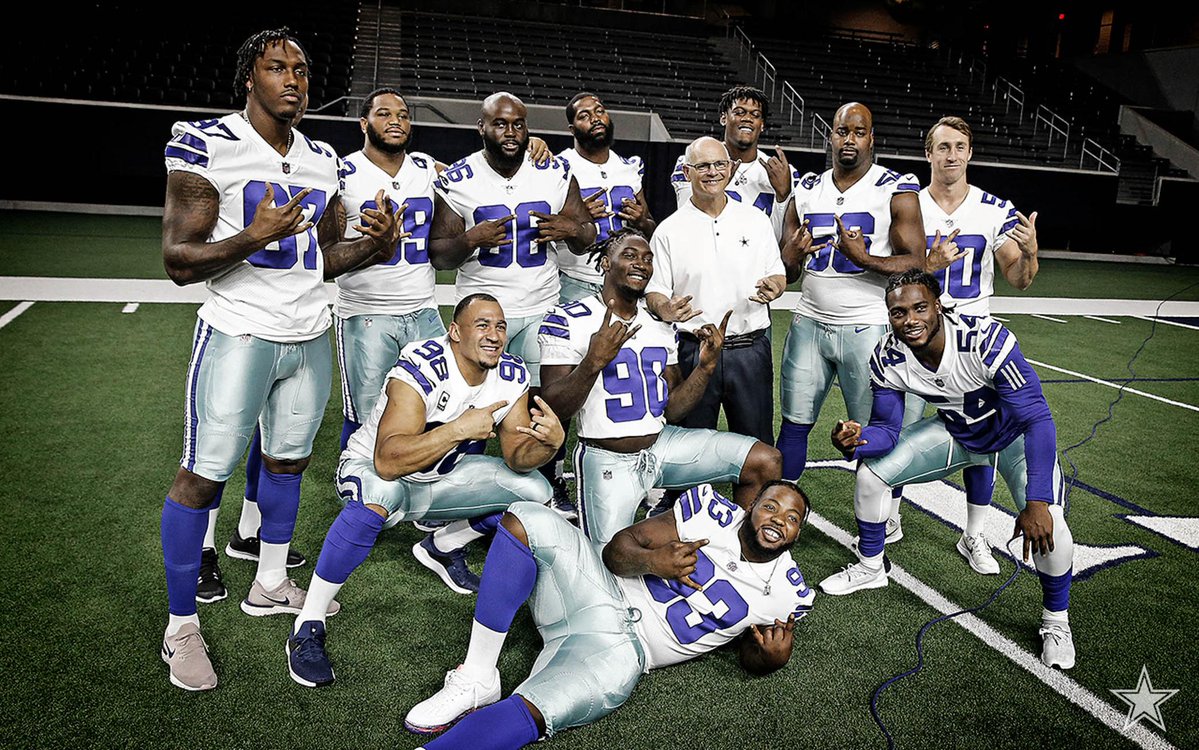 In watching the way the game started last night, it sure seemed like Scott Linehan was reading my pre game post last Saturday. I'd looked at the game with my coaches hat, not my fan hat in forming a game plan. Plane and simple, I was looking for mixing up the offense. Let the pass open up the run and let Dak run the read option to get the front seven frozen in quicksand for a second or two. Here's exactly what I wrote on Saturday: The best way to get out of this trend may be to start up tempo and passing first and setting up the run, instead of the other way around. Then a few paragraphs later, I threw this out there for you: Where I think Linehan has to make a small change and go back to 2016 and that is more run options with Dak getting on the edge. At the very least it keeps the DE's from crashing inside on Zeke.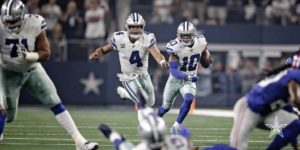 One of us is an absolute genius! Naw, it just made a ton of sense to mix things up. One of my pet peeves is that the team hasn't been great at stretching the field, rarely taking vertical shots. We got some speed this year, let stinking use it! In a matter of the opening quarter, they accomplished all of those issues. They ran a simple slant on the opening play for nine, Zeke picked up the one yard, for the 1st down, then a sweet double move by Austin for that opening TD covering 64 yards. On their next drive, they began running Dak from the read option picking up easy yards for valuable first downs. They ran a variation of the jet sweep with a handoff going wide right with Zeke, who flips it to Tavon, going the other way, with Dak leading the way. It was so easy to see what these plays accomplished not only for this game but more importantly what it does to defenses we'll face going forward. In just a handful of plays, they let it be known they very well will use the speedy players they've signed. They will use the read option and force teams to respect the threat of Dak taking off and picking up those key first downs. They aren't content to let opposing defenses stack the box on Zeke. It was a "wow" quarter for the team and the fans. It paid dividends against the GMen and will in coming weeks. Teams now have to cover more turf than just a depth of 12 yards from the line of scrimmage. That being said, I've got to tap the brakes as its only one week and in part only one quarter.
In that first quarter they gained almost half the yardage they picked up for the whole game. We gained 72 yards on the first two completions and from there, we/Dak was only 14 of 23 for 87 yards. We were excited for 15 minutes, then we were basically yawning for the remaining 45 minutes. Which version of the offense will we see going forward? Its really perplexing. That which looked great fizzled except for that one second half drive, which looked like a vintage 2016 effort.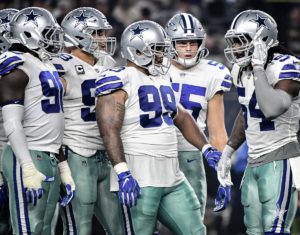 What we have seen with consistency in these first two games is that our defense is playing somewhere between solid and very impressive. On paper the Giants have a tough set of WR's, led by ODBIII and adding Barkley will haunt us for years to come, but they were neutered by the defense. Granted they have a below average QB in Eli, but they were unable to really get anything going until it was time to play "tick tock". Barkley ran the ball 11 times for all of 28 yards, reread those numbers. Any RB with blocking is a tough opponent, but on Sunday night he wasn't getting it done. Eli tossed him 14 balls for 80 yards, a shade over 5 yards per catch. If SB didn't make the first man miss on almost every play, that total may have been closer to only 50 yards. His time will come.  We shouldn't get too excited about the pass rush in game 2, because it was the Giants, but the blitz packages that were used, would have given other teams fits as well. The Giants line has been bad for years and we couldn't get Eli to the ground, so strides have been made. Surprising that DLaw didn't tear up Erick Flowers who'd been a turnstile for anyone and everyone? He played well, played hard all with while nursing a groin injury, but we expected to see Flowers get beat whipped like an ole rug. The secondary did a fantastic job of keeping ODB in check.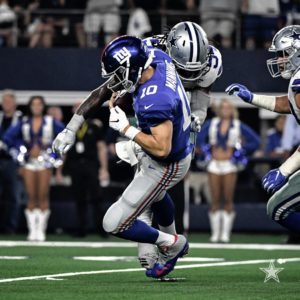 The linebackers stepped up after their first game sleep walk and were flying to the ball. Jaylon running SB to the sidelines early for a loss, set the tempo and an alert that Smith can cover side line to side line. I don't think Eli will try to run thru Jaylon again, any time soon! Typically, Eli ducks for cover, so standing in there to take that hit was quite surprising. Wonder if the Giants realize the mistake they made taking Barkley and not taking one of the young QB's? Although they have every chance of being a bad team again and still getting a top 5 or top 10 pick in this years draft.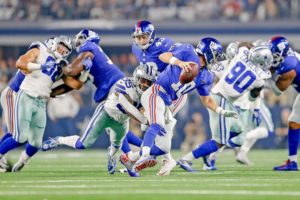 Conclusions after two game ….. The Cowboys are showing us a defense that will carry this team, the one entity that you can count on game in and game out is a defense. You know my mantra of "No D, No Rings"! Well, they're showing us the makings of a tough D. Its gotten better seemingly overnight, with a few changes in the secondary and a new version of Jaylon Smith, who's faster, stronger and quicker to read and react. Taco's doing nicely in his 2nd season, something I said last year. Don't judge him by his first season, so its good to see he's getting pressure and he played it smart pouncing on the fumble and not getting cute with it. KVE got snaps filling in for Sean Lee and appeared to do a solid job. Offense shows they can still play the 2016 style of game and they have to. Dak is just not going to be that "pocket QB" that is the prototype. But they have to stretch the field, side to side and at least 30-40 yards down field. Freezing the LB's and DE's the other day, opened lanes for running and passing. Doesn't mean it works on every play, but forcing teams to play the whole field does provide opportunities. Now its on the Boys to execute!
Hoping to have my thoughts for the Seattle game later in the week. I jumped off the train, until they showed some mettle that they could mix it up the offense and execute better in the process. Not a fan of Wilson, but he's a threat to get out and pick up first downs to extend drives. They are a badly wounded team, starting 0-2 and they're seasons on the brink. We realize that in a 16 game season, every game is a must win. For them, they're season can just about end this Sunday, so expect them to be fighting to prevent that. Its going to be tough to play a wounded animal, one that's really desperate for a win. If they were 1-2, no big, a W for the Boys. A team thats 0-2 will pull ever trick in the book, their fans will be screaming at decibel levels to make your ears ache for a week. Certainly, believe we're the better team, but can't get behind in this contest. Have to prevent Wilson from free wheeling, keep him in the pocket and he's not the most impressive pocket passer. Their best runner is Wilson, the O line isn't very good. Their defense is solid up the middle on the back two levels, otherwise, I'm not overly concerned.