We wrote seven items that needed to be done defensively to win the Packers game. Please don't laugh when you see the first two that we listed. In hindsight these two were the one's that crushed the Boys the most.
The first item, the top and most important thing that the defense needed to accomplish was to "keep" Rodgers in the pocket. I wrote how if he can get outside the pocket that's when he's the most dangerous. We all saw the him make plays throughout the game. You might remember the perfectly thrown pass over Byron Jones to a leaping Marty B on a vertical route down the sideline. Give Rodgers the props for such an amazing play, sadly at our teams expense. The back breaker was when containment was broken and he bolted the pocket to get down to the Cowboys 13 with 21 seconds left. Mayowa had his hands on Rodgers to no avail. Regardless this was something that we had to prevent Rodgers from doing. We'll give them an "F", for major "failure" on this requirement.
The second item that was imperative to win the game was to "control their running game". An easy requirement for any game, sure, but I didn't want to see them get balance to give another weapon to Rodgers. We turned a 4th round draft pick into a star in his first NFL start. Arther Jones was his name, in case you were mortified watching and didn't catch his name. Heck, Rodgers even handed him the ball inside the red zone to let him get his shot to score a TD. What a guy! Give it to Jones, he followed his blocks and cut off them really well. Giving an already great QB an effective running game should be illegal. On this day the combination was too much for the Cowboys.
In watching the ALL 22 gives an incredible view to dissect what's rally going on out there. Granted there are limitations because I can't know each players assignment on a given play. What it does show clearly is that we have the root cause of the three losses thus far this season. The teams that have beaten the Boys have run roughshod, from here to Palermo, against this defense. A lots been made of what's wrong on defense. The analysts point to the unit, individual players or the position groups and there's plenty of room for a major discussion. I went thru the tape time and again to get a viewpoint to bring to you. I have one, yet I don't have the pure solution.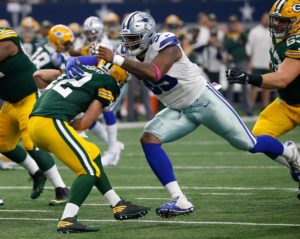 Going into the season we were begging for a defensive line that could get to the QB and after five games, that hasn't been a problem. As a team they have 15 sacks, with Lawrence leading the league with 8.5, Collins with 2.5 & the returning David Irving, he notched 2 vs GB. A major improvement, yet Dallas is 2-3. The shortcoming is that the defensive lineman, other than Lawrence, for one, none are making tackles in the running game. As bad as that is, a key thing to observe is that the tape shows them getting washed out of the running plays. They're being taken out of the play at the snap. What that means is they're not eating up the blocks, allowing the linebackers to step up and make the plays in the hole. Something that has kept jumping out at me thru five games is that the likes of Lee, Jaylon & Wilson have been getting blocked and very effectively. It first concerned me after watching the Denver replay and seeing Lee being out of position. It hit me, the linemen were getting to the second level and not only blocking our linebackers, but now, they're wiping them out of plays. That's why Sean Lee had what he called, the worst game of his career vs those Broncos. He didn't make any excuses!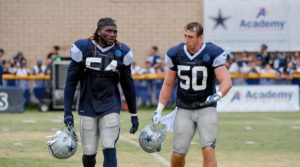 A case can be made that Jaylon Smith is having a tough time of late. I can't deny it, but lets look realistically how things have gone for him. Prior to Hitch's injury, the teams plan was likely to get Smith maybe a dozen snaps per game on average. Just ease him back into playing again, let him get a feel for the speed of the game. Sadly, Hitch was injured and it forced Jaylon to play an inordinate number of snaps. For a guy who hadn't played in 18 months he was forced into the fray, week one, taking on a full load. The Giants game was ideal for him, fewer snaps than the next four games and we saw him show flashes of what he'll be when fully healthy. However, by game 5 he's seen far too many snaps for a player who was rehabbing an injury from the year before with a nerve which hasn't fully healed. He has two difficulties right now. The first is something that experience will resolve and that's his reaction time. He's been a tick slow to react and it hurts him on any number of plays. If he has to turn and run, he appears to take an additional step to get himself turned. In a straight line he's fast, but that turn gets him and in the NFL, only takes a fraction to make, or miss a tackle. In its own right its not fair to put this workload on him when his physical rehabilitation isn't complete. It was never intended for him to play this much. With Anthony Hitchens returning to the lineup it should help Jaylon. Let's not judge Jaylon harshly, yet give him props for being a team player & a warrior.
This inability to stop the run is what is really hurting this defense. Aaron Rodgers didn't light up the secondary for 300 or 400 yards last week, though it may have felt that way, He only threw for 221 yards! That was it, but the running game kept their inept defense off the field and allowed them to waltz into the lead. In watching our secondary, they weren't perfect but in watching the tape, they were often in as good a position as you could hope for. Take that reception by Bennett, for example. It became a vertical wheel route when Rodgers broke containment. Byron Jones was in trailing position and the only way Rodgers could get it to him was to drop it in the bucket over the top. That's what he did, an amazing throw on the run. My one concern was that on virtually every play, the safeties, who were 15 yards from the line of scrimmage, they backpedalled even deeper. I get wanting to keep everything in front of them, but it did two things. It prevented a safety from coming up sooner to support the run defense on one hand. The other was that it widened the zones to get picked apart in. There was one play where the WR, Adams, had a huge window, with no one within 8-10 yards of him. A simple pitch and catch inside the Cowboys red zone. Have to question opening the zones that wide to allow those plays. Granted the play action held the linebackers and created that cavern. Man coverage was pretty good overall, some plays our guys won, others, their guy won.
The next requirement was that we had to get production from the RDE in passing situations, with a possibility of an assist from David Irving. This was a mild success as they had their early production but unable to repeat that later in the game. But they did get four sacks as a unit. We would all take that and smile for every game. Wasn't enough, because they lost badly on item #1, above. In all fairness many of the passes were out so fast that it was impossible to get pressure. He was throwing often from three step drops in the closing minutes of the game.
Next up was tackling and controlling the yards after catch or contact was made. They did well against the WR's but the RB was running free, way too much and tackles were well after the LOS.
The final item on our list was taking away one of their WR's, preferably Jordy Nelson or Randall Cobb. Between them they had just 6 receptions for a lackluster 53 yards. Had we known that before the game, we'd have all been salivating at those paltry numbers. Devonte Adams, proved to be the guy who did the damage and a player that appeared out of the game following a concussion following a devastating hit. Have to give the secondary props for holding down their top two WR's.
Overall the Dallas defenders were good on several items as we go down the list. Lack of containment on Rodgers was the dagger to the heart. But the big killer throughout the game was the inability to control the running game and that is on the D Line. On running plays, a good part of their job is to eat up those blocks to allow the Sean Lee's and Jaylon Smith to make the tackles in the hole. Can't allow the lineman to get to the second level and take them out of the play. This is our biggest concern going forward and if they can't get the run defense squared away, there will be other long days.