What have we learned after five games about the Dallas Cowboys? Who's met or exceeded expectations and who hasn't? Will any changes be upcoming after the bye?
What a difference a year makes! Lets dissect the team, starting with the offense. No better place to start than looking at the running game. Many expected that with 3 Pro Bowl / All Pro lineman that things would be nearly identical to last year, even though Ron Leary & Doug Free are gone. Leary left via free agency, a move that I wasn't pleased with. That has left us with two players, Collins & Green, playing positions in the NFL that they'd not played previously at this level. An added complication is that Chaz Green can't stay healthy, forcing the team to play Jonathan Cooper. Coop's struggled badly at times and teams are taking advantage of him at the LG position. La'ell appears to improve each week, but has had tough moments out at RT.
The offensive line, just hasn't worked cohesively across the line. Each member has had plays below their standards. Two crucial holding calls against Travis. Has he had two in his career prior to those? Teams are attacking holes and it seems every game, Zeke is being met behind the line or at the LOS way too often. It's put the team in 3rd and long situations more than we'd expect. What teams are doing is destroying the Dallas recipe for victory. Zeke had a 5.1 average last year, this year 3.7. thru five games. He's not the problem! The team is built as a running team and its been a major struggle until the 4th quarter of the Packers game. They haven't been able to keep their defense on the sidelines, limiting their exposure and staying fresh. The opposition has made it clear that they are forcing Dak to beat them in the passing game. For the most part, Dak has been outstanding, playing some incredible football and if not for his valiant efforts, they aren't in these games. He's had to run for his life and do his version of the spinorama to make plays. If not for those plays, where would this team be? We can't ask Dak to be anymore super human than he has been. Others have to step up and quick! In 2016 the WR's led the league in having the fewest drops. This year, they're all taking turns dropping balls. When your chasing the scoreboard, every play needs to be executed properly. This lack of execution is hurting the offense.
Dez has had a hard time getting going and I put that on Linehan in large part. True he's faced some of the best CB's in the game. He's paid to beat them too! Frankly, in the ALL 22 you can see Dez breaking free or gaining leverage on a defender but Dak's under tremendous pressure and can't set and get him the ball. The one guy, that has struggled seems to be Terrance Williams, with multiple drops, one of which led to that pick 6 in the GB game. We're struggling to get the ball to Beasley. He's being bracketed by most teams, as is Witten recently. A few teams are taking the approach of forcing Dak to go to  outside the numbers with the ball and its been problematic. Butler doesn't get a lot of snaps, but has been productive when called upon with several big plays. Without a consistent running game & that solid pocket we're used to seeing, its been tough sledding for the offense thru five weeks.
Considering that the offense is scoring at an average of 25 points per game, they aren't "the" problem, but they have to be a concern. There are issues that are making life rough on Dak. Third down conversions have been hard to come by, given the down and distance. Going into the GB game third down conversions were only 25% when 3rd and 6 yards or longer, on roughly 42 opportunities. Easy to say, then need to find  a way to be more productive on first & second down. IMO, one of the improvements in the running game came as a result of having Keith Smith in at FB. I'd been calling for Keith to get snaps, to be that one guy, in the hole digging out a defender. It seemed to make a noticeable difference against GB. But why did it take so long to be part of the offense? Baffling!
Ok, onto the defense! There's not an easy solution given the personnel. My evaluation of the defense centers on their inability to stop the oppositions running game. In the three losses, they're allowing an average of over 150 yards per game. Look at the three losses and two of those were against QB's that had no business carving us up, Siemian & Goff. The Giants made mince meat of Siemian on Sunday night. In the third loss, Rodgers didn't have to sling it around the yard as we expected, but he dissected the Cowboys when he did. We don't have a run stopper at the one technique. Maliek Collins at the 3, isn't helping protect the linebackers either. Other than Lawrence its rare to see any DL in on a tackle? Teams are handling our interior tackles and moving onto the 2nd level and clearing out the linebackers. Sean Lee had his worst game, in his words, against the Broncos, but the tape shows him being blocked enough to make it a tough day for him. David Irving returned from suspension and notched two sacks while playing inside at the 1. But is he a run stopper? The inability for the tackles to protect the linebackers, Lee & Jaylon Smith have made for tough times. Jaylon has played far too many snaps due to the Hitchens injury and he needs to be brought along slower until there's a full recovery. The return of Hitchens will help Jaylon. On Sunday there was chatter that Navarro Bowman is making a visit to Dallas. I'm concerned that he's not nearly the player he once was. If he was even close, SF wouldn't have released him midseason. Even if he was the old Navarro, if he's being blocked on every running play, he wouldn't be of any help! The problem is up front. Think of it this way, what makes Luke Kuechly so good at MLB? Try that no one from the offensive line touches him and he's free to clean up the debris in front of him. Sean Lee's a tackling machine when he's able to run free, albeit from the Will the last few seasons. That's how outstanding linebackers make the Pro Bowl!
The inability of the front seven to be an effective cohesive unit in dealing with the running game has contributed mightily to the three losses. The pleasant surprise has been the pass rush. The team spent draft capital to deal with that several times over the last few years, with little return. A healthy Demarcus Lawrence has begun to pay consistent dividends thru five games as he leads the league going into week 6 with 8.5 sacks. Last year they amassed 28 sacks, this year thru 5 games, they have 15.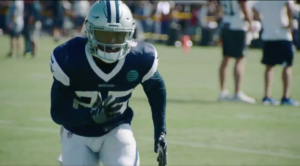 Now, the back end has had its struggles, but much of that goes back to the inability to stop the run. They're trying to play zone coverage most of the time and with the linebackers being frozen by play action, the windows open wide. Fix the run defense and this issue goes away in large part. I've never been a fan of playing zone, as my preference is to battle the WR off the line. Hit 'em, slow them down, get them off their route and timing with the QB, but that's me. The shining star thus far has to be Jourdan Lewis! His closing speed is outstanding and he's a good solid tackler. He got virtually zero snaps in camp due to injury, making his performance all the more impressive. Awuzie, when not nursing a hamstring has looked pretty good as well. The one guy who's surprised me has been Orlando Scandrick, as he appears to be a target by opposing QB's. Thought he was going to have an outstanding season but thus far its been rather lackluster at best. My 2017 Pet Cat, Xavier Woods has been thrown in the mix and has handled his assignments rather well from what I see on the All 22. Rare that he's targeted, yet has broken up a few attempts and he too comes up quickly to make tackles. Anthony Brown has had good moments and some rough patches as well. That goes for the starting safeties, Heath & Jones too. Most of the struggles come from the gaps in the zone caused by play action. What I'm not fond of is that the safeties in 2 deep coverage, lineup 15 yards deep, then back pedal at the snap. Feel that it takes them out of support roles way too often. The inability to stop the running game is killing this unit as a whole. We should be upbeat about the potential of the secondary, down the line. I'm expecting to see more snaps for Awuzie & Woods at safety after the bye. Wouldn't be a complete surprise if Heath became the backup once again. If Scandrick continues being targeted, then we may see one of the rookies get more snaps at his spot going forward.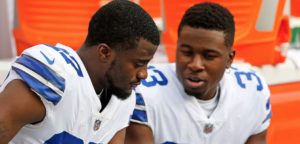 An area that has been a concern for several years regards turnovers. Look at this photo and see how concerned Chido & Jourdan are on this topic! The thinking's been that with more zone coverage, turnovers in the passing game would come. The law of averages say that you'll get a few fumbles. I think we were 29th in turnovers thru 5 games. We started nicely grabbing a few in the first game and a half. Since then its been as dry as the Sahara desert! For an offense struggling, it'd be great to get a short field, but instead we're compelled to mount 75 to 85 yard drives on every single possession. There are many benefits to a turnover and having not seen one in a month, well, I've forgotten them, at the moment! LOL, but its no laughing matter. Teams that win the turnover battle, generally win the game. Inability by the defense to snare a few turnovers is forcing the offense to play a perfect game, if we're to get a win. If we can force teams to be more one dimensional, then Chido, Jourdan, Brown & "X" man, may grab a few!
Special teams have had their moments with two of the best in the game, Dan Bailey and Chris Jones doing there thing. Jones has just been a flat out weapon pinning teams deep inside their own 20. Bailey hasn't missed anything. The problem has been in kick off coverage, yielding a few big returns. In the Rams game they gave up a 60 yard return which led to a TD. The fumble by Switzer handed the Rams their other TD.
There are two outside issues affecting this team that have me concerned. First, its been the whole situation with Zeke. I wrote four stories on the situation, four more than intended. But it has to be a distraction to him and the team, not knowing whether he's available or not for each upcoming game. The second item centers around the pregame protests by players around the league. After seeing Orlando Scandrick & David Irving interviews following a team meeting with Jerry, they weren't in the most pleasant of moods. Not looking to be harsh of them, but after a two game losing streak, where's their focus? I watched the demeanor and spirit of our mortal enemy's, the Eagles & Redskins. They're both winning and they're excited & focused to be playing well, all the while continuing their team protests. These outside situations are distracting to a team when they aren't winning. It hurts that the players are being asked about these issues week after week in Dallas. Just my observation, but its a concern. Talk about needing a win desperately!
Right now, it seems that the Dallas Cowboys are struggling on the field and in the locker room. Frankly, I don't have a simple solution for either location & the issues at hand. Wish I did, but I don't, if you do, please share it with the rest of us!
Until and if, we can at least control our opponents rushing game, we'll be in a dogfight each week right down the final seconds.  We're allowing little known RB's to look like Adrian Peterson and making QB's look like Aaron Rodgers! The only QB that looked like himself was Eli Manning, go figure!
Oh, it looks like we'll be facing a rookie QB in CJ Beathard this Sunday for San Francisco!