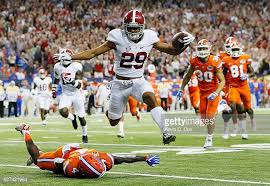 Defensive Back
University of Alabama
Listed Height- 6'1″
Listed Weight- 203 Pounds
Overview
Minkah will be a junior this year at Alabama. He came in as a very high recruit, one of the top defensive backs out of high school. I believe coming in and being an impact freshmen can tell a lot about a player. Fitzpatrick was just that, seeing a lot of time as a nickel/dime corner as well an ace on special teams. He did it all from getting a sack in his first appearance against Wisconsin, blocking a punt & recovering it for a TD against Georgia, to becoming the first person in Alabama history to return two INT's for a TD in the same game against Texas A&M. He finished 2015 with 45 tackles, 2 sacks, 2 Int's (both TDs), and 10 PBU's. As a sophomore, this past season (2016) Minkah started every game, playing nickel/outside cornerback and as a Safety after an injury to, now 4th round pick, Eddie Jackson. He tallied 66 tackles, 5.5 TFL, 6 Ints, 2 TDs and 7 PBUs.
Minkah at Cornerback
Minkah has nice size to him, listed at 6'1″ 203 pounds, with very long arms. A lot of people have him listed as a CB, so I'll start out with my thoughts on him there. First off, he plays with excellent instincts and this allows him to make a ton of plays on defense. He does really well driving on the ball to make plays underneath. Minkah has been used heavily in the nickel throughout his career so far. They play him in off zone looks, where they can keep him closer to the line of scrimmage. Using him a frequently as a blitzer, where he has no fear of taking on an offensive linemen and does very well to help set the edge in the run game. As an outside corner he was used more in tight man coverage, at times pressing. Here he does a real nice job of using his long arms and strength to redirect WRs in their routes, forcing them to the boundary. Has a real knack for tracking the ball as evidence to the production that he has already displayed (8 INT's in two seasons). Really uses his length well to disrupt the WRs at catch point when he's lined up at outside corner. He can have moments where he loses track of the ball over his head. Arkansas beat him on an "out route" on the right side where he lost track of the ball mid air. They try this same route on the opposite side & the first time he had a nice deflection, the second time he gets an interception. I like that he was able to learn from his first mistake and correct it to make a play. Just looking at him, he looks like the perfect size to play outside CB, with his height and arm length. However, his footwork is all over the place. He bounces around in coverage, relies almost completely on his burst/explosion to try and mirror WRs. Not smooth in his transitions by any means, falling off balance and typically leaving the WR open if they make any move away from him. He needs to drop his hips, he gets far too high and this doesn't allow him to recover against WRs. If you are a team who plays a Seattle type scheme where he would be pressing and playing in Cover 3/Cover 1, I could completely understand drafting him at corner but if you expect him to be a man/press man corner, I'm afraid you'll be disappointed unless there's a drastic improvement in his footwork. His 4 touchdowns are interesting because it's very impressive but when you watch him he's not very shifty or elusive. He relied more on really nice vision and good speed to finish his Int's with a touchdown.
Minkah at Safety
I believe a transition to safety would be most beneficial to his career in the NFL. He would give teams a lot of versatility to move him around from FS to SS to a nickel/dime corner to help underneath. He's shown the ability to come with significant force as a tackler and really stick would be WRs, over the middle. I believe he needs to come to balance more on his tackles though and strike through the carrier, many times he flies in off balance and misses to the side. His long arms do help him wrap up guys. If you watch him shuffle and backpedal from the safety position last year, you got excited. He can cover a lot of ground with his long strides. His ability to track the ball will be a fantastic fit over the deep middle of a defense. If need be, he can come down more in the box & blitz off the edge for you, where he uses his long arms and athleticism to try and slip past linemen. He really uses his length well to set the edge on people attempting to block him, shoving them right back into the play. He can give you an extra corner in coverage against a tight end, a position that is gaining a lot more popularity in recent years. This isn't a position switch that comes without development no doubt. Minkah needs time to understand the different route combinations that develop in front of him, he was much too slow to react in his reps at safety last year. He needs to play with better anticipation, this should grow with experience/comfort level. He needs to clean up his angles, at times he took himself out of potential plays with bad angles. At times he gets too focused on the WR and loses track of the ball, ends up sailing past him. As I said earlier, he needs to be more efficient as a tackler, the mentality is there just have to clean up the technique.
The Rundown
Overall, Fitzpatrick has proven to be a big time player at Bama thus far. He has already set the career team record with 4 Int's returned for touchdown. If a team drafts him at corner, I truly hope for his sake they don't expect him to cover man across the field. At the very least though, he is a very good special teams player, he flies down the field on coverage units and has shown the ability to block a punt. I would personally draft and develop him at the safety position, preferability the FS Spot. I would be very surprised at this point to not see Minkah Fitzpatrick's name called on day 1 and could easily see him going top 15. With how highly Nick Saban talks about him, teams during the interview process should love him. He is a very diligent worker who enjoys watching film. Pair his work ethic with his athleticism, playmaking ability, and length and you have a first round prospect. His versatility should add value rather than hurt it.
Scheme Fit
As I said in the thoughts, if you are planning on drafting Minkah as a CB and you don't play a Seattle type scheme you are completely whiffing on him as a player. His physicality in press, his long back-pedal/shuffle strides and ability to track and play the ball would be perfect for a Cover 3/Cover 1 scheme. As for saftey I like him in a similar way that the cowboys use Byron Jones but you can use Minkah more as a blitzer than Jones. Dallas had attempted to use Jones as a deep safety, I see Minkah playing with more range and play making ability back there, plus can lay the wood from time to time as a hitter. Can also be used to cover the tight ends across the field, using his size and length. Dallas loves versatility from their DBs and they've been lacking playmaking ability in the back end for years. They'd be lucky to snatch Minkah up in 2018.
Draft Position
Potential Top 15
First Round ?
Highlights/2016 Game vs Arkansas (3 Int's)