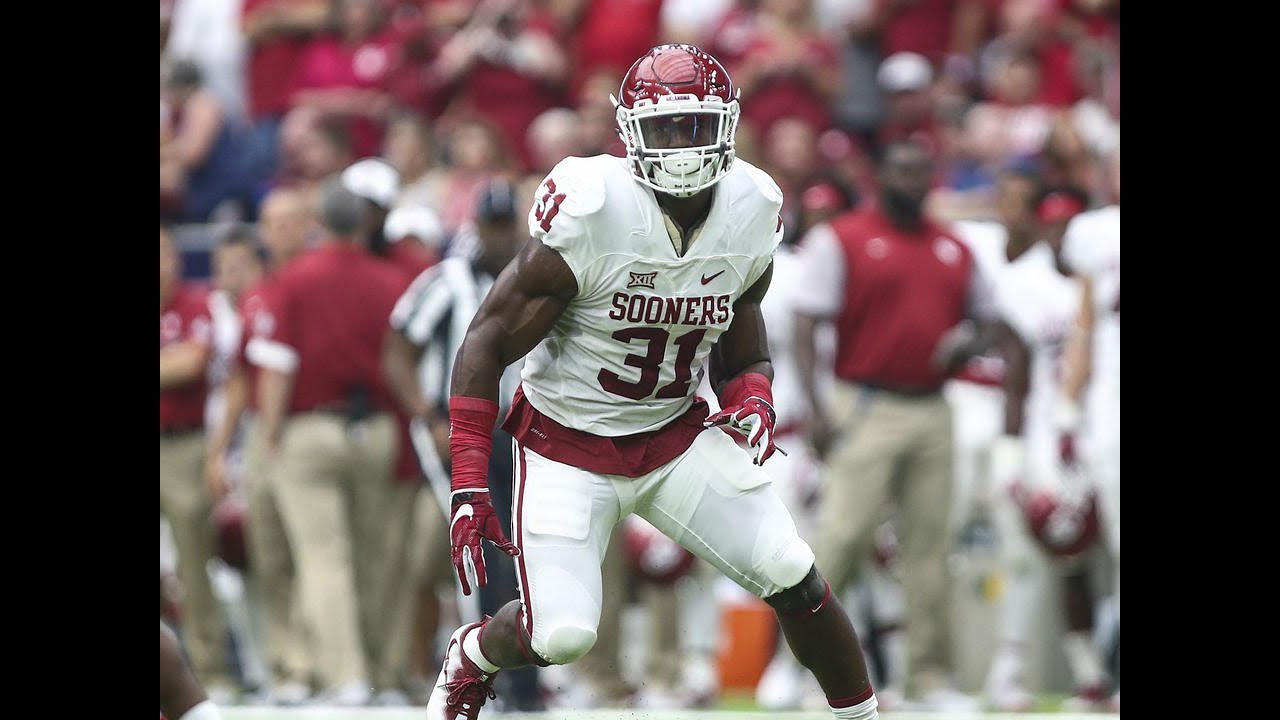 EDGE Rusher Outside Linebacker
University of Oklahoma
Listed Height- 6'1″
Listed Weight- 242 pounds
Overview
Ogbonnia (nicknamed Obo) is a redshirt senior this year at Oklahoma. He wasn't very highly recruited out of high school and redshirted his freshmen year. During his RS freshmen and RS sophomore year he saw most action at DE. Although the action he did see was very limited, starting 0/20 games (missed 6 due to injury). Combined stats for those two seasons were 17 tackles, 5 TFL, and 4 sacks. In 2016 as a RS junior he exploded onto the scene, earning "2nd team All-Big 12" honors. He was moved to OLB and started 12/12 games, recording 67 tackles, 12 TFL, 9 sacks and 2 FFs.
Strengths
Obo stands at a listed 6'1″ 242 pounds, with average arm length. As a push rusher, he's dependent on explosion off the ball. He can really fly off the ball at times, he has short quick steps instead of long strides. These quick agile movements allow him to set up O-Tackles on his pass rush. You see him pull off a very quick spin inside against guys, still developing an outside spin move. He has this interesting style where he's able to make a quick move inside, then he'll shoot back outside to try and get free, or vice versa. It's almost like something you would see in a pick-up game of basketball. Probably my favorite rush from him was against Kansas State last year, he started his initial rush outside, then once he gets upfield he jumps inside, the linemen then attempts to redirect back inside, Obo immediately spins back outside and leaves him in the dust, resulting in a sack. As the year progressed, he showed really nice improvement on his ability to dip his shoulder to get around O-Tackles on his rush. Flashes a quick swipe to finish the job getting around linemen but lacks strength to do it with any consistency. When you watch Obo this past season, often times he was in pass coverage and you are left infuriated. You want to see the guy as a full time pass rusher because he has some serious moves there. Anyway, as a stand-up linebacker he does well, he has quick lateral movements to stay balanced in coverage. He lacks awareness in coverage at times but the ability is there, attempts to punish guys over the middle. The explosiveness combined with his creativity as a pass rusher is what makes him so interesting. He's willing to try anything as a rusher and leaves the OT wondering what is coming next.
Weaknesses/Concerns/Room for Improvement
As a run defender he can be pretty iffy, appears he'll be a liability in the NFL. He lacks size at only 6'1″ 240 and it doesn't appear like he has much room to grow. He doesn't show any strength in his base to hold the point of attack, I even saw him get driven back by some Tight-ends. When he's trying to contain the edge outside, he struggles to keep linemen from driving him out of the play. I will say, I have seen him make some nifty plsys inside. At times, he can explode inside in-between gaps and cause disruption in the backfield. One thing that bothered me is that, he often is slow lining up and getting set on defense, I'm not sure why. This makes him have to scramble to read blocks and puts him at a disadvantage. As a tackler it can be pretty rough as well. He often tackles high and off-balanced, especially on head to head tackles attempts. He needs to work on his aiming point, many times he tackles too high or low and just rolls off the ball carrier. Needs to do a better job of wrapping up. He did have some nice plays in the open field on reverses or cut backs where he was able to use his lateral quickness to stay square and make the tackle. There's some questions as a pass rusher that could/will limit him. He lacks much of any strength and when he's able to get by with athletic ability he can get taken out of a pass play. He often gets stood-up and stuffed by linemen who are able to stay in front of him. You see clear hip stiffness with him when he attempts to redirect outside or inside on a mobile QB. This also doesn't allow him to run a clean arc around the O-Tackle. Although he is very explosive, he won't win often with a straight speed rush outside. A big question will be if he can add some upper body strength to keep O-Tackles off of him. Another big issue is injuries, they seem to find this man. There was many times last season that he would hurt himself on a play and need to come out for a bit. There was a report that he was on a stretcher during the Texas Tech game after injury. He even missed spring practices coming into 2017 after having shoulder surgery. Durability with him is a huge question and concern.
The Rundown
Overall though, Okoronkwo is a very talented player and a good athlete. His agility and foot quickness will give un-athletic linemen nightmares. Look for him to have a big year in 2017. Durability and size concerns are going to be interesting during the draft process but I think it's fair to assume he'll be picked somewhere on mid-late day 2. He should see more looks as a full time pass rusher this year and he will likely take over drives.
Scheme Fit
As a player the scheme fit isn't really there in the Cowboys 4-3. However, when they're looking in the late third round, he could be intriguing. They will certainly be looking for a guy who can just fly off the snap and get pressure on the QB. I believe Obo could fill that role effectively in this defense if that's all you asked him to do. Could also stand him up as a Sam linebacker. Would be a huge upgrade over Kyle Wilber as that hybrid LB/DE they have there.
Draft Position
Potential Top 50
Top 150 ?
Highlights/2016 Game vs Houston