This posts cover photo shows two men, thrilled about the addition of Connor Williams in round 2!
On draft day, I said I was looking for a 1st round selection to be at what I saw as the most needed positions, OL, WR or LB, in no special order. I did add DT in due to David Irving's recent situation but, didn't see the team jumping up to a 1st round pick at that position, unless one specific player dropped to them. They filled those most pressing needs in the first three rounds, so from that stand point, I'm good with what they accomplished. They didn't make every fan happy with the players they took and never will. There's always a bigger name and a really good player. We always hear about, "best player available", when its best available at a position of great need. Let's not be fooled! Reading the tweets, some were ecstatic, led by @thegametimeguru, with their 1st round pick, while there were others who wanted to leap off a cliff.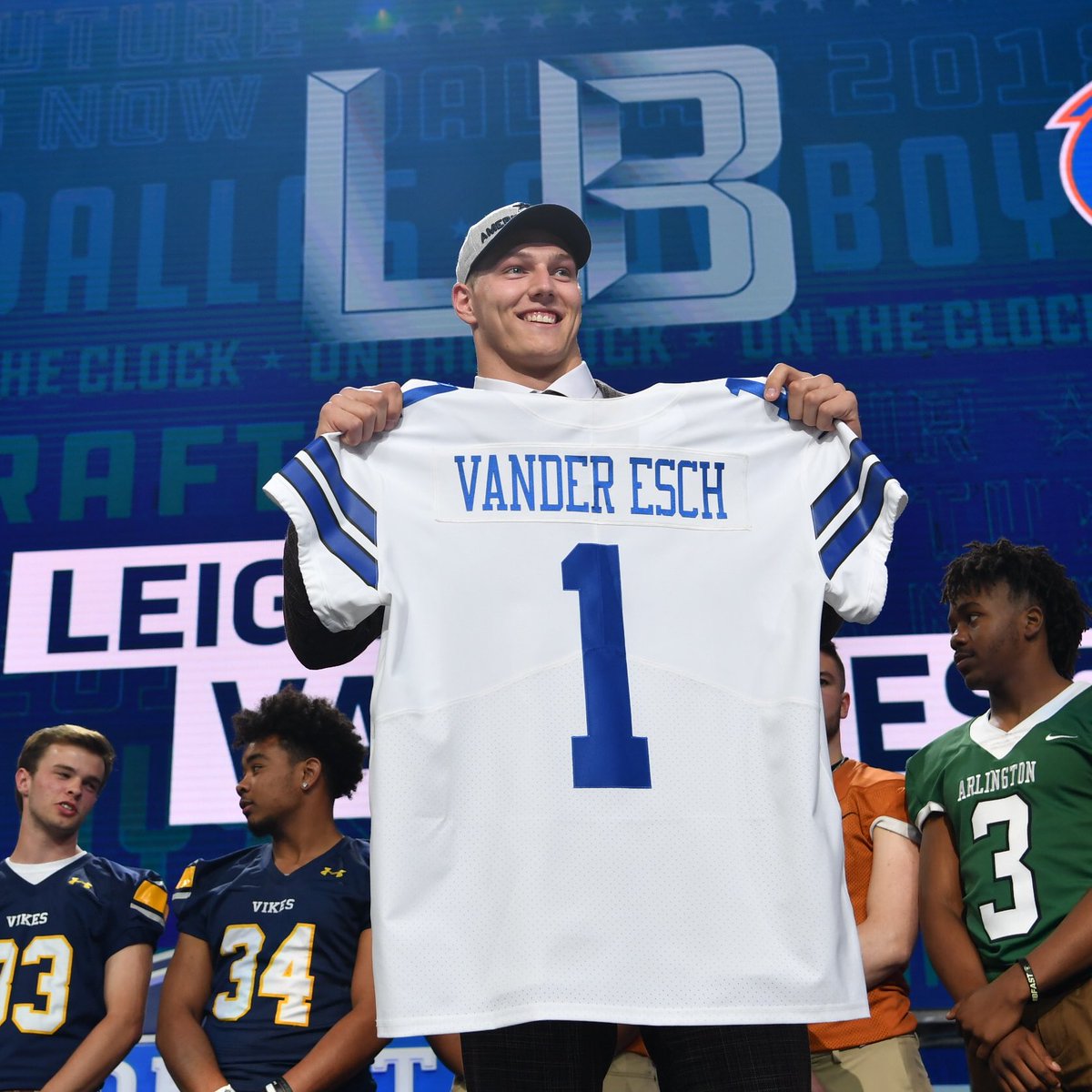 Inside, I have to admit that a splashy WR is more exciting than a linebacker. When they took Zeke, I was ecstatic to have a true home run hitter at RB. Taking a linebacker is as we used to say, "its like kissing your sister", not the most exciting.  However, even I, have to remind myself defense wins championships. Yeah, the offense gets the headlines and is seen more frequently on the nights highlight tape. Getting Leighton in the first, has the makings of a great pick. His tape is impressive, showing incredible range with his quickness, sideline to sideline. A tackling fanatic and he has a knack for being a playmaker in causing fumbles and snatching a few errant throws. A guy who can do that, would fill a huge hole in Dallas. His height (6'4″) is an attribute that will be noticed at some point when QB's are trying to drop a ball over his head. That window will get smaller horizontally and vertically, when he's on the field. Having only really played the last two seasons at Boise, he's a player on the rise in his developmental process.
The steal of the draft for the Cowboys may have been in round two, getting a key piece to their OL puzzle, in Connor Williams. Granted he hasn't played a snap, but the plan, based on their calling him a guard when selected, it affords them to add another talented player to their O line on day one. They stopped the hemorrhaging at the LG spot and salvaging the swing tackle position. A swift move, patched the hole at LG and this allows them to use Fleming as the swing tackle as originally planned. That also means we may have seen the last of Chaz Green! Jerry made it clear that they evaluated the damage of the Atlanta game and effectively have now brought in three players to prevent that devastation from happening again. This is a move and player, I really have huge hope for. If Connor can make the transition and be effective, well then the O line has a new shiny piece to add to the collection up front. This can make the line, once again an outstanding force during the Zeke era and a dramatic improvement over last year in protecting Dak! Catch the video at the bottom that is really pretty special and tells us what type of person and family he's been brought with. Easy to root for a young man that is so grounded!
Now taking a WR in the NFL is probably the second hardest position to evaluate at the pro level. Generally, takes till the 2nd year for even the really good one's to develop and be a reliable WR. Antonio Brown was a 6th round pick and now there aren't many better than he is. The round they're selected in has little significance in the long run. Far too many first & second rounders turn out to be poor selections and why GM's twist in the wind in picking them. Gallup appears to be a solid route runner who projects to be able to handle the route tree quickly and receives props for his ability to separate based on the quality of his routes. Personally, I was concerned with using a 1st round pick on a WR because they generally can only contribute marginally for a year or more. If that's the case for a 3rd round pick, we can live with that, but everyone would be upset if a first rounder turned in mediocre numbers. The team appears to be content with WR's by committee as opposed to a true #1. I can't say I like that, nor am I comfortable with that. Ya have to have play makers and guys who come up big, when needed most. Everyone knows where the balls going and it doesn't matter. That's what a #1 is all about.
The trade of Switzer and the trade for Austin was interesting and should be analyzed a little further. They added two WR's in the draft and signed two in free agency (Hurns & Thompson). Let's see how they pulled these two moves and the cost. While I had hopes for Switz, they get a DT which they were after in the draft, if possible. Remember I said, that DT was a position I could live with if an elite talent in round 1. Jihad, is a former 2nd round pick, so someone thought he had talent. Hopefully, he can be a rotational player here and help in the run defense. Now the Tavon Austin acquisition for a 6th round pick? Value here is enormous with little risk. He was a former #8 selection in round one. Austin is still young and would appear to be an upgrade over Switz, given his experience in the league, let alone his draft stock. Talent acquisition is a 24/7, 365 day business in the NFL and given the experience, we should look at this as an upgrade. What is noteworthy on Austin, is that he was in a spot with the Rams where, his talents weren't being utilized effectively. Is that on the player or the team? A fresh start can be a good thing for a player that came with high expectations. There should be some concern that the innovative McVay of the Rams, couldn't get more from him? He came into the league with 4.34 speed and with that, I'm real good with taking a flyer on him. Can Dallas use him in a way that he can be effective and help spread the field. Its been a pet peeve of mine, making his addition, very interesting. Tavon is devastating in space. Don't know if y'all were aware of it or not, but Tavon was on the next plane out and was at Monday's off season voluntary practice. The man is ready to work!
"Sometimes it's the journey that teaches you a lot about your destination." #TA10 pic.twitter.com/LlGYKaOUJ4

— Tavon Austin (@Tayaustin01) May 1, 2018
After that the Cowboys selected Dorrance Armstrong and he might be a very interesting pick. He had 10 sacks in 2016 but fell off in 2017 to 1.5, His team struggled with injuries and switched to a 3-4 defense, mid season. Armstrong put on some weight to make the switch, but the scheme wasn't suited to his game. Returning to a 4-3 in Dallas, just might flip the switch in our teams favor and we just might find the talent from 2016. Clearly the team is banking on that.
Up next in the 4th the team went for Dalton Shultze, a TE out of Stanford. The news reports on Witten, had the analysts clamoring for an earlier selection at TE to deal with the pending retirement of #82 to join ESPN. The team didn't seem to panic, but did elect to take perhaps the best blocking TE in the draft. He may be a rising player in the passing game, coming from a pro style offense in Stanford. Interesting pick to watch. You don't just replace a HOF caliber player with a rookie, so for the moment, getting a blocking TE to take over for not only Witten, but James Hanna as well, looks like a good move.
The 5th round selection was at a position that surprised me to a degree, but possibly a very smart one. First of all, its a good move to try and upgrade the back up QB spot. Gotta give them an "atta boy" for that, but it also tells us that they may be taking some insurance on Dak. 2018 will be a huge year for Dak & Garrett, to name a few. We all know that Dak had the best rookie season ever for the position, but there was a fall off in the 2nd half of the season. He'll get some rhythm given that Tyrun was out with back issues, the Chaz Green debacle, the suspension for Zeke and the hole at LG. But there's no denying that he struggled with accuracy. The team has to make a decision after this season on him as to signing him long term, for big dollars, as the franchise QB. They've released Dez because of ultimately, his lack of production, when he and Dak couldn't be in sync in key moments last year. Releasing Dez wasn't something that made the fans happy. You don't let go of a beloved player and the franchise's all time TD leader in receptions, without rolling the dice. I, for one, feel that had Tony still been the QB, that Dez's performances, would have been more impactful and more Dez like. But that wasn't the case and we have to accept that as the team makes adjustments to improve in other ways. Now that Dez is gone, Tyrun's back is doing well, Connor Williams fills the hole at LG and Zeke gets to play all 16 games, Dak has to meet a certain level of expectation. If he struggles this year, the team likely has him play his 4th year without anything more than a short term extension at a moderate number or they may feel they need to continue a pursuit at the QB position. That's where Mike White comes into the picture. In 2016, Dak was Dane Brugler's 6th best QB and in 2018, White was Brugler's 6th ranked QB. Dak was rated as a 4th round selection and White was listed by Brugler as a 3rd / 4th round pick. Funny how things play out sometimes.
What's ahead? The WR room is clearly jammed packed with nine guys listed on the teams roster currently. The only one's I'd say are safe in being here, week one, are Hurns & Gallop. While I doubt they let Williams go, because of his contract, I believe this will be his last season in Dallas, unless the contract is altered. They have to face reality that Williams isn't getting any better after 5 years. He'd be a nice player if he were the 4th or 5th WR in the pecking order, but leaves a lot to be desired as a number two. Lacks consistency and doesn't separate. If Dez's numbers dropped, well then Beasely had the biggest dip this year, making his status a little dicey too. Hurn's can play the slot and Austin could as well, so few are safe as they basically remake the wide receivers group. Reflecting back, the WR group didn't do well enough and that's on more than just the wide outs.
Many people and analysts said the Cowboys failed miserably in getting a premier safety. I was fine with them not pursuing that trade for Earl Thomas. At age 30, it concerned me and the cost to get him under contract would have been very high, north of 10M per year. Not ignoring that he likely has two, maybe three good years left in his game. But its a risk that he holds up for that period. I was pleased with the safety position last year overall and was looking forward to what Xavier Woods could bring as the starter at free safety. Weren't we all excited with his being drafted last year and performing well.  Xavier had a 3rd / 4th round grade and we got him sitting around in the 6th. His angles could be better in tackling but they made Wilcox the starter for several years and he had no idea what a good angle, was nor could he cover. I'm all for giving him and Kavon larger roles on the back end. The safety position did not hurt the team last year as much as they did in 2016. I'd expect them to bring another safety in, but they can always pull Byron Jones back should the need arise.
All in all, they filled their three biggest needs (IMO) with what appears to be quality players that will be starters or significant contributors in the fall and in the years ahead. That's really all you can ask for in a draft.
Here's this short clip I promised, pretty special note Connor received from his older siblings!
After being drafted by his hometown team, @dallascowboys' Connor Williams (@cwill) received a handwritten letter from his older siblings.

His reaction? Priceless. #NFLDraft pic.twitter.com/N81QTEBNY4

— NFL (@NFL) April 28, 2018