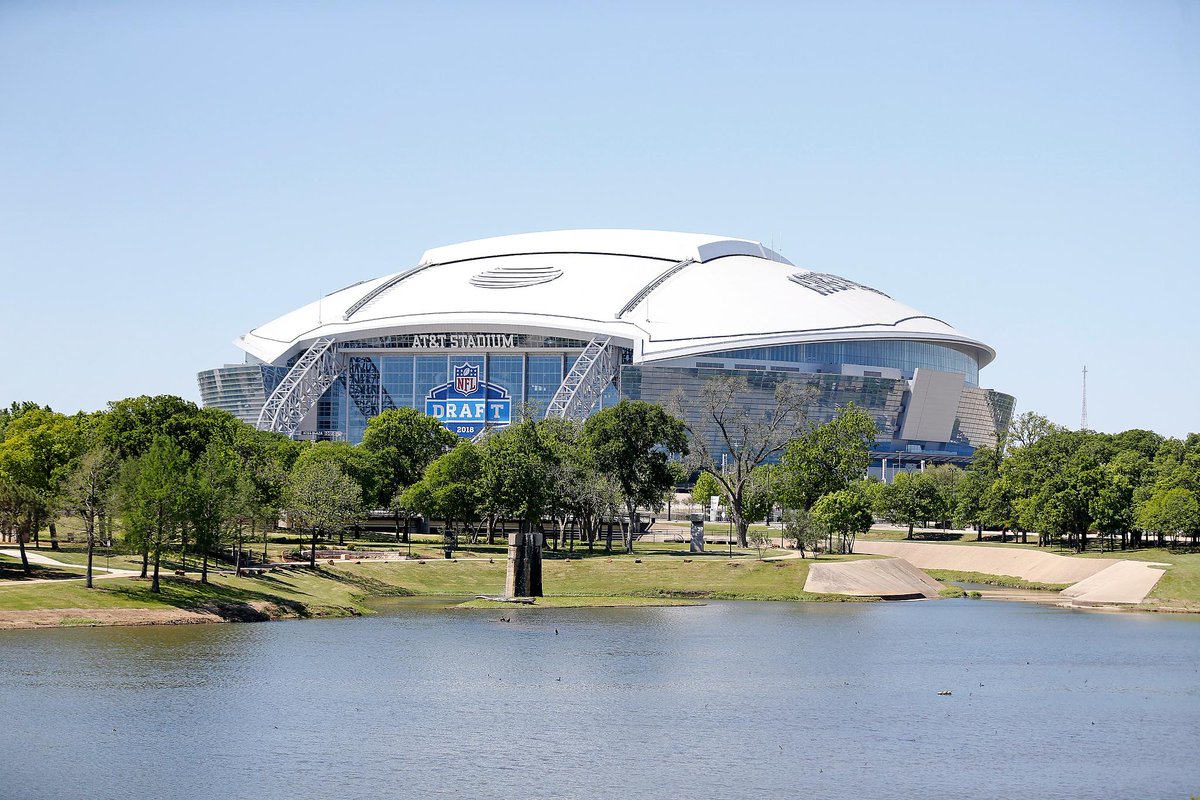 Finally, its here, the wait is over, it's Draft Day 2018 and being held in AT&T Stadium, home of our Dallas Cowboys! Before we get too far into today's take, we really need to remember the greatest lead in of all time prior to announcing a draft pick! Dallas's own, the original 88, Drew Pearson. Totally epic take and one to enjoy into perpetuity …… Those of you who didn't get to see him, gosh, he was always there for Roger when needed most. That's all ya need to know!
5️⃣0️⃣ DAYS til the #NFLDraft!@88DrewPearson stole the show last year… what will happen this year?

You can be there to witness it: https://t.co/1fW4qtvidA pic.twitter.com/mJgdaMqaV8

— AT&T Stadium (@ATTStadium) March 7, 2018
The house will be rocking today, people coming from all across the country to be a part of the biggest deal in the NFL outside of the Super Bowl. The build up starts on the Monday after the big game and tensions ramp up thru the Underwear Olympics till tonight when Goodell steps to the podium. For those who follow the Cowboys, we're forced to wait until pick #19, subject to trade possibilities. I avoided writing stories the last few weeks, in large part due to time demands elsewhere, but I loathe all the hoopla on the paralysis by analysis that exists every year on who does your team take in the 1st round. People throw out 15-20 players that your team, my team, should take with the one, single pick. It started driving me nuts with that guy who rarely ever seems right but he's the magical, mystical, prognosticator each year, Mel Kiper. Fortunately, I dropped ESPN so I don't allow him to annoy me any further. By no means, was he the only person at ESPN that frosted me.
More importantly, we need to take a good look at positions of need in Dallas. Yes, there are any number of positions that could use major help. Here's my list of those positions, where I'd be content with using a first round pick to fill that need. Not in any special order, but OL (OT or OG), WR, DT or LB. Let's delve into those spots a little more for the "why". On the offensive line, we got hurt badly last year, first by uncertainty of who'd fit at LG. Would it be Cooper or Chaz Green? Then when Tyrun sat out, we were torched on the blind side, costing games. Taking a walk in starter on the line, enables them to thrive on the ground with or without the WR corp rebounding this year. Now if they opt for a WR, I'm good with that. I'm thinking they're getting ready to jettison Williams next season and very possibly Beasley as well. Get a WR in the building this year and expect major contributions in 2019. Whoever it is, must be sub 4.5 speed! An elite DT, I'm good with adding to the front, but there aren't many worthy at this high a selection. This position only hit my radar when Irving had some domestic troubles recently. Makes it a position going forward that has to be addressed in some capacity. Finally, there's the LB position that needs to upgrade the personnel overall. Losing Hitch was big, but they couldn't afford to keep him. KC made a deal that frankly is very pricey, even for a solid player like Hitch. A lot depends on what the team expects from Jaylon this year. We don't hear much, but will he be dealing with that brace again? Has the nerves in his leg fired in full? Do they see him as the Mike of the future? Or are they moving Smith to the Sam? If Jaylon's not the Mike, then the need to draft a top tier LB increases. If Jaylon is their projection at the Mike then getting a player at LB can wait till rounds 2-4.
Overall, I'd like to see them add a real shifty RB, one who is great in space. Two WR's would be nice to add and fill the room for next season. Two LB's at a minimum, one a premium pick and mid rounders (4-6) to fill out the room. Adding to the defensive line would be wise. My expectations are that at least three current roster players won't be around in 2019. Adding depth this year to the D line would be a good move to develop a player or two. Finally, can never have enough DB's and while I'm high on last years crop, doesn't hurt to add to the DB room. In all the Cowboys have 10 picks available to them. I'd be surprised if they didn't trade a few of their picks to make a move for a player they covet in a given round. Yes, there's scuttlebutt looming around Earl Thomas. Love the player 3-4 years ago but at age 30 with his injuries the last few years, I'd like to pass on that move. Try and remember that they see things in ways we don't necessarily understand.
We have to be encouraged by the vastly improved drafting process since Will McClay's voice has become a valued commodity in the war room.