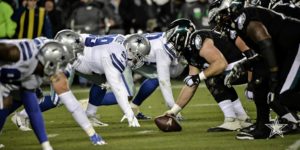 The ten days of rest were sorely needed by our players and I can gotta believe the fanbase's nerves needed the break as well. Fortunately, there's reason for hope and a great deal of excitement. A real defense does that for me. I've tried to absorb last weeks game against the Saints in its totality, given the dominance defensively. Clearly it was the best performance by this team in a pivotal game in a long time. Now, this is the week to finish off their competition. It's time to grab the reigns and squeeze all the mojo from the Eagles. Well, that moment is here!
As we look at things going into this game, the Cowboys have been playing their best ball of the season. While the Eagles won their last two games, they haven't looked impressive and they were handed a gift when Mark Sanchez took over after McCoy's leg was broken. On one hand, I'm a little concerned we emptied the clip in the Saints game, hitting such an incredible high of playing a near perfect defensive game. When the Dallas squad had their backs against the wall they ripped off these four wins. On the other side will be the Eagles who've had a very inconsistent season themselves. They finally won two games in a row and now they're facing the final quarter of the season. This game for them can end their dreams of defending their title with another defeat. The Cowboys have that one game edge at the moment and a victory over the Eagles. There are just four regular season games left. If the Cowboys win then they have the luxury of a two game lead on the Eagles, with three games to play. With the edge in the head to head wars for the tiebreaker, effectively, it would be over for them. Oh, you can forget the Sanchez Redskins, they're done, put a fork in them. They got a bit of a reprieve when it was announce the ODBIII is out for this Sunday's game.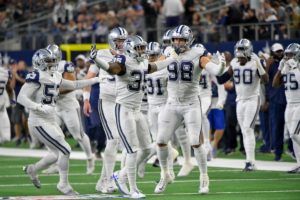 I hate when one team, even when they're not the best team, have two options, win and stay alive or be eliminated. That's what Philly faces in this game. They will be giving this one everything they've got left, whatever's left in their collective tanks. We can expect a lot of holding, grabbing & clipping. Rules won't matter, penalties won't matter to them, just winning. Don't expect that the stripes will be throwing down laundry in this game, unless Hochuli's crew has this game.
Key to a Dallas win in this game is not to turn the ball over in either our end of the field nor in their red zone. That's asking a lot, but we can't give them easy points, or make them feel great that we didn't put points on the board. Dak alone has put the ball on the ground at least ten times this season, so we need to hold our breath a little with that. Fumbles or any turnover would embolden their defense and give them some measure of confidence. Yet we can't play  conservatively  offensively either. A big part of the game will be how well the team protects Dak, as well as him getting the ball out quickly, instead of holding it too long. Sacks are hard to overcome and drive killers, so Dak needs to have that internal clock working. We also need to put points on the board early and make them chase us, not vice versa. They'd gain confidence with the lead, and I, for one, think that could prove very troublesome. Dallas has won all but one game when they've led at halftime, if memory serves correctly.
Seems that the Eagles are going to be pretty thin in their secondary. Now can the Cowboys offense take advantage of that? It would equally benefit Zeke with their defense having to play more straight up instead of loading the box. So how will this game go? Unfortunately none of us our gifted with a crystal ball but I'll take my shot. I've lived and died with looking to our defense to put us in position to win. This week will not be any different. The defense has been the one staple we can count on. There are games where they've bent, but not broken. The Saints game they just flat out dominated against a future HOF'er. The D is locked and loaded, this game now being the new, latest and greatest, must win game. There's no expectation of them being any less motivated for this game. The AT&T stadium will be rocking against their NFC East rivals.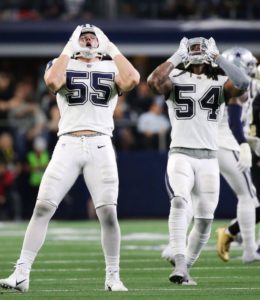 To be victorious, the defense has to control the game, limit Philly to FG's. However, we must realize that Philly will go for it on 4th down at any juncture in this game. This one could be played differently than the average NFL contest we're accustomed to. As Apollo Creed said to Rocky, "there is no tomorrow"! The Dynamic Duo (Smith & LVE) will need to once again control the production by Sproles and company. Tackling was amazing against the Saints, not allowing guys to get yards after a catch or after initial contact on a consistent basis. Our defensive front needs to keep the DD clean from their offensive line getting to the second level and taking them out of plays. Shutting their backs down and Ertz are the two defensive issues I'd target in this game. Sound familiar? Heath will play a big role in covering Ertz. Can't let those guys run wild. I don't believe they have much else that can beat the Cowboys. True, Alson Jeffrey is a handful but he's been struggling this year with minor injuries, but I don't see him being a game changer against Byron Jones.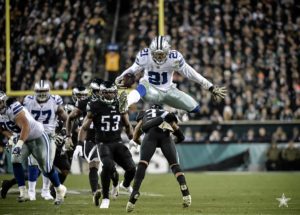 Offensively, Zeke needs to produce roughly 125-150 all purpose yards. Dak needs to play a clean game and picking up a few first downs with his legs, as he often does, can be a big part of the offense. Posting a few TD's will bring this game home. That being said, I'm not taking this outcome lightly by any means. Philly's a wounded animal making them extremely dangerous. In my now 56th year as a Cowboy fan, they've rarely, made things easy on the nerves. Sunday's outcome can either make the final weeks one of joy and excitement for the holiday season or a nerve wracking trio of games.
It's going to take 24 points to win this game. Who puts up that many? All signals point to the Boys taking this game, but don't go nuts until the last play, it ain't over till its over!