Sunday afternoons contest in AT&T was one of the most stressful & aggravating games for three quarters. Then the flood gates opened and while it remained stressful for different reasons, it was a nail biting slugfest for the final 27 minutes. One things for sure, being a Cowboy fan does shorten one's life. The opening kickoff, nearly gave a half million Cowboy fans a massive coronary, as Jourdan Lewis coughed up the ball. All we could see was green jerseys surrounding the ball. The stripes made a call I'd not seen before, that requires a clear possession to be visible to them. Their history seeing things has long been a losing battle and drives us all insane. I'm baffled by that call/decision, as five Eagles bodies covered the ball, yet no one player seemed to have the ball in their slimy hands. Obviously an incredible break for the Cowboys, but a horrific call. First of the long night.
First, did you see the last two sentences of my preview of this game? Here it is: "It's going to take 24 points to win this game. Who puts up that many? All signals point to the Boys taking this game, but don't go nuts until the last play, it ain't over till its over!". Can't believe that my gut feeling would require 24 points to win and a vision to wait until "the" last play. Both were spot on ……
The Cowboys defense started this game as I'd expected. They dominated this Philadelphia team right from the start. Yet there weren't the wow plays from Smith & LVE. Not that they didn't make plays, but they had so few snaps, that there weren't those big plays, but that was alright. Dallas shut the Eagles out for the first half! Dallas took away their running backs and the job that Jones & Heath did on Ertz was extremely impressive. My pre game story called for those players to be the focus of our defensive game plan. Our Big D, did a great job, giving them nothing for three quarters. On the other side of the ball, Zeke was tearing it up pretty well. I checked at one point in the first half and Zeke had 11 carries for 72 yards. Dak was as bad as he could possibly be in that first half and things only got worse for him in the third quarter. Who amongst us wasn't pulling their hair out? Philly's secondary was badly beat up, with subs all around and he couldn't take advantage. He was giving them gifts when trying to hit wide open receivers. Fortunately, their was a 4th quarter and then some! The overthrow for an INT towards Gallup was devastating as was the one where Gallup had gained a two yard separation on the DB and a connection, in stride, would have yielded a TD. The 2nd pick Dak threw, set the Eagles up at the Dallas two yard line. All of a sudden its 9-6 thanks to their kicker missing the PAT. Then Dak is sacked and fumbles, something I warned y'all about and thanks to the defense standing tall in the red zone, they held Philly to the tying FG, at 9-9.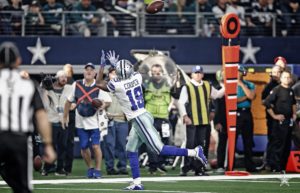 On the next possession that started with a little over 12 minutes left in the final quarter, the stripes called the "helmet" rule claiming that Zeke initiated the contact with the helmet. I'm sorry, but the defender from the secondary had dropped low and coming at Zeke, what's he to do? Another terrible call. Zeke was shaken up with a stinger from the contact and sat out a few plays. Two plays later, Zack Martin went down. We'd seen Martin beaten on a bull rush by Fletcher Cox earlier and it showed that Zack couldn't anchor down. Healthy, that just doesn't happen, but that balky knee isn't right. I'd like to see them sit Martin for the remainder of the regular season to get that knee healthier and more stable. A player we haven't seen do much this season, Rod Smith, came in to replace Zeke. He did a nice job on a few running plays and another as an outlet receiver. Then bang, Dak drops a dime into Cooper's hands for the go ahead score, at 16-9.
A few minutes later Wentz hit Goedert for the tying TD. The score was tied 16 all with a shade over 3:12 left in regulation. Bam, first play, Dak to Amari for 75 yards and a 23-16 lead. Go figure, couldn't get any offense going for three quarters and in a matter of minutes, no one can stop the other. The stripes had another call that baffled me and that was Randy Gregory's apparent sack when he was draped around the lower leg area of Carson Wentz. The replay clearly showed that Randy had gotten around Peters. Then Peters pushed him toward the ground. Randy scrambled to get to Wentz and was called for unnecessary roughness, for the low tackle. Two plays later another awful call was made this time against the Eagles. They called offensive pass interference by Goedert being covered by Heath. There was incidental contact between them. The angle we saw on replay didn't rise to the level of a penalty. The TD was called back, but Philly a few plays later, tied it up once again. Dallas got the ball back and seemed to be on the edge of Maher's range for a game winning attempt with under a minute to play. Joe Looney skipped a snap back to Dak and that effectively ended regulation play.
Here's the 28 yard TD from Dak to Coop!
The @Dak + @AmariCooper9 connection has been INCREDIBLE.

?: FOX #DallasCowboys pic.twitter.com/XCmi4rwqAr

— NFL (@NFL) December 10, 2018
Now the game moves to the OT session and Dallas wins the toss. Zeke for 8, Zeke for 10. Schultz for 16 and we seemed in good shape. Then Tyrun was called for his 3rd holding penalty, but that didn't stop the mojo. Zeke for 10, then Dak finds Coop for 12 and a first down at the 28. Their defense stiffened and Dallas faced a 4th and a shade under two yards. Garrett elected to go for it. I was ok with it, but felt that taking the FG was the more prudent play. Glad I was wrong! Easy to understand that his defense had been whipped in the 4th quarter for 17 points, so I wasn't vehemently opposed. Zeke to the rescue with a lunge & full extension, to just barely, get that first down. A few plays later on third down and nine, Dak targets Cooper. Balls tipped by the DB and falls gently into the hands of Amari, who walks in for the OT game winner. Wow!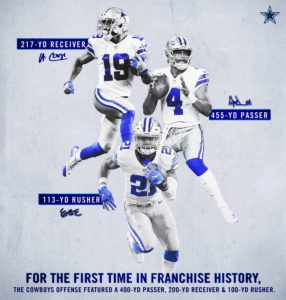 Now I've given you the recap, lets look inside a few numbers. Most importantly, we pushed the Eagles to the edge of the cliff and they're free to jump. They're birds, don't worry, they'll be alright, they can fly! Dallas is within one victory of taking the NFC East title or a loss by the Eagles and Washington. With three games to play, we have to like our chances in a big way. Can you believe that Dallas ran over 9o offensive plays? Amazing that Coop didn't get his first reception until four minutes into the 2nd quarter and "only" had 3 catches for 53 yards thru three quarters. Let that sink in for a moment Yet Amari finishes with 10 receptions for 217 yards and 3 TD's!
An important stat, that many may not be aware of was that the TE's were targeted 11 times and had 11 receptions. Jarwin had several big plays and they trusted Schultz in OT for a 16 yard reception. Zeke had 113 yards rushing and 79 on 12 catches, for 192 all purpose yards on 40 touches. The defense puzzling enough was taken advantage of, in that 4th period. Yet, they held Philly to a meager time of possession of 22 minutes, while Dallas's offense rang up 45 plus minutes.
I've been rough on Dak and those first three quarters amplified my points of contention. The final 27 minutes, showed what he can do, by heart, will and determination. Perhaps even a greater urgency & focus in moments of adversity. These attributes combined with the skills he does have will lead to many victories. His inconsistencies will get this team beat, but guess we'll have to take the good with the bad at times. A top notch defense can mask the warts …… In the 4th quarter & OT, Dak was 17-20 for 243 yards and 3 TD's, to you know who! Those 22 minutes would have been really good for 4 quarters of work. Go figure!
Here's the three Amari Cooper TD's, enjoy!
??? Amari Cooper puts up 3 TD's & 217 yards on the Eagles, including an OT Tip Drill winner#DallasCowboys

(via @nfl) pic.twitter.com/mzwwcIXpvt

— Fanatics View (@fanaticsview) December 10, 2018
Full view of the game winner!
Amari Cooper finished with 10 catches for 217 yards and 3 TDs (video: @NFL) pic.twitter.com/hIneVv8kuL

— Jon Machota (@jonmachota) December 10, 2018