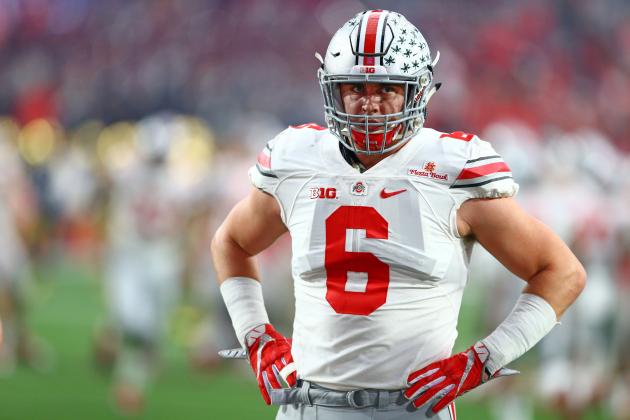 EDGE Defender
Ohio State University
Listed Height- 6'5″
Listed Weight- 265 pounds
Overview
Hubbard will be a redshirt junior this year at Ohio state after starting all of his sophomore year and being a heavy contributor his freshman year. Sam wasn't the most touted player coming out of high school for football. He played safety in high school and was very tempted to play lacrosse at the college level but decided to join the Ohio State D-line. Safe to say he made the right decision.
Strengths
It's really refreshing to see a DE with fantastic technique, coaches are doing a great job up there in Columbus. Sam plays with excellent leverage which allows him to set a strong edge. I love watching his arm extension and violent hands to consistently rip through the grasps of linemen and find the football. You consistently see his ability to manipulate O-Linemen with his hand work and quickly get up field. It's funny, watching him constantly hustle to the ball on every play, reminded me of a shark. He's not the fastest chasing the play down but he's always in pursuit. He reads blockers extremely effectively in front of him and understands his assignment, whether that be hold the point of attack, squeeze down on plays away or hold for the QB on read option. I really like his recognition of pullers/lead blockers coming around from his opposite side, it's not something you see often from college guys but he consistently chops down the blockers, creating a mess. It's actually a little surprising that Hubbard doesn't have more sacks. He's consistently in the QB's face as he's making a throw, his ability to rip through O-Linemen translates to the passing game. He does a nice job as a tackler, wraps up well and punishes ball carriers. Can he do what he does against NFL tackles? I would say yes, you see him against Ryan Ramcyzk of Wisconsin (first round pick of the saints) they had a really nice battle, Hubbard didn't abuse him but he certainly had a lot of moments where he was able to control him with leverage and extension.
Weaknesses/Concerns/Room for Improvements
For how big he is (listed at 6'5″ 265 pounds), he's actually a pretty explosive athlete. You see fairly nimble movement at times to slip through tight gaps. However, Sam isn't the smoothest looking runner at all, he runs very sloppy and all over the place when chasing plays. He won't often win with just explosion to get the corner against O-Tackles and even when he does he lacks the bend/balance to complete the rush. Sometimes he is just slow off the ball in general. He does a nice job of playing the read-option most of the time but there were also times where he got far too over-pursued inside and he didn't have the agility to redirect outside and contain the edge. He could certainly keep developing his footwork and contact balance, would do him very well as a pass rusher and edge setter. He gets high at times with his leverage so he needs to keep perfecting that and just continue to work hard in the weight room, a lot of his game is dependent on strength and leverage.
The Rundown
If you are looking for the elite speed-rush specialist, Hubbard isn't your guy. I doubt he's not going to bring in huge sack numbers by himself in the NFL. That being said, he does bring a lot of pressure & I would be very interested to see him in the NFL across or beside an elite rusher. I think he could surprise people with the amount of clean up sacks he could get, as he collapses the pocket from the opposite side, he's certainly a load to handle. Any defensive coordinator would be happy to have Hubbard on his team, at the very least you have a highly intelligent, excellent edge setting run defender. I see a for sure first round guy.
Scheme Fit
As you know the Cowboys could use as many pass rushers as they can get. As you may also know, they struggle at finding them. When you look at Hubbard, he's clearly a 4-3 DE. More in the mold of a Taco Charlton. Right now I'd say he has better technique as a player than Taco. If the Cowboys look at size and length as big priorities in their edge defender again like they did with Taco, they could certainly like Hubbard. Another thing, I see Dallas picking in the bottom of the round again, Hubbard could be the best edge setter available when they are on the clock.
Draft Position
Top 20 Potential
Top 50 ?
Highlights/2016 Games vs Michigan and Wisconsin
Recommend muting the music, good tape to watch …….