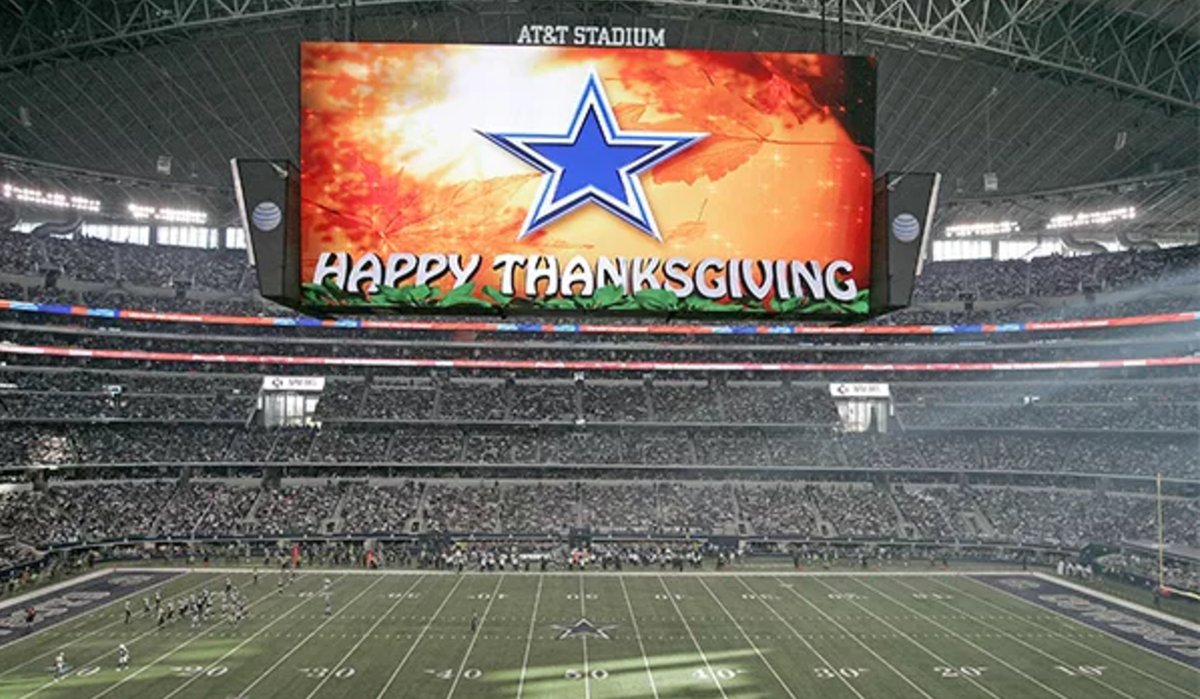 We can only play one game at a time, nice cliche, right. At 5-5, we find the Cowboys in a huge hole, dug in large part by themselves, losing games that we thought they'd put in the win column. Let the digging commence! Having lost to Atlanta & the Rams, we're not sitting well on tie breakers. Only real shot at the postseason now is to win out. Running the table, means they need to win 6 games in a row and be the recipients of a few holiday gifts, from other contenders, sitting in front of them.
After watching the last two games, bitter defeats that they were, how good do you feel about them getting the win on Thanksgiving Day? Considering that in the last two games, the Cowboys have been out scored 47-0, isn't exactly something to give us, that warm and fuzzy feeling that we'll tear up the Chargers. Let's see if I can put a positive spin on this piece and determine their chances of winning this game? Let's look at the Chargers and see what we think. Only one TD the last two weeks and a meager 16 points.
Defensively, they're near the bottom in defending against the run. They do a really good job defending their "red zone" and without Zeke, we haven't challenged the end zone with any vigor. They're defensive ends get after the QB and if you saw tape on their game against Buffalo, Joey Bosa could have been charged with assault for the way he was blasting Nathan Peterman. He typically comes off the left side and he'll be working against La'ell. If Smith returns he gets Ingram.
Offensively, the Chargers, have one of the most experienced QB's in the game and one of its best competitors on every single play. Personally, I find him a little over the top, but I respect him leaving it all out there on the field. Frankly, I thought his arm died about three years ago and found it hard to watch him labor to throw the ball twenty yards downfield. Most of his throws nowadays are to his backs and TE's. He's not easy to get to, he'll take the hits but rarely will he take the sack. He's only been sacked twelve times this season. By contrast, Dak's been sacked twelve times in the last two games alone. If not for Dak's athleticism, he could have been face planted another four or fives times easily the last two weeks. The Chargers main RB is Melvin Gordon and if given space, you'd think you were watching Todd Gurley. Prior to their getting a gift from the new head coach in Buffalo, they were having trouble scoring with any regularity. The coach switched QB's and the rookie QB handed out 6 INT's before being mercifully pulled. Even with the gift wrapped win, they're only 4-6.  Believe it or not with KC & Oakland losing regularly, the Chargers are still in the run for the division. Not easy, but possible, so this game is important for them and rarely are they ever a featured game on national television. Think they'll be up for this game?
If you read yesterday's take on who the team is, I can avoid repeating a fair amount. We have a real possibility of getting Tyrun Smith back and that would fill a major hole. It would allow the team to run their offense without having to compensate for the back up tackles. Can they get the running game going where they're getting 4-5 yards on first down and setting up the play action game that's been MIA the last two weeks. Be nice to be working on third and short situations that they can convert at a decent percentage. Would be nice if they can put together the patented Cowboy drives and eat up clock and keep the defense off the field. Now for the 64K dollar question, can they actually get any rushing TD's? By someone, other than Dak being the runner! I know you all were thinking Dak can run it in, but that only shows how convicted you are about a RB getting it done and punching it in. They need that for their own sanity, something they haven't been able to do without Zeke this year or back in 2015, if you recall.
Can Dallas score TD's or will they be settling for FG's? Word is that Dan Bailey has a good chance of returning against the Chargers. FG's keep the other team within range and sets you up for a defeat with a play or two going the wrong way. Can our WR's get open and catch the ball when throw to? Can we get Witt back into his routes? Can the O Line allow Dak to settle into the pocket and survey the field? All are valid questions, because of what we've witnessed here in 2017.
Defensively, we have to expect a heavy dose of them trying to run all over us. After all, they must have watched Philly run wild for 180 yards on the ground in the second half on Sunday. If I'm the offensive coordinator, I'm running the ball till they drop, but that's just me. Then for kicks, throw in those little passes to the RB's as they like to do. Sean Lee won't be in this game so how many of you are worried about that? Hitch is going to give it a go himself but he may not be able to play anywhere near a full game. We're up against it, no doubt. As noted earlier, Rivers doesn't get sacked often so my expectations aren't up there that we'll get to him enough to make an impact. Only real answer for them is to follow their assignments, do their job, be in position and make plays. I'm expecting Jaylon to have his best game of the year because he has to. He's got 10 games under his belt and great players rise to the occasion. My money's on him to make a few impactful plays, filling the role they need him to handle. That's really how this team has to approach this game. They're season really is teetering on the edge. Not seeing 10-6 getting them into the postseason, so they have to bounce back and gain confidence in order to run the table. Desperate times call for desperate measures. That puts it on Garrett to game plan accordingly. We'd all prefer #20 standing behind Dak on 4th and 1, but that's not an option right now, but risks may need to be taken.
Two weeks into the suspension of Zeke, nothing has gone right, injuries have weakened an already compromised team to enable the commish to strut his power. Maybe the team isn't deep enough, but there are plenty of really good players suiting up and they've got to get the job done. Can't say I have absolute faith in them getting the win, but I had this as a win before the season and nothing changes my feelings. It may not be the best reason but I still view the Cowboys as the better team. Execution last year was excellent on a game to game basis, this year its been a struggle from the first real snap. Not expecting a thing of beauty, nor am I expecting Dak to tie Romo's 5 TD performance on Thanksgiving Day in years gone by. It hurts to say, but this may be one for Bailey to pull out with a barrage of FG's. Just the thought of FG's makes my hair stand on end, but a win's a win! Just need the team to show up in the second half and we can get this one. Cowboys 23-19 ……
Here's a little something from 2006 when Tony threw for 5 TD's on Thanksgiving, the first one here is to Terry Glenn (RIP)