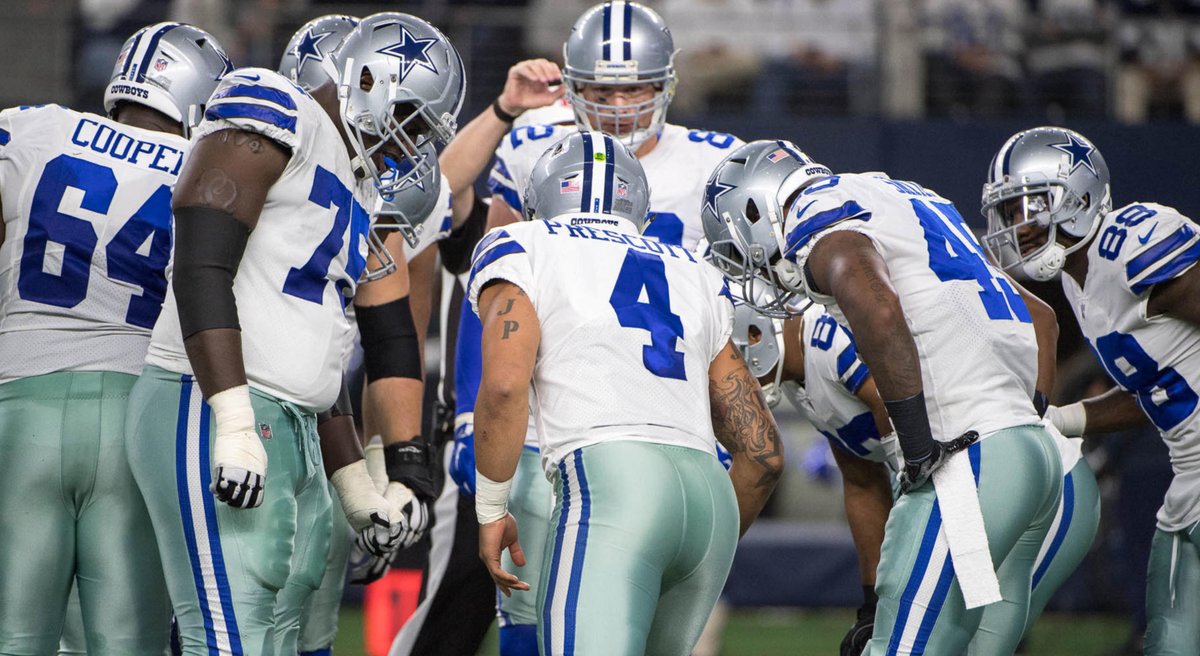 For thirty minutes it was a close, yet very ugly game! Considering that Dak threw two picks, we were still ahead 9-7 at the half. The defense was playing terrific, way beyond my expectations and maybe yours as well. They denied Philly any points on those two turnovers. How great was that? They held Philly to 35 rushing yards in the first half! That was fantastic and they made Wentz uncomfortable and he clearly struggled.
About two hours before game time, I'd been asked by @thegametimeguru my actual thoughts on who'd win the game. Simply I responded that logically it was Philly's game to lose! Only by heart, determination and sheer desperation would Dallas win given their up and down play. Doesn't Garrett preach something about "being your best regardless of circumstances"? Well that's what this game called for and we got that for thirty minutes. No one cares that you're missing the four All Pro's in Smith, Zeke, Bailey & Lee. Arguably the very best at their positions in all of football! But hey, pull up your big boy pants and give it everything you've got and you can win any game. Plenty of talented players out there. What killed us in the Romo years was too many "below average" players starting. When you have major holes out there its tough sledding and covering up the problems can only get you so far. Earlier in the day the undermanned NY Giants defeated the KC Chiefs. All things are possible in sports & football and why we love the game.
As bad as things went in the first half for the Cowboys, they were fighting and had the lead. Philly did their best in the first half to lose yet they held us to field goals. Easiest way to lose in the NFL is only coming away with three points. Those are victories for the defense! Just a long standing opinion I've held. The last thirty minutes couldn't have been a bigger disaster and disappointment. Bad enough to lose, but losing to the Eagles, just leaves a really awful taste in your mouth. My condolences for those who have acquaintances that are Eagles fans. The second half was a more painful beat down than the Denver game, just because of the opponent.This game fully exposed this team, once and for all, for me. Byron Bell stepped in for Chaz Green and while the outcome at the position, wasn't as disastrous, it wasn't much better. The lack of time for Dak to pass was a huge problem in this game. Dak, fought, but he had "happy feet" in the pocket and who could blame him? There were times he would drop back and the Eagles were a step away from hitting him. Dak rarely, if ever, could set his feet. As I sat and watched this forgettable game, here are things that stand out to me. It's Thanksgiving time and by now you know all you need to know about your team. The good, the bad and the ugly!
Our offense is predicated on an outstanding line and a dynamic, home run hitting running back. The loss of Smith to injuries, crippled the offensive line, forcing into action, below average players. The success of the team starts with the offense. Losing Zeke can't be described in a few sentences for all the things he can do and how teams play against us.
This offense is designed as a precision functioning unit and obviously, all the parts must be in place. They're playing with below average players at LG & LT (with Smith sidelined). The difference without Smith is mind boggling. But the inability of the left side to execute their assignments with any consistency is killing this team. They must make these two positions a priority in the upcoming draft!
When this precision unit is without its full compliment of parts, the WR's aren't able to step up. How many throws to Dez the other day were for 2 yards? That same route a month ago was for 7-8 yards. Same exact thing with Beasley, the routes are now being run 5 yards shorter, which also cuts out his footwork to free him cleanly from a defender. Without time, the depth or lack thereof with their routes had to be adjusted based on the rush coming at Dak. Terrance struggles with passes that aren't perfect, the ones slightly behind him. Twice its happened this year that he can't bring it in, ball pops up and we have an interception. Sadly, he doesn't concern teams in covering him. Against man coverage, he doesn't get separation very often and why he is rarely targeted in some games. His best plays are almost always against zone coverage, he's able to find the holes and make plays. I love all my Cowboys, but I thought we could have found a more complete WR in the draft, but they elected to resign him. He's made some great plays but fails to bring that each week. With Beasley being doubled or bracketed this season, someone else has to get open and it's just not happening. Witt doesn't have the speed to get beyond 7-12 yard range very often and that is a limitation. When you have Zeke in the lineup, that limitation is minimized dramatically.
The loss of Ron Leary in free agency has proven to be an enormous loss, a player I'd written up that I wanted to keep very badly. We're seeing his value by the guys they've tried to replace him with and the less than outstanding running game this year. Zeke wasn't stacked up nor hit behind the line last year very often. By contrast this year it happens several times a game and has prevented the offense from getting untracked. The retirement of Doug Free didn't help either. Had he played, then Collins could have stayed at LG and he'd been a part of the OL during their most impressive times.
Last season the offense regularly took the opening possession and scored, this year that's not happening with any regularity.
The over compensation to help the left side of the offensive line against Philly, handcuffed the overall offense. It's a major struggle to run your offense, when there isn't any time for your QB to do his job. Putting Witten on Bell's side, to widen or chip the DE, made Witt's job of getting out in a route, difficult if not impossible. Against Atlanta they elected not to help Green that much, so that they could run their offense without significant changes. Neither approach worked and it can be argued which was the worst performance? They both were abysmal!
Our offense, at the skill positions lack speed. When the offense has Zeke, he's the main threat and forces defenses to pack it in to try and control him. Without him, who's the threat once you double Dez or bracket Bease? Who's going to make big plays? Teams aren't worried about our running game. Morris overall had a good game, statistically with several chunk runs, but the team never capitalized on those. Morris was 18 for 93 yards, but too many of them were three yards or less, which kept them behind the chains on too many possessions. We seem to get big plays out of Brice Butler, but his snaps appear limited in the course of a game. Personally, I'd get him more snaps as the #2 or #3.
Teams are set on stopping Dak now, treating the team as a "one trick pony" and they know they can abuse the left side of the line with Smith out. The stunts and blitzes are directed that way and Dak's under siege. How he has held up this far is a credit to his size and heart, but he won't have a long career without protection. Philly, did a number on preventing Dak to get outside the pocket, cutting off the boots and waggles.
Defensively, it starts with Sean Lee being out. You almost have to wonder if he should be the Team MVP when you watch the unit without him on the field. The unit is completely different when he's out of the lineup. The run defense has done well enough this year when Sean's in there, holding teams to roughly 85 yards on the ground, but giving up 160 yards when he's not in there. Sunday they gave up 35 yards rushing in the first half, then gave up 180 yards  in the second half.
The D Line had a really good start to the season, particularly with Lawrence getting sacks in the first 6 games of the season. Irving returned from suspension and has racked up sacks himself. Crawford has done a better job this year being healthy, while Collins has disappointed this season. Thought he would have a great season and now he's relegated to the 1 spot. Do you ever notice, that either there's good pressure or absolutely none from this group on a given play? When they get someone that forces a QB to move they can get off the field on third down, when they don't its a 20 yard completion.
Big problem is execution by the defense. In Sunday's game Marinelli ran a nice blitz off the edge with Wilson, but he whiffed on getting Wentz to the ground, ducked right under him. Or how many guys took bad angles on blocks in that second half? Or Irving getting trapped play after play, none bigger than the 71 yard run by Ajayi on which Woods took a bad angle.
I can't put my finger on the problems with the linebacking crew. Things improved when Hitch returned from his injury but still something didn't seem right to me. Jaylon struggled earlier in the season, with his reads and being a step slow too often. Fewer snaps and his production is better. Wilson flashes then disappears but he's only in on the base defense. Their not the best at blitzes as a whole, though Jaylon is the best of the group at that.
The secondary flashes from time to time, with Jourdan Lewis standing out the most to me this season. Brown has been targeted the most and therefore we think he's doing a poor job. No question, he's been beat on plays, sometimes with solid coverage. I'd like to see him being more physical, but they are trying to play more zone this year. Often times we think that a player's been beaten in man coverage, but when a guy comes in your zone, the defender is supposed to take him to the edge of his zone coverage area. Double moves have gotten Brown this year. The safeties just haven't been consistent this year at best. I was hopeful when we drafted Jones as a CB, but the move to safety isn't reaping any benefits on a regular basis. Begs the question why didn't they ever really look at him as a pure CB? May be doing the same thing with Awuzie, but he's not been healthy enough to get a good look at.
I haven't even addressed the penalty situation yet, but I need to cool down 10 degrees before attacking that and the weather here in CA is hitting high 80's & 90's this week.
I put a fair amount of blame on the coaches when I see things they fail to do, while trying to understand what they expect the players to do as well. They can only play the guys they have and if a guy can't block, then its on the team to find someone who can. This year they've not done that to this point. In camp I could see that Bell can't get out of his stance. We got excited, or at least me, when Cooper didn't have a "bad" game. But is that how low the bar is? Or when Bell doesn't get beat for more than two sacks in a game? Was it a victory that Dak only got sacked 4 times in this game, while avoiding at least six others? That's guys not doing their job. I saw stories how this was the worst game Dak's had in his career, first time the team didn't score a TD. Is that on him? Not in my eyes! He was running for his life out there, taking shots and had to make the perfect throw for any hope for a completion. The Dallas offense was being attacked by the Philly defense in this game, they were carving up the offense. How good does your secondary need to be when the QB gets less than two seconds to get the ball out? The Dallas offense was playing defensively to survive and maybe make a few plays. That's not how you win games very often in the NFL.
After watching Dallas build its team and have a great season last year, all three of our division rivals, worked diligently to build the interior of their defenses. Washington even picked off Terrell McClain to fortify their interior, while Philly added Timmy Jernigan and a top DT in the draft. The Giants have "Snacks" and used a high draft pick at DT as well. Dallas has to fortify the middle of their defense and shore up the offensive line as mentioned. Its a game of counter punching and we're getting out slugged in the clenches. That has to be dealt with in the offseason & increasing speed on offense. See the team for who they are right now, this minute!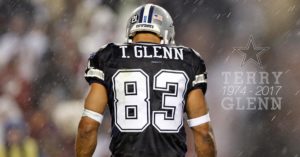 On Monday it was reported that we lost Terry Glenn, who passed in a car accident. He was only 43. Please take a moment to remember him and lift his family in prayer.