Opening ceremony for the DC Training camp is just 3 weeks away. What should we expect? What positions are we and should we be looking closely at? I was all about to finalize and publish this story, when the news came across about Damien Wilson being arrested. I've hit the pause button to think this through and will give my thoughts in the wrap up. It doesn't change the meat of the story but adds a new issue and leaves us with new questions to ponder.
We're all chomping at the bit for football. Expectations run high in Dallas! We're regularly subjected to projections on the teams record for the upcoming season. We get countless projections on the 53 man rosters. We're bombarded with who are the odds on favorites for the Super Bowl. Let alone every day that a player's released, there's a story on the possibility that he's coming to Dallas. Remember the "Revis Fever' about two week ago? Or how about those who question whether Dez is still special? Apparently, they missed his career performance against GB in January where he was undeniably, unstoppable! How about we take things day by day & enjoy the process.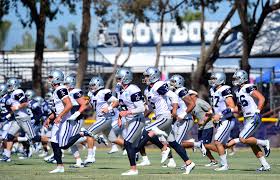 Before we get into prognostications, how about we look closely at the players, their development thru camp and see who's healthy on the 1st of September? Let's enjoy camp for the ability to look at the players and see who's ballin' and those who, flat out, stand out! Its pretty easy in Dallas, this year, to determine the 53 based on the names on the current 90 man roster. Right? We all can probably list 45-50 players that, barring injury are a virtual lock.What we don't know is the sad part of the game, that revolves around injuries. Do we pick up any players that were released by other teams? This is why, I look at a Ouija board having as much foresight into the next few months, as any of us this very minute.
Frankly the coaches don't know the answers, they can only go day by day and coach those that are healthy and on the field. We should enjoy camp, we should enjoy the preseason games. The outcome of the games isn't important. We only see the projected starters for few series in the preseason games. Don't let that bother you. We should be focusing hard on the rookie draft class. How do they look out there? We all want a SB and its now on the D, to bring home the trophy. No D, No Rings! Which rookies can contribute immediately? Lets search for depth players, solid backups, potential starters, maybe not this year, but for down the road. We all know Dak's going to be our starting QB & Dan Bailey our place kicker, but we don't know what our secondary will actually be for week one, let alone week eight. We should be looking for who's ready now, who's a player that needs development, strength and time to flourish in our system. The old coach in me, builds a team, player by player, day by day.
I've made arrangements to watch the team in Oxnard the 2nd week of August. I'm willing to brave the journey north up the 5 & 405 freeways to Oxnard to report my findings back to you. The roster should be firming up at that point after a few preseason games. What will I be looking for? Simple, do we have a defense that can make the key stops and get valuable turnovers?  Our seasons success will be dependent on how the defense performs against some top tier QB's. The draft was like Christmas, getting a DE, selecting three CB's & one safety. We've written stories on those players. If you want to go back and see what we like about them and view college tape on each, look under the tabs for the 2017 Draft or Player News on the Home Page and scroll down to locate them. It's early but I'm very high on Awuzie & Louis. My pet cat this season is Xavier Woods, so I'm eager to see his snaps. Last years pet cat, was Anthony Brown and his improvement from year one to year two will be watched closely by yours truly.  Hopeful that Taco can be a solid contributor this year, whether on the right or left side, yet its my take that it might take him a year to get rolling. Realize he's only been in a 4-3 system for one year, so expect a learning curve. This secondary and its growth this year may be special, so keep a close eye on them. Our D line is essentially an eight man rotation. We saw Mayowa come on and lead the team in sacks last year, can he build on that? Can DeMontre Moore be the next great find by Will McClay? Can Maliek Collins soar in his second year? Can Lawrence play back to his 2015 form? Will Charles Tapper actually put the pads on? Will there be any late round selections that standout, a Noah Brown, Joey Ivie or Carell or what about an UDFA? I have few, if any concerns about the offense. My expectations are that they become even more explosive in utilizing the full skill set of their fun loving RB and the addition of Switzer.
Other than that, there's basically three other positions that have some uncertainty heading to camp. The first two are at left guard and right tackle, with a certainty that La'ell Collins with be manning one of those positions. The final position with questions is the Mike, with the health of Jaylon Smith being the great unknown. We need to see him in pads before we get giddy or hysterical with excitement! Should things continue in a positive direction, we can expect him to be eased into the lineup. See a tweet below that I put out there a few days ago in a response to a tweet by Jaylon …..
This is where we're addressing the arrest of Damien Wilson this morning. The information coming out states that he backed his truck intentionally into a women when attempting to park at a sporting venue. Then supposedly he pulled a rifle and pointed it an unidentified man. I don't expect the Cowboys to panic as there will be options for them. A big part of the process may be sliding Mark Nzeocha into this position at the Sam. They can have their pick of a few guys sitting on their couch if they so wish. Justin Durant comes immediately to mind, given he's totally familiar with the scheme, locker room, etc. I'm sure immediately people were clamoring for a guys like Washington & Orr without considering position fit. In case anyone forgets Kyle Wilber plays the Sam as his primary position, so its not a "sky is falling" situation. Let's leave this to the coaches and Will McClay for the time being.  It's just really hard to understand why an athlete jeopardizes their once in a lifetime opportunity over silly things. He was looking good and now faces a mountain of trouble. Downright sad!
Just as soon as I see you, in pads, in Oxnard, standing up @EzekielElliott in the "A" gap! #CowboysNation will have a big ole grin for sure! https://t.co/au1wXBwWbc

— Cowboys Roundup (@cowboysrupcom) June 30, 2017