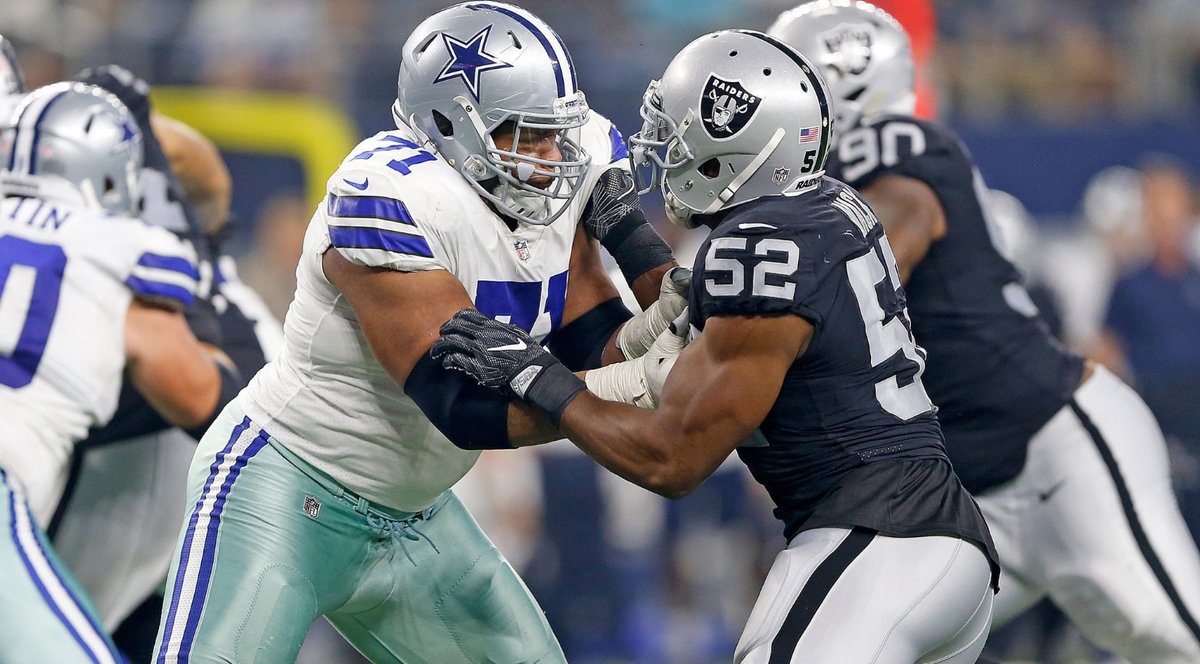 Before we review the standouts from Saturday nights game, a little prayer was answered that Anthony Hitchens injury was not season ending. Its not an injury I can recall hearing before, its a tibial plateau fracture in his right knee. Recovery is listed at 8-10 weeks.
Last nights game produced several players that their performances are worth noting and taking a further look at. Overall there was plenty of sloppy play and way too many penalties. The number of "hands to the face" calls was totally abnormal and got the offense behind the chains.
What should be the most obvious, though taken for granted was how smooth Dak played. He had a nice completion to Terrance called back. La'ell was called for three penalties in the first half. All the while handling Mack relatively easily. as he was able to get an early punch into Mack and controlling his edge rushes. LC has had his struggles while he adapts to his new position, but he appears to improve on a daily basis. The upcoming test versus JPP is right around the corner!
We got what we were hoping to see in the 2nd half with Cooper Rush getting his shot with the 2's. Articles I wrote recently called for him to get those reps with the 2's to better judge him. To see how he handled the promotion of playing with and against better football players than the 3's he'd been running with. To be honest, by the end of the third quarter, I felt that he was less than impressive. The sloppy play continued with penalties killing any rhythm they might have been working towards. He threw an out route on the right side and had it been against John Norman or Janoris Jenkins, that pass would have been picked off. After that fumble returned by the Raiders for a TD, it was though the negative play kicked him and the offense into gear a little. Rush had them moving the ball better and Garrett let him go for it on 4th & 5. Took a penalty against the Raiders to give our Boys a 1st down. From there, Rush settled in and starting throwing the ball with more purpose and confidence. His throw to Ronnie Hillman for a TD, was really well done as he threw before Hillman ever turned to look for the ball and hit him in stride. His next drop back resulted in the winning TD pass to Lenoir.
I'm torn because we got to see him lead the comeback and do so in an impressive manner. Until that 4th & 5 play, on which he misfired, there wasn't anything he did that made me feel that he was effective when he stepped up to the 2's. Through this point, it was my thought that he couldn't handle the promotion, the jump may have been too much for him this quickly. Frankly, it made me ask if he could make it thru waivers? My thinking was if he wasn't able to elevate his game with the 2's, would anyone seriously snatch him up for their 53? I get that he was 12 of 13, but again that 3rd period was basically uneventful. Then after being handed the gift on that 4th & 5, it was as though a different player ran into the huddle. He showed the poise, that a young QB needs to lead his team and like the one the last couple of weeks. That QB doesn't get through waivers! It leads us back to the discussion of who's the back up and will we keep two or three QB's. I haven't changed my opinion, I don't want to keep three QB's. Following the injuries on Saturday night each position player that provides depth is desperately needed. Moore came in and his snaps were uneventful and its a little unfair to grade him negatively on one series. Yet, in keeping with my strong feeling to only keep two QB's, Moore would be released. He's eligible for the practice squad and would be available to the team. The real difference between these two and its of ultimate importance is that Rush finishes drives and the more that I see of Kellen Moore, he fails that critical test. His lack of arm strength limits him even further in the red zone. You pull for a guy like him, but his limitations have to be taken into account.
On to other players that showed me something we should be looking at and aware of what they did. It was another night that Taco gets a sack. Granted the LT came out of his stance late giving Taco a free run at Manuel. What I'm liking is that he's continuing to work, getting positive results & gaining confidence day by day. Never felt that he'd be a ten sack guy this year, given he's only had one year in college in a 4-3 system. He's a true developmental player with considerable upside as he learns the scheme. I'm more than pleased with how he's progressed to this point. The celebration was original and worth a few laughs!
On that Taco sack, there was another player than was within a whisker of making the sack himself and that's Damontre Moore. His play has been consistent throughout preseason and a good sign for what we can hope for after his return from his two game suspension. The strip sack by Damontre was perfectly executed by a veteran. Unfortunately, none of our guys came up with the fumble for a turnover. Moore playing to this level is what we'll need upon his return to action.
Alfred Morris has to be mentioned for his performance and if you listened to the broadcast, the analysts were all impressed with his speed and quickness, which are really new tools on his belt. Given the looming suspension of Zeke, his contributions at this level of play, will be helpful.
Another player we take for granted is our perennially All Pro, Jason Witten, who in 30 minutes had a game unto itself. He had 6 receptions, 74 yards and 1 TD. The pacing of Witten's practice during camp has him looking fresh and ready for the season.
As we head towards the final game and opportunity for players to get onto the 53, we have to look hard at who might squeak in with a play here or there. A guy, who's been looking good in limited snaps is Lewis Neal, an LSU product. He used quickness and speed to get a sack. At this point in preseason & camp, they're looking for guys that work hard and can make a play. Don't be surprised if he gets the roster spot over Joey Ivie. Then again, never know who'll be released around the league (example Kony Ealy) that may have proven veteran ability.
While it's not just one player, how about any and all of the offensive lineman. We faced a quality defensive front and in 23 rushes averaged a 5.5 yards per attempt.
Can't go without making mention of another step forward for Jaylon Smith. He had a tackle for a loss that he dissected the play and drove thru the hole. Stay patient with him and we'll be well rewarded in Cowboys country!
Key takeaway is that this was a sloppy game and that needs to get cleaned up as Jason likes to say.