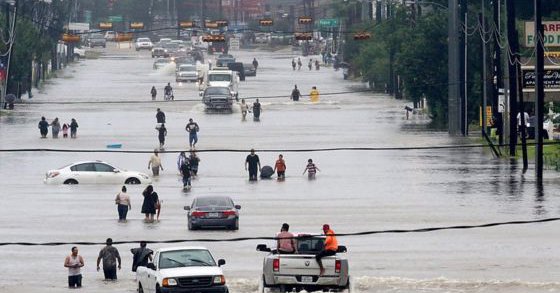 A phrase more commonly used regarding a baseball game but the tragedy of Hurricane Harvey ended the preseason early for the two Texas teams. Thursday nights game with the Texans was officially cancelled Wednesday afternoon to allow the Houston players to return to their family's. Without question a great decision to put the family's ahead of the game. Kudos to the owners for calling it off. Jason Witten was auctioning off his suite to raise money, Zeke was doing his 21K donation to Salvation Army and dared his teammates to match him. Who can give enough props to JJ Watt for his valiant efforts to raise millions of dollars!
However, in light of this cancellation, I can't help but feel for the players that are scrapping for a spot on the 53 on both teams or at least auditioning for the other 30 teams. How many players are in the running for the practice squad and how many sorely needed those snaps to shine? Now these teams have to make their roster cuts by Saturday afternoon without this final game. How does our 53 look without this game? Who needed the game to give themselves a shot? Let's take a look at a few spots and realize that when they do the cuts, that the roster isn't necessarily final. Trades can happen and we can sign players released by other teams. How many players from our cuts will be signed elsewhere? Let's take a look at a few positions.
First position of considerable strength is WR. Andy Jones started as the favorite for the 6th spot, if the team went that deep, but he's been unable to shine throughout and an injury set him back. Noah Brown has been the player that has had an impressive camp, from start to finish. But will they keep a 6th WR? Brown's been consistent and you have to love his size. View him as the 5th for next year as Brice Butler, likely moves on for a nice payday. If the team signed Butler by Friday to a 3 year deal then Brown wouldn't be needed going forward. That's a decision to be made. If the team sees Brown as the player we've all seen in preseason then, he becomes a bargain compared to the higher resources needed to re-sign Butler. With a deal for Martin on the horizon, some decisions will be made by the cap ramifications. Andy Jones failed to impress me this year after being on the practice squad last year. Had a leg up and didn't stand out at all. There's a player that has made plays at WR and perhaps worth considering keeping, that's Lance Lenoir. Don't see him on our 53, but the practice squad is a possibility. Don't judge him at all as a punt or kick returner as he was simply average there.A ph Realize he was just filling in for Switzer who's been out 90% of camp. As a WR, he's progressed and finished strong in the last two preseason games. Wouldn't be a complete surprise that someone grabs him for their 53. He had a few receptions that you had to be impressed with his athleticism and body control to come down with a few of those catches. A long shot player is Brian Brown that he could find him self on the practice squad. He was making plays almost daily in Oxnard and while he's not a big name player, he made plays. That's really all you're asking for.
Corner back was and is another position that is deep in numbers, but low on healthy hamstrings. We've watched all our drafted CB's sit out all or a fair amount of time in camp. Duke Johnson appeared to be in a photo finish with Marquez White for a roster spot. Now the job is White's via the injury to Johnson's knee. We really don't know how the rookies look for the most part. Awuzie fortunately did get more snaps and game action than any of the other rookies at corner. Not sure that they'll  stand pat after the roster cuts, or target a player via a trade. Given the investment via the draft, I'm hoping they can avoid giving up anything for this position to be stocked for week one.
Tough decisions have to be made with the offensive line. Chaz Green's inability to stay healthy for more than a handful of plays has prevented him from taking over at LG. His failure is a real problem for the team. Green is clearly the best swing tackle candidate and a serviceable guard, but even at that you can't rely on him in that role. It means they have to keep another player or two to be sure they have enough backups to cover the two positions in case Green is out. A decision has to made regarding Joe Looney, Emmitt Cleary, Byron Bell, Theaker & Kadeem Edwards. You should know the five starters and they likely keep 8 offensive lineman in all. Green, by default of being the best of the bunch is the 6th. I'd expect them to keep Joe Looney, as the 7th. Having a greater need to keep an OT because of Green's inability to survive a day without injury, only Cleary & Brown need to apply for that 8th and final spot. Can see Theaker going to the practice squad for development. I don't know that playing the game would have resulted in any new decisions being made up front. Guessing they know what they want to do, but keep an eye on possible moves here. Wouldn't surprise a lot of people to see a trade for a guard or a pick up of a player released following the roster cuts on Saturday.
Linebacker was a position where it would have been nice to see more of Gilchrist. He flashed early on in games, so this final game was very important to him. Not to make the 53 necessarily, but the practice squad. I think they will carry seven at this position but for now they aren't going to put Hitchens on IR for 8 weeks, so that they can get him back earlier from his injury. But without adding anyone they'll be playing thin at the position with just six. In today's game that may be enough as you're in nickel over 50% of the time. Might look for a veteran pick up at this position as a bridge to Hitchens return.
Would it shock anyone if Dallas used Cooper Rush in a trade to bolster the guard position? Just askin'! I'd still release Kellen Moore and move him to the practice squad, then if needed he can be brought up to the 53. Just don't see any team that would rush to grab him. If we can all see a lack of arm strength, then so have the scouts of the 31 other teams. I've analyzed him from every direction, fan, coach, coordinator, all the tools on my belt and I can't say he's a closer, that he can produce in the red zone in the NFL. He has to prove me wrong on that account and until he does, thats where I stand.
Thursday's relocated preseason game between the Cowboys and Texans has been canceled.

More details: https://t.co/1FQEYAKPgY pic.twitter.com/gkB8tQ0vg8

— Dallas Cowboys (@dallascowboys) August 30, 2017