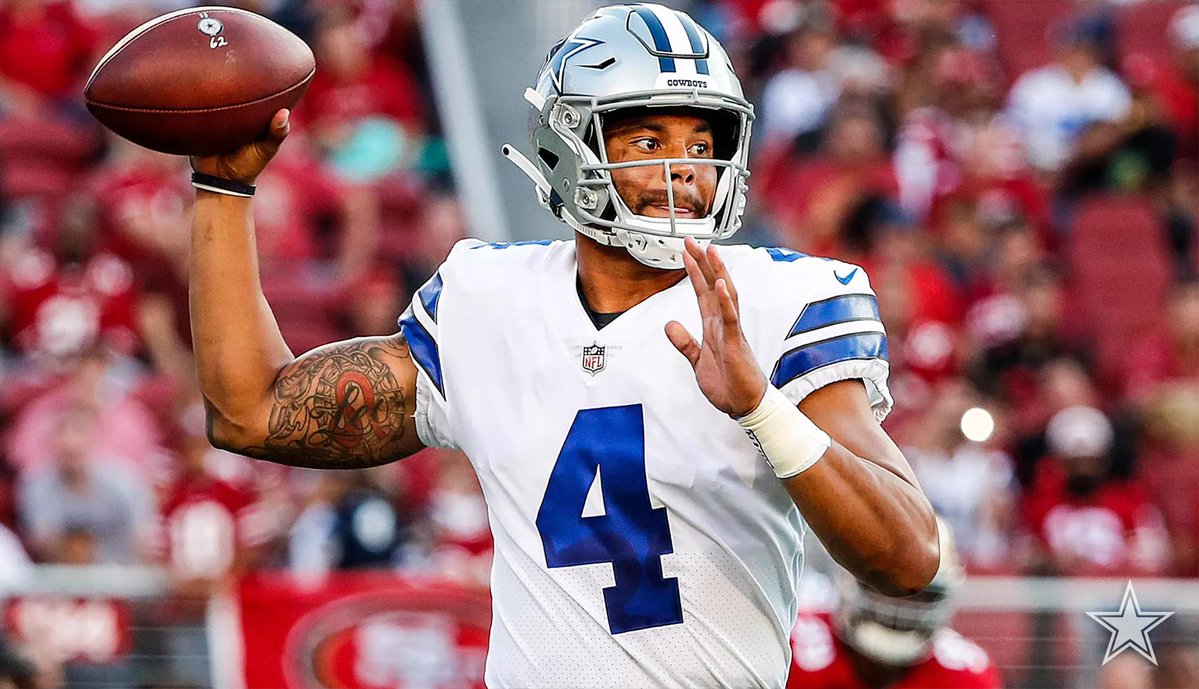 If you read my story prior to the 49'er game, then you're aware that we're really looking for a few new starters, but mostly for quality back ups. To be a really good team, you need depth at key position in the event of injuries that keep the starters out for a game or more.
There were plenty of players that made themselves visible to us, the fans, but more importantly to the coaches. Before we look at players that I've singled out, lets see how guys with their numbers ending in a "4" did last night. First guy up, well that was Dak at #4. He was extremely effective in taking what they gave him. Perfect 3 for 3 with a nice 30 yard pass to our third round pic, Michael Gallup. Now, it wasn't Richard Sherman but our guys executed the play to perfection. While Cowboys fans hearts all stopped for a minute, he did pick up a key first down with his legs, that extended the drive, resulting in a TD. Next up, was #14, Lance Lenoir, who tap danced his way to a TD in the back of the end zone from Cooper Rush. Chido, #24 did alright in coverage and an admirable job in run support. Up next was #34, Trey Williams. He ran a really nice route on 3rd & 9 and Mike White hit him in stride on his way to a first down. However, he made a major mistake late in the game. He took the handoff going left and bounced it outside and couldn't stay in bounds. The 49'ers were out of time outs and it saved valuable time that allowed them to score the winning TD. Considering they scored with 18 seconds to go, we could have milked more than that had Trey stayed in bounds.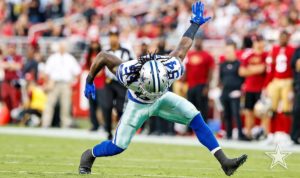 Now, #54, Jaylon Smith had a really nice nights work. He clearly made good reads, quickly, got off blocks well and closed fast to make tackles. Jaylon looked really good. #64, Antwan Woods, is another player who's making his mark. His play with the 1's at the "1" was very good. He was jamming up the middle on runs right at him and wide as well. He surprised me with bringing some pressure up the middle on pass plays. The final player that I mentioned with the "4's" would be Dorance Armstrong. It was a bit obvious, that he's got something to keep an eye on. I liked his "get off" at the snap and he provided some pressure. He was stout against the run. Playing with the 2's, I'd have liked to see him beat his man a little more than he did. For his first game, he looks promising. That concludes the "4's", but all of these men showed up and played well. Something came to me that these guys, with that number, might show out and they almost to a man, fulfilled that vision.
Who else stood out to me, good and not so good? There were certainly a few players that you had to take notice of. One that I was really happy watching was Joe Thomas and not because of the interception, off the Kavon deflection. Joe was all over the field, closing with a burst, making tackles. The "pick" was just the icing on a really productive night by Thomas. Critical to have linebackers that can step in and step up. Speaking of Kavon, he did well with a special teams open field tackle and the blitz where he deflected the ball for Thomas to fly forward on his pick. Rod Smith looked bigger, stronger & faster and staked his claim to the primary back up. Tavon showed that he can be more than a "gadget" player making downfield receptions. I'm for anything to stretch the field and if you can work him vertically, then good things can happen. Quietly, Connor Williams, got a little baptism on a sack, but overall did well in the running game. On the goal line he wiped out his man and had him two yards deep. Taco Charlton looked much better, more aware and played within the scheme and didn't get fooled on the bootlegs, all while providing pressure on passing plays. The one guy that I expected more from was Anthony Brown. Just not a good night for him, getting flagged a few times. I did think that the stripes were a little picky on both sides when it came to holding calls on the DB's. Vanderesch when I watched him was often blocked on running plays and not able to be a part of the tackles, although they were passing most of the time he was in there. He definitely needed the game snaps as he appeared to be reacting a tad late. The team has a boat load of WR's and several showed up, that aren't household names, such as Marchie Murdock and McKay. They did fine in their opening game efforts. I was hoping to see more from Rico, but they weren't playing him until late in the game and didn't really get the chances. On Scarborough's one yard burst Rico was in as an extra blocker. He planted his man two yards deep in the end zone.
One game down and we appeared to come out pretty healthy, which was very important. We got to see our rookies get valuable snaps.