Finally its time for training camp! The Boys have flown west to Oxnard for the cooler temps along the Pacific just north of Los Angeles. It seems like forever, since we saw even the resemblance of real football in our lives. They tease us with the draft and then OTA's. From there we get the endless barrage of stories, all with a "what if" scenario for the coming season. Who's going to be the breakout player of the year? How many rookies will start this year? Which rookie will have the greatest impact this season? Are they trading for Earl Thomas? Who's starting at safety? Who's the #1 WR? Who will win the NFC East? One of my favorites (sarcasm), is how deep do the Boys need to go in the playoffs for Garrett to keep his job? Frankly all these story lines annoy me.
There were a few real story's out there, but that's it. Witten retiring was a real story on many levels.
The problem with these stories centers around a few key factors in the NFL and sometimes in particular with the Cowboys themselves under Garrett. The real question, to start any discussion in April thru August, is tell me who's healthy enough to start the season on opening weekend! Once we get to see players in camp & preseason games we can begin to answer questions we all have. The opening game 53 at least lets us know who we're putting out on the field. Until you know who's suiting up, the blather is all a waste of hot air. Fun to discuss what you are looking for, who you're pulling for to step up, but beyond that its just not real news.
Don't get me wrong, I have tons of questions too, but what's the answer to those without knowing who's made the roster for the opening game? I can give you my opinion and if we were siting down with a couple of cold one's we could discuss those answers for countless hours. We forget sometimes that we're nothing more than rabid fans, hooked on our team. Garrett and his coaches never care what we, the fans think, when it comes to players, starters, playing time, play selection, etc. A major reason why all those contrived story's by Dallas's finest sports writers annoy me with those "what if" story's.
For kicks, lets chew on a few of the off season story lines that interest me but I don't feel fall into that "what if" category. Questions that go beyond and see if we can keep the what ifs to as few words as possible, yet deal with them based on what we do know. When I think of those "what if" questions, I'd like to see where we are after a minimum of 4 games to begin to answer them with facts, not fiction.
Of special interest to me is the defense! I have high hopes for the secondary & the line backing group in general. One concern I have is Byron Jones. Great guy, plays hard, but there's little or no playmaking to his game. Having moved to corner, concerns me as he wasn't anything special out there as a rookie. Jordan Lewis looked really good last year and I'd like to see him as the starter. Time will tell.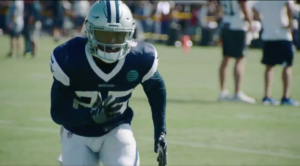 At the moment, Xavier Woods is the starter at safety! Now if Woods were to get hurt then the likelihood of a trade for Thomas becomes a greater possibility. The Cowboys would love to have the talented Thomas, but coughing up a 2nd round pick for a 30 year old player a little more than a year removed from a major injury isn't at the top of their list, nor should it be. Add in the fact that you'd want him for 2-4 years at what, 10-12M or higher per year. That's a bit rich for the cap, given the guys already above the rarified 10M mark. Taking a 30 year old player who relies on their legs is a real roll of the dice. Its not a move I'm in favor of, particularly over the long run. Woods was my Pet Cat from last season, so I'm really interested to see if him in action full time. He had a 3rd/4th round grade and we scooped him up in the 6th round. Xavier did well as a rookie, so I'm wide open to seeing what he can do given enough snaps. The temporary loss of Kavon Frazier with a blood issue needs to be watched carefully. It may force the teams hand to bring in another safety.
Who wins the NFC East? First, fact is that its rare that anyone repeats. Which teams come out of preseason the healthiest? Who stays healthy after the first four weeks? They all start 0-0, so the rest is guess work. Loss of a key player and that projection of 10-6 flips to 6-10. One of the keys to our season last year was losing Tyrun Smith and having the matadors (Green & Bell) open the back door to Prescott for anyone who lined up across from them. We seemed to have addressed that in a big way, with
Who's the Cowboys #1 WR? Apparently, the team isn't concerned with that topic. They picked up a few players (Hurns & Thompson) in free agency, then drafted a few more WR's for good measure. They apparently are relying on the running game to be their primary source of moving the ball. Picking up Connor Williams in the 2nd round gives them as formidable a front five as any in recent memory. The great "what if" is how does Tyrun's back hold up. Check back after week 4.
A legit question is why haven't the team used Zeke in the passing game more in his 1st two seasons? There have been some big plays in space with Zeke, just surprises me they don't go there more often. Picking up Tavon Austin, gives the impression that those targets may go from Zeke to Tavon this year. I'm good with seeing what Austin can bring to the table, but Zeke in space is something that I salivate when I see the ball swung out his way.
We've got a lot to keep an eye on in camp and its important as that's where the players will make a real impression to the coaches. What we don't see is how they perform in the class room! Personally, I view every snap from here on to have great importance. Be it in training camp or in a preseason game. This is where the final decisions are made, where players show out and compel the coaches to give them more snaps and move them up the depth chart. Its where other players fizzle out and find themselves on the outside looking in. A player who's lower on the depth chart but is making plays, you'll see him slide into a few snaps with the 2's or even the 1's to see where he's really out. That's what camp and preseason games are all about.
Randy Gregory's return is something to keep an eye on. Could be a great human interest story, but its a long road for his full return. He's had special talents and certainly he could be a 3rd down specialist if things work out. Want a what if type question? Look no further than Tapper! Can he make it thru camp without injury?
We've seen the story's about the loss of Jason Witten and what that means to the team. Heck the presumed starter, Geoff Swaim only has 9 more NFL catches than you or I do. Watching the team in camp last year, Swaim was making plays each day in his work with Dak. Not the dump off passes, but actual routes to the corners or down the seam! Then little to nothing during the season. Well someone has to grab a few balls from that position this year. Let's see who grabs the snaps at TE!
Wide receiver? Another position that has to work its way thru camp. I'd love to see someone snatch the starting spot from Terrance Williams. TWill has made plays in his 5 years here, is a terrific blocker in the running game, but …… He disappears and struggles to separate, as well as he does have trouble being a body catcher and failing to bring in some balls. Just looking for an upgrade, a real improvement. If TWill can step up and be more involved, then great. Just can't have him disappearing in stretches w/o Dez & Witten being the focus of the passing game. We need to see who emerges! Hard to have a starter at the #2 WR position, that averages a little more than 3 receptions a game. My real concern with the WR's is whether or not they can stretch the field sufficiently to open the field for Zeke. Dak will have a hand in that as well as he has to get a little more vertical and help stretch the field in all directions.
Let's really pay attention to training camp and don't take the preseason games lightly. Unfortunately, we don't see the starters much, if any, in the first game of the preseason. The beauty of preseason is that a lightly regarded player gets to make an impression, gets more snaps. A guy may only make the practice squad or the bottom of the 53, but then a year or two later you have a solid contributor or more.