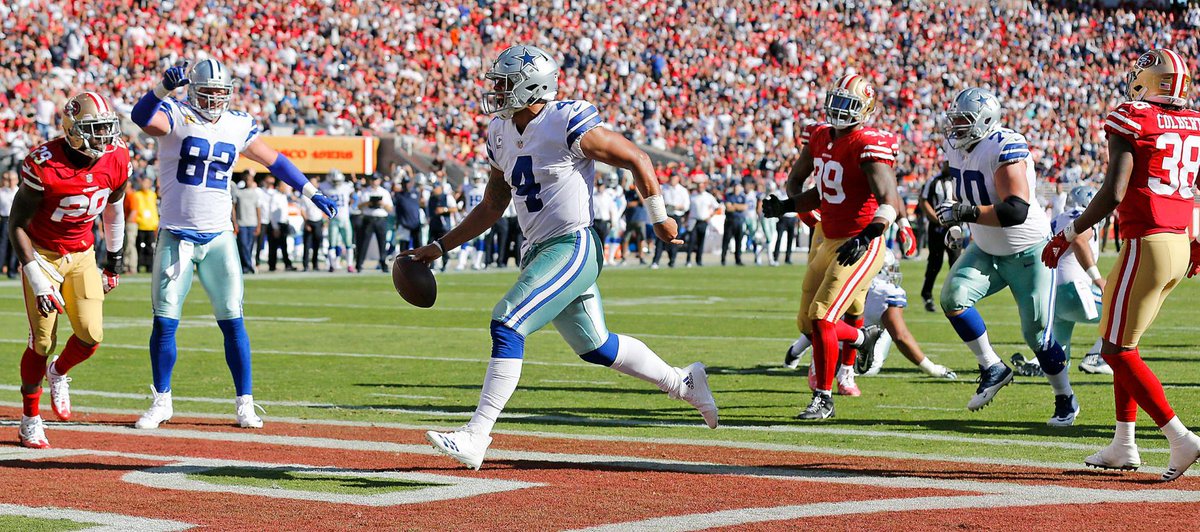 Well look who's up next! I'll admit that I have a bias towards this team, built over decades of watching them give us fits when they were strictly the bottom of the barrel. The Redskins could be awful yet give us major nightmares, let alone beat us when they were horrible. We've witnessed epic comebacks in team history and gut wrenching defeats as well. They were the epitome of a team that got up to beat America's Team. Nothing has changed in my mind when it comes to playing these guys. They're always dangerous! If memory is failing you think of what Colt McCoy did to us just a few short years ago! If not for that outing he may not be in the league? This Redskins team is a pretty good squad, one that's always capable of beating any team on any day. They lost a tough game last week that could have put them right there in the NFC East. A loss this Sunday puts their season in jeopardy. Expect to see them coming out strong as its a must win. Both teams have the identical record and the victor can keep their hopes alive for the season while the loser will be on the edge of being dispatched for the season.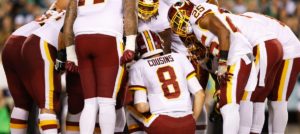 They have players that will make life tough on us come Sunday. Offensively they have impact players, particularly on the outside. Terrelle Pryor, Josh Doctson are two big WR's & Jamison Crowder a small and tough receiver in his own right. They have two TE's that are tough match ups, Jordan Reed & Vernon Davis. Pick your poison with those two and for my two cents, Davis is a mismatch with his size, speed and experience. The guy pulling the trigger, Kirk Cousins, is a pretty accurate passer. He'll make a few mistakes under pressure but he's been a thorn in the side of the Cowboys since he's taken over. He's not to be underestimated and he's used to playing for his next contract. That makes every throw, every game a big one for him to prove his worth.
Their running game is capable but nothing to generally be feared. They tend to pass about 60% of the time. We got off to a great start in the SF game making the 49'ers abandon their running game. Thompson & Kelly are they're primary backs and they are both pretty patient runners. I don't like that Callahan is their line coach, thats a concern. We need to repeat our plan of controlling their running game. The weather forecast calls for 100% certainty of rain. We should be prepared for a heavy dose of their run game and we'll likely be doing unto them the same thing. The condition of the field will play a large part of the outcome of this game. Their field has never been good and the rain won't make it any better. This game reminds me of racehorses, some can run in the slop and others can't. Ball security is an issue every week and this game may be decided by the team with the fewest turnovers or those which become the least damaging. Who scores more points off of turnovers? They may be without their top tackle, Trent Williams too.
Their defense has a formidable front. They play a 3-4, but a few guys are tough players and none more than, #91, Ryan Kerrigan. He will be just another real tough assignment for La'ell on the edge. He doesn't fool easily and he doesn't stop coming until the whistle. One of our standout players from last year, moved to Washington in free agency, Terrell McClain. He was huge in our success against the run last year. Now, he's moved to the enemy in their attempt to shore up their run defense. Washington & Philly both spent resources on defensive tackles this off season to counter Zeke. Regardless, they aren't anything great against the run, leaving us opportunities. Again dependent on who's the better mud running team. Their safeties will give us chances too in the passing game. Swearinger is a box safety who likes to blow up ball carriers but is a liability in coverage. Cowboys must take advantage of his shortcomings in coverage. Make them pay for his aggressiveness whenever possible. Josh Norman's been out but expect him to be back this week and go as long as he can against Dez.
If it were a dry field, there'd be plenty of opportunities to take advantage of against their secondary. One guy who might have the most success against them is Cole Beasley. Both teams are likely to be in zone if the field is a quagmire. A player that may fit that "mudder" role to a "T" is Alfred Morris, so don't be surprised if he gets a few more carries, should Zeke struggle with his footing. Morris played there for several years and may be a secret weapon in this game. In addition to Beasley being targeted heavily, we should expect Witten to be that security blanket to move the chains as well. Two players, I'd run at are Kerrigan and Josh Norman. Slow the pass rush down by Kerrigan and with Norman check out how well his ribs are doing. A few sweeps or screens to Zeke going his way, would be wise.  The severity of the rain will dictate the passing game, but the key will be to not turn the ball over, advantage to Dak & Dallas. The Cowboys have been terrific the last few games in the red zone and at one stretch had punched in 11 or 12 consecutive trips. A difficult variable in this game is the loss of Dan Bailey and newly signed, Mike Nugent.
Defensively, we have to limit their running game. Just keep it simple, once again this week.  In the passing game, Cousins has hurt us in the past and I'm not seeing that changing all that much in this contest. They're going to move the ball thru the air and at times in chunks. Getting a man to the ground quickly, is critical, to make them work for every yard. No yards after catches or runs after contact. We need to limit a few of their drives to just three point attempts and the red zone is an error prone location for Cousins. We can always hope in a game with a wet ball that a few may bounce our way. We've done well with getting sacks thru six games and a few in this game can result in strip sacks and drive stoppers, considering the field conditions. We have every reason to believe that DLaw, Irving & Crawford can sack Cousins with a little help from the back end. Just need him to hold the ball that extra tick.
This is another game that becomes crucial to the Cowboys season, they can't keep treading water. Dallas has to get on a roll if they want to be part of the post season action. Just looking at the numbers they have to win a minimum of six to seven games to make the playoffs. They must win the NFC East games remaining and this one is on the road.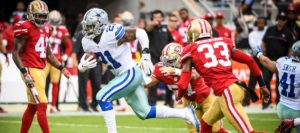 Offensively, lets feed Zeke & Morris to the tune of about 35 carries in the rain. If they can do that then we're controlling the game. Less than 25 and we're chasing and in a rough spot. We need to see another screen pass to Zeke and let him chew up some chunk yardage that way. Slows down their pass rush, which is the one thing they do well.
Dallas got their bye which allowed them to regroup and they looked much sharper. Now they need to get on a run. A major concern has to be the loss of Dan Bailey, which may alter in part, how Garrett deals with the game. Don't be surprised to see them go for it on 4th and short in Washington territory. Can't let this game slip away. One of my keys week to week is getting TD's not FG's and put the pressure on them to keep pace.
As for an outcome, this will be a tough game. The Cowboys are the more dominant offense and the better balanced unit. Dak is playing at a very high level and we should expect him to use his legs to pick up crucial first downs, keeping drives alive. Defensively, the two teams are about the same overall. We have to be concerned with the weather and the fill in kicker, Mike Nugent. I like the Cowboys offense, which is averaging 34.5 points over their last four games. I fully expect this to go down to the last four minutes. However if this turns into a sloppy, turnover filled game it could have a wide spread at the end in point differential. Yet, if its fairly even in turnovers, then don't be surprised with a 31-30 victory.