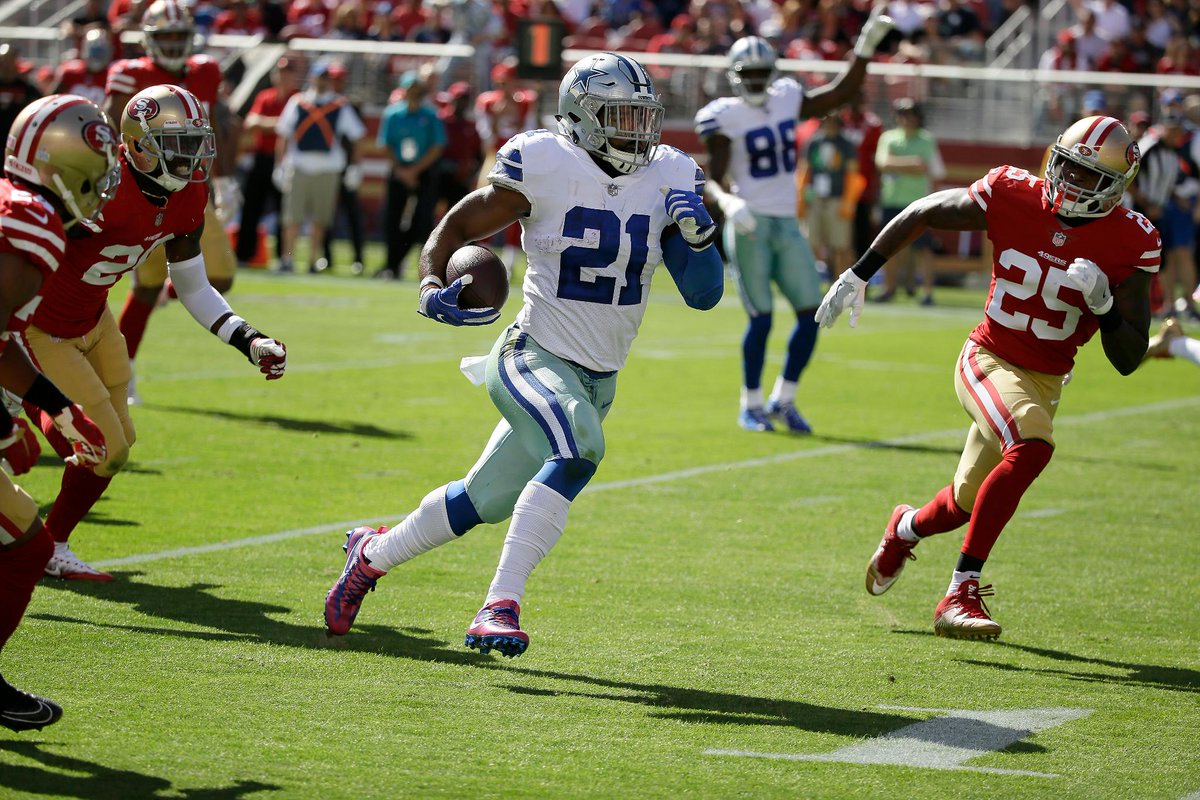 This morning we published the "Key to Dallas Victory is Straight out of Football 101". The most important issue, the actual "key" of the day, was to stop or control their running game. After watching the first Dallas possession, three and out, I didn't think the coaches, broached this old coach's blog on our offensive approach. But it didn't take long to see that someone pulled it up on the tablets for the coaches! After Xavier Woods scooped up the fumble by SF's punt returner, following the strip by Kavon Frazier. Then they started to follow the script. They handed the ball off to Zeke for 14 yards, then Zeke for 4 and on his third straight run he punched it in for a TD.
Here were those instructions from this morning's piece:
Zeke needs to run effectively, gashing them with consistent runs of 4 to 8 yards and a few 10 to 20 yards thrown in for good measure.  Zeke's runs will set the table and create the balance that will keep the defense off balance. That will set up man coverage for the WR's to do some damage downfield. It will also allow the defense to stay fresh and get after Beathard.
When you need to control the game, this team has the ultimate tool in Zeke Elliott and you'll be rewarded more times than not. On this day, he was fulfilled my call for "consistent runs of 4 to 8 yards and had several that got into the 10-20 range, highlighted by the clip below on his 25 yard run to pay dirt!
25-yard @EzekielElliott TD run! #DallasCowboys pic.twitter.com/kh9mG3z45C

— NFL (@NFL) October 22, 2017
Today, the running game produced 265 yards on 43 attempts, a tidy 6.1 yards per attempt. Switz hurt the team's average with one attempt for 3 yards. Zeke led the way with 147 yards on 26 attempts (5.65 ypa), with 1 reception for 72 yards and 3 TD's. Only 219 all purpose yards. Imagine if they got him more than 1 pass?
The next instruction for the coaches was to get the ball in space to Zeke, specifically via a screen pass. Gosh, what could have happened when they did? Here's that point in this morning's story:
Won't hurt my feelings to see a few screen passes to #21. He's got terrific hands, so lets use them. No less than 4 receptions on Sunday. Zeke in space is a recipe for success and a thing of beauty to behold.
Enjoy the video clip, its a work of football. To fully enjoy, watch Zack Martin (#70) with the kick out block and then Noah Brown blocking his man about 20 yards downfield to open the gate for Zeke to go the distance. One of the interesting parts of this play was Brice Butler avoiding a block in the back! Think back ……
RT if you loved everything about this touchdown AND the extra point. #DALvsSF pic.twitter.com/NUfuVIF9Ta

— Dallas Cowboys (@dallascowboys) October 22, 2017
The "key" for today's game was to stop or control they're running game by Carlos Hyde. On Monday, I called for holding him to 85 yards, but no more than 100. Well, Marinelli had the LB's roaming free and they "controlled" Hyde holding him to 68 yards on 14 carries. Key was stopping him early. He played hard, ran hard and had some good runs, when it looked like we had him lined up for the tackle. But it was important on some of those early runs to corral him and that the Boys did. He didn't have his solid runs until the Boys were already up, 20-3. It put the burden on their QB to win this game and that just wasn't going to happen. Thought that my thoughts here were crystal clear and well executed. This was the one that would deliver the victory!
I'm so laser pointed toward stopping the run, that I'd have my linebackers mirroring the movements of Carlos Hyde. The outcome of this game will come down to how effective they are in taking away their one weapon we've been struggling with the most thru the early part of the season
In the blog on Monday, leading up to this game, I had a few comments about Jaylon Smith. Here are those comments: It became clear that Jaylon was playing far more snaps than he should have until that leg fully heals. Still like to see him get 10-15 snaps in the game. Fewer snaps, he might be more impactful too!
With fewer snaps, he could adjust to the flow of the game and not ask too much of his recovering leg. What happens? He blows up Beathard on this play and we get the second strip sack of the game. How great was that?
Jaylon Smith with the sack & forced fumble. He leads the #Cowboys team in tackles this season. Incredible story.pic.twitter.com/OP9od8oBWA

— NFL Update (@MySportsUpdate) October 22, 2017
To follow up on another part of the key's that were posted, this one kind of hit the mark like a dart on a dart board. It was the first of the two strip sacks on the day, this by Demarcus Lawrence. This play is on the video below.
Getting a few turnovers would be huge and you'd like to think its possible facing a rookie QB, whether its a strip sack, a bobbled snap or a simple old fashioned interception. It would end a three game drought on grabbing a turnover, but again it boils down to stopping the run. Everything else is secondary and complimentary towards a win.
#Cowboys DeMarcus Lawrence sack against the #49ers, trying to re-take his league leading sack total from C.Campbell pic.twitter.com/kJ65LtZNjW

— Dov Kleiman (@NFL_DovKleiman) October 22, 2017
Now for part of the fun of the day, we have two special plays by the Cowboys offense that deserves a certain level of recognition. This first clip is the catch by the greatest TE in Cowboys history. A lot was made of this being a great one handed catch and it was. But what you can't see here is that Witten was blanketed by the defender and he had a firm grip on Witt's left hand & arm. A laser pin pointed pass by Dak into that one, single "Mitt" by Witt!
.@JasonWitten ONE HAND TOUCHDOWN CATCH!

Beautiful. #DallasCowboys pic.twitter.com/nMWkMOIr6W

— NFL (@NFL) October 22, 2017
A day to feast offensively allowed us to enjoy Dez tying HOF great Bob Hayes as the all time leader in TD receptions with 77. The fastest man on the planet was a treat to watch!
.@Dak! @DezBryant!

TOUCHDOWN @DallasCowboys! #ThrowUpTheX #DallasCowboys pic.twitter.com/lf8bvNGoqC

— NFL (@NFL) October 22, 2017
Here's one of those out of the blue kind of things that worked out. This morning I wryly called for one player to get his number called. Truth be told, I wanted him to soften up the 49'er defense a little, but given the opportunity, he produced. Including a 45 yard romp down the right side. Here's what was published this morning:
Wouldn't hurt my delicate feelings to use Rod Smith to punish their defense, with his physicality alone. Just a little change up to soften the under belly of their defense.
Really, how sweet was that?
Another posted point called for Dallas to forego FG's and score TD's to apply more pressure than Beathard could handle. Job well done men! The sorrow is knowing that Dan Bailey is injured and no telling how long he might be out with that groin pull? A special shout out to Jeff Heath for knocking a couple of PAT's thru the uprights, straight down the middle! The one off the post crossed the middle, that's my take and I'm sticking to it.
When the Boys hit the red zone, punch them in for TD's, lay off the FG's. Love Dan Bailey, but not fond of seeing him too often setting up for a field goal attempt. Posting 7 points, can and will put pressure on a rookie QB in his first career start.
Props to the whole team for going on the road and flat out executing. A few tackles were missed near the LOS, but it wasn't terrible. It was great to see Tyrone get another sack, as that RDE has to produce and he came through again today. Irving got his third sack and DLaw upped his count to 9.5. When you run for 265 yards you're making life easy for the whole team. Dak must have felt like it was an off day today, as he didn't have to do all the heavy lifting himself. Three fumble recoveries, wow, it felt like Christmas to get all those gifts!
All kidding aside, the getting back to basic fundamental football approach is the ticket. Run the ball, stop the run and tackle! Here's my final point in the Sunday morning pre game post.
STOP the run! It's straight out of Football 101! It doesn't get much more basic and simple than that. Is that too much to ask?
When a few belittle the win, remember, you play the team across from you no matter who it is. Taking anyone for granted in the NFL is a serious mistake. It's still about executing and today, our guys did!
Enjoy the flight home men!