How many of us needed the break from the win one, lose one train wreck we've been on this season? Tease us one week with a solid performance, then deflate us the next. Well it's back to the grind for the Boys and for us. What's in store for this years team? We're getting a big break in facing a team this week that looks like a ship taking on water. Given that this is a home game for the Boys, the home cooking should help them to take this game and even their recored at 4-4.
Every week its easy to say that this weeks game is crucial, but as we enter the midway point, the Cowboys are down two games to the Redskins and down one game, to the Eagles. Climbing over two teams isn't an easy task, so there can be no more hiccups the next few weeks to climb back into the hunt. I'm hopeful that Atlanta can do enough to pull this game out, while I'm concerned about Philly finding their rhythm with Wentz back in action. We have to still play them twice.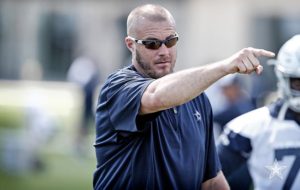 These two weeks weren't quiet ones in Dallas, as any number of things happened. Let's look at a few. The big headline certainly was the trade with Oakland to bring WR Amari Cooper to Dallas for next years 1st round draft choice. Cooper reportedly and rightfully is expected to start against the Titans. A little less flamboyant a move was the termination of Offensive Line coach, Paul Alexander and subsequent promotion for Marc Columbo. Obviously the HC decided that the OL was underachieving and pulled the rip cord on the new addition to the staff this year. With Columbo in charge, I'd be looking for a little more smash mouth type football than we've seen thus far this year. Dole out the punishment instead of absorbing it. For those who remember his years as a player, he was a tough cookie, doling punishment whenever he could. We'll see how things develop on that front over the next four games. An injury hit the squad during Thursday practice that had David Irving suffering the dreaded high ankle sprain, putting him out of action for what likely will be another four game stretch. That's a difficult loss as he was helping the tackle rotation and doing well with sacks and pressures.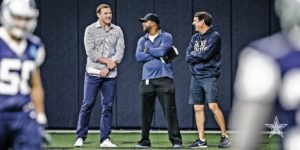 What should we expect on Monday Night Football, you may ask? For one, we'll see or at least hear, #82 himself behind the mike, doing his first broadcast of a Cowboys game. After that it's anyone's guess, but I'm sure we'll see the team try and do what they've been known to do best and that's run the football. Expect a heavy dose of Zeke in this game and a few play action attempts that enable them to spring board Amari in his first game. We have to hope that the mere fact that Cooper is a viable vertical threat, then it may make the gaps up front a little wider for Mr. Elliott to navigate. I'm looking for a big day rushing for Dallas, given the switch at coach and the threat of Cooper. If they can get Cooper the ball early for 60 yards in the first half, it can be a big day for Zeke & Dak playing the RPO plays too.
I fully expect a really great game from this stingy defense. We should expect the linebacking group flying around making plays, blowing up plays and pressuring Marriota. Expect them to shut down what little running game they have and then swarm all around Marriotta. The Titans offense is only averaging a meager 15 points per game so far and our defense has done a really solid job keeping opponents out of our end zone. The Dallas Big D is only giving up a shade over 17 points per game. Considering that their are four losses on the board, holding teams to only that is very impressive. Fully expect that the Cowboys defense will keep them near their season average. The Titans have only given up four points more than Dallas, so they're being tough on that side of the ball themselves. At home the Cowboys have been able to put up far more points than on their road trips, so I'm seeing a tight but comfortable victory. The combination of the Titans inabilities to score against anyone is encouraging, as the Cowboys are one of the best defenses this year. I'm expecting the D to shut them down and the offense will take advantage of two turnovers and take this one 23-13. After the lose, win, repeat type season, I wouldn't call this a great victory, but a badly needed one should they walk off the field with the "W". Its a really must win for the season to have any chance of getting into the playoffs. As this post started this is without question the pivotal game of the season. If the Cowboys can't beat the Titans at home, then there's no doubt that this is not a playoff worthy team. That would be a shame with the defense as difficult to score on we have this year. For the time being we'll be hopeful going into this game.
Special kudos to Jerry for finally putting Gil Brandt in the Ring of Honer. An honor long time in coming. For those too young to know the accomplishments, just realize the Landry successful years were essentially all with Gil as the GM. There have been several colorful stories thru the years of how tightly he held the checkbook in Dallas but when it came to scouting and talent acquisition, I really don't know of anyone that did it better for so long. He was responsible for drafting most of the Cowboys ROH members and HOF inductees. He was the master mind behind the draft position points system that determined the value of a pick and the cost of moving up or down for trading purposes. I'm still waiting for "Beautiful" Harvey Martin & Ed "Too Tall" Jones to be honored as well.