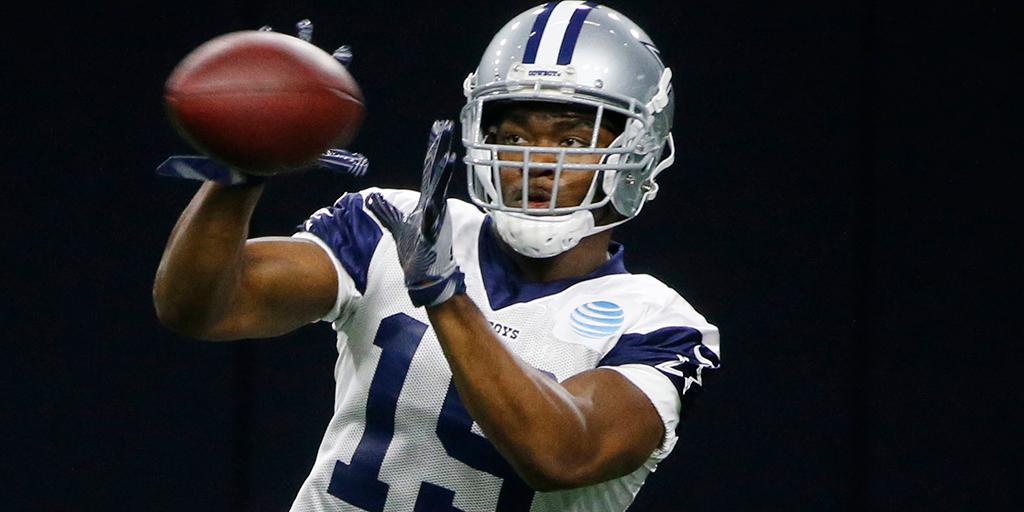 Last week the Cowboys made a big time move in getting Amari Cooper from the Oakland Raiders. A lot was made of Jerry having been down this road before when they picked up Joey Galloway and the trade that still makes my skin crawl, for the disaster, known as, Roy Williams. But lets look at this on the face of the move and peel back the onion on this transaction. First, its a steep price with a first round pick. There I totally agree and in large part as my thinking is/was that it should have been used on a first round QB next spring. We have a great back up QB in Dak, but we need a future franchise QB and you need first round ammo to get one.
Hopefully, everyone is aware of the talent level of Amari coming out of college and in his time in Oakland. The number four selection in the 2015 draft, good size at 6′ 1″ with 4.36 speed. His first two seasons found him earning All Pro status, after gaining over 1,000 yards in each of those seasons as he hauled in 155 balls, 2,223 yards and 11 TD's. The question everyone has and rightly so is what happened the last two seasons up in Oakland? Which player are the Cowboys getting? I haven't gone back as of yet to look at tape from the last two seasons but their team dropped off considerably making all performances to be judged a little harder to evaluate. Their QB, Derek Carr hasn't been the same either and we know all too well that the QB has a huge effect on a WR! One minute you're signed to a deal for 15M, then you're cut and sitting home on the couch. without that elite QB tossing you the rock. I still question the move with Dez may have to be more Dak friendly when those two couldn't get on the same page.
What I see them getting is a top talent, who may benefit from a change of scenery. We'll know more after seeing him the last 9 games of this season and then into the 2019 campaign. We know we've got a WR with speed to burn. Do we have a QB willing to take shots downfield even just to wake up the defensive secondary? My concern, is that Dak isn't the guy to fully utilize the skill set of Cooper, though I'd love to see him succeed. While I wanted the Boys to draft a bona fide 1st round QB next spring, I'm hopeful that this move proves conclusively, not to me, but to Stephan, Jerry & Will, that the problem is with the guy under center, before they lock him in, with a mega deal.
The price was and is pretty steep, with a first round pick. At the moment, that pick looms large as a top 15 pick, one that could have been highly useful in trade bait for a big time move up for a QB. Its still my concern that Dak isn't the guy to let us nor the team officials assess Cooper's performance or effectiveness. John Machota posted this tweet the other day and it shows the ability he has of selling a move and exploding vertically, a quality that could be sweet in Big D.
Amari Cooper: Week 16 (2017) vs. Eagles, 63-yard TD pic.twitter.com/LPkR6hIhHh

— Jon Machota (@jonmachota) October 26, 2018
What has me looking to the positive side on the actual player himself is the break down on this link below to the Cowboys website where Will McClay show us the tape on Cooper. He lays out there what they like on tape. I still come back to the QB and will he target him when he's open by NFL standards. Will Dak throw him open? One of the notes on him is that he'll go get the ball, with a burst. If they at the very minimum throw a few vertical routes, it should begin to get teams away from the 8 and 9 man boxes that Zeke is fighting through.
https://t.co/QKrEkQi0MO
I still come back to the QB and will he target Cooper when he's open by NFL standards. Will Dak throw him open? One of the notes on Amari is that he'll go get the ball, with a burst. If they at the very minimum throw a few vertical routes, it should begin to get teams away from the 8 and 9 man boxes that Zeke is fighting through. A true #1 WR can be a great resource for drawing defenders to him and away from focusing solely on Zeke. Alan Hurns is an average possession receiver, but he lacks speed and that hurts the running game. Beasley is shifty but doesn't have sheer speed. Williams is not long for this team and doesn't strike fear into any defenders mental angst.The TE's don't possess above average speed either. Pairing Cooper with a young, developing rookie WR like Michael Gallup, can turn into a nice tandem. The little tape I have seen on Cooper, I see a really nice route runner, every step has purpose and power when he plants a foot in the ground. You may have read prior posts where I'm not fond of the comeback route, but Amari Cooper sticks a perfect Olympic style 10, when he runs that route. Key to the route is timing with the QB, but Amari, drives hard on the DB, who has to respect his tope end speed, plants and comes toward the QB. If the timing is anywhere near on time, this play can be a staple in their repertoire with how well he executes the route. Here's a quick gif that shows exactly what I'm talking about ……
https://t.co/vzlnBuZvW0