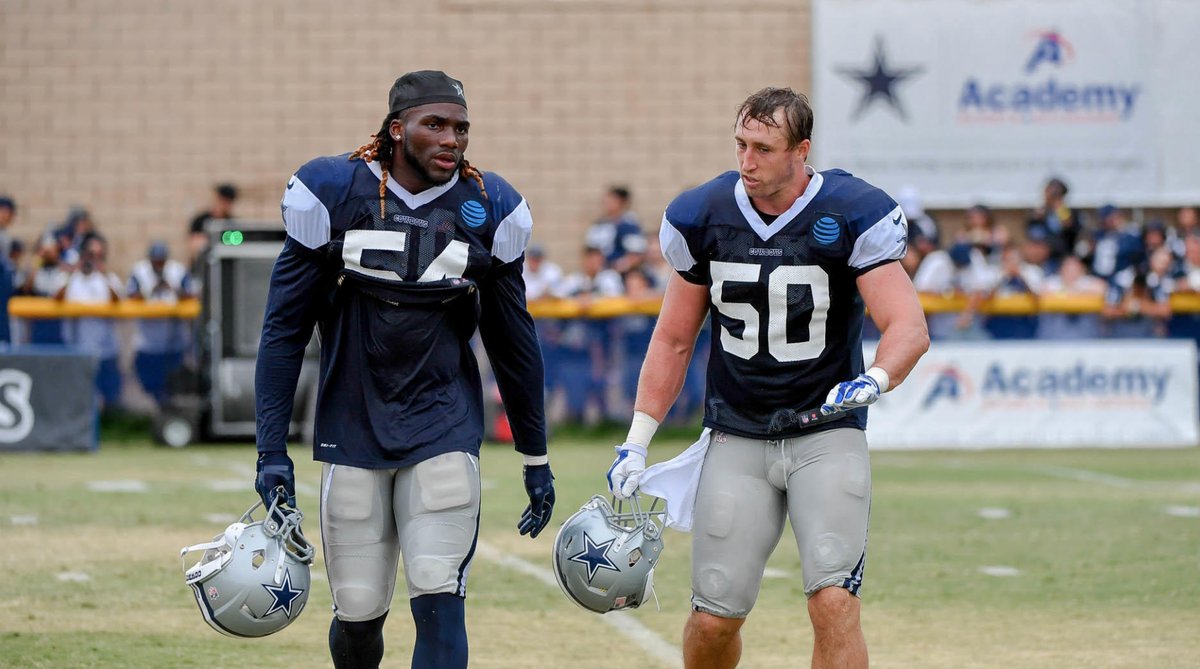 The success of the season leans squarely on the shoulders of the defense! As of this date, we're still introducing guys to one another. A few weren't here this time last week and others haven't practiced much through training camp. Makes the case for the defense being the big unknowns. We'll look at the D from several angles.
Extra Motivated Players:
Leading the D in this category, is Demarcus Lawrence. Being at camp in Oxnard, his physical make up alone makes him a force to be reckoned with. He needs to stay healthy and this is his final year on his contract. In all he's had one good season, but that one showed what he can do when healthy. Players in contract years, crank up their game and that's my expectation for him. He'll likely see most of his time at RDE.
Maliek Collins, as you may have read back on this site in early July is my choice for best defensive lineman this year. The article is still on the site, under Player News. He looks to be an incredible force, quick and powerful. Don't know that he'll get that All Pro nod in his first year of being a stand out, but if the team and defense have success he'll be getting props from many talking heads.
Orlando Scandrick is the next player on my list. Seeing him in Oxnard, I expect a really solid season from him as well. When healthy O is really good and right now he's the healthiest he's been in nearly three years. He's a consummate pro and it was clear in every step he took that I saw. He used every move an experienced pro has in his tool belt. Uses the sidelines to his advantage. Given the team drafted three CB's, he isn't handing anyone his job. Expect a good season from him and if he can actually catch the ball, he could make All Pro. Always has that edge to him and he intends to prove how good he is. I see a big season for him and his being named a captain was big to him personally.
Anthony Hitchens would have fallen into this spot as this would also be his final year on his rookie deal. Having Jaylon able to play this year, raised his play to another level through camp.
There are two guys on suspension that I'm expecting them to come back with a lot to prove. That's Damontre Moore & David Irving. Moore needs to get his career on the upswing so he's focused and ready to give it is all. It's great that during his hiatus he's allowed to work out with Mike Woicik and be around the team. Irving can be a one man wrecking crew!
Players to Watch:
All eyes will be on Jaylon Smith. We know he's an exceptional talent with the heart of a lion. The team intended to bring him along slowly early in the season, but the injury to Hitchens has changed that. There's a few things to keep an eye on with him, now that he's in this starring role at the Mike. He'll likely be on the field in base, while giving way in nickel or dime packages to Durant. We should expect the Giants and all upcoming opponents to attack him. Jaylon seemed explosive going forward, but struggled a little if he had to redirect. His backpedal was better than I expected it to be, but we should anticipate the NYG's to isolate him on a back and test his ability. Every team will challenge him and hope to gain an advantage from time to time. Expect the Cowboys to use him in blitz situations, he's fast, powerful, athletic and a play maker. Needs to stay patient and not overrun plays as he did in the preseason. Expect him to show the most growth game to game of anyone on the squad.
Nolan Carroll is a player to keep an eye on, in relation to the health and ability of the rookies, Chido or Lewis. Nolan didn't have the camp the team would have liked to have seen and if he struggles, expect a quick hook in favor of Chido who's back practicing while Jourdan Lewis is still limited. Chido is ideal for the zone scheme that Marinelli would like to play. Big on tackles and in causing fumbles in college. Be nice to have playmakers on the back end for a change.
Damien Wilson is a player, that they're expecting to have a big season. Albeit he's on the field for fewer snaps from the SAM as they'll be in more nickel, which takes him off the field. Let's look for some flash plays in his limited work.
Keep an eye on #50, Sean Lee for the simple enjoyment of a near perfect player. Reads super fast, closes, finishes and comes up with key turnovers.
Players That Must Step Up:
For me, the player above all that must step up is one of the new captains, Tyrone Crawford. A boat load of ability, heart and the ultimate team warrior. I was about 30 yards away when he went down in Oxnard and it was a scary scenario at the moment. Getting him back is huge for this team as he can fill in at whatever spots they need. I'm expecting that he starts at LDE against the Giants. He needs that All Pro or near All Pro type season as whispers crop up regarding his contract. In order to approach that level he has to stay healthy and they should do what they can to limit his snaps and exposure to injury.
This is a positional note on our starting safeties, Byron Jones & Jeff Heath. They will be tested often by the Giants and these are two players that have to be solid and above average or the back end may have problems. Jones had PBU's last year but needs to turn them into interceptions this year. Heath has flashed on the back end as recently as the playoff game against the Packers. We need 5+ INT's from this group this season to be a force this season. It was Jones last season that with his play saw our D improve in reducing the number of 20+ yard completions against us.
Players No One's Talking About:
Last year the leading lineman in sacks was Benson Mayowa and rare that you even hear his name. Not sure why we're not hearing about him, but next to Lawrence he was the next player in getting my attention, fast and strong. He's a little light but he's got real nice quickness and does well with his hands.
Another player with little mention appears to be Taco Charlton. He came on during the last two preseason games and is bringing some confidence in his game to the field this Sunday. My expectations for him is still 4-6 sacks, but a ton of growth. Interested in watching his progress as the season goes along.
My Pet Cats:
Expecting a quick start to the season for my Pet Cat from 2016, Anthony Brown. He's got a season under his belt and needs to come up with more plays this year. Needs to be a little more physical and make more plays on the ball. This year's Pet Cat is Xavier Woods and a hamstring injury set him back in pushing for snaps early in the season. He's got proven ability to get turnovers, albeit in college. Needs the snaps to show if he can do it at this level.
Key to the Season:
How well and how much do the defensive draftees contribute this season. We lost several key starters, McClain & Church to name the one's that were the hardest to lose. Before the season's out we need to see Chido & Jourdan be the players we're expecting them to be. Woods or Frazier need to be play makers in their snaps at safety. You want that SB trophy, well these guys have to step up and do their job. Make plays, key plays and get turnovers are the requirement to move the team forward.
We're facing serious competition in our division, it won't be easy. The difference alone of getting a first place schedule can be summed up this way. Last year with the last place schedule we saw Chicago and Tampa Bay. By virtue of the top slot in the division we get the games against the other top teams, Seattle, Green Bay & Atlanta. That's Rodgers, Ryan & Wilson. While the Giants get Lions, Bucs & Cardinals, which puts them up against Stafford, Winston & Palmer. We've got a tough road to hoe and my mantra has and always will be, No D, No Rings!
Up Next, a look at the Key Offensive Players!