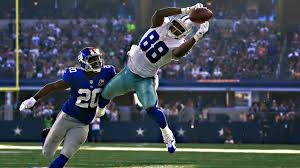 The Dallas offense projects to be top shelf in the league again this year after finishing fifth last season. Reasonable to ask if they can be even better than last year?
Extra Motivated Players:
Top of the list is Dak! The taste of losing to GB still hurts, maybe even haunts him. He had a great 2nd half in that game but the L was not on him, as I wrote about a few months ago! Starting in week 1, he faces a team that got the better of the Cowboys in two games last year. Motivation factors couldn't be higher to start the season for Dak. Its a crucial game and one he needs a "W" in to get this team going this season.
Jason Witten unfortunately, is being hounded by questions on retirement, when his eye is on the prize as well. He's giving every ounce to this team which he can sense has the make up to go the distance. Media seems to be pressing him about retiring making his motivation to get that ring even more incentive.
Brice Butler is playing on a one year deal and he's worked more diligently this off season by his own admission. He's looked very good heading into the season. Here's another example of a player fighting for that next contract. Fully expect him to have a break out type season. In April the Dallas media was counting him out, but his performance through the preseason was probably second, only to the amazing, Dez!
Alfred Morris is another player that is battling for snaps & his career. He came to camp, perhaps in the best shape of his career. He dropped some weight and added quickness that we'd not seen previously from him. His roster spot is not guaranteed, but the Zeke uncertainly has kept him on the roster. In the last few hours Zeke got the TRO, which may effect Alfred's status. If he gets carries, he can be a work house should Zeke have to serve the suspension. If Zeke's suspension occurs this year, I'd consider starting Morris over McFadden as the work horse and use McFadden as the third down back.
Players to Watch:
Let's start with, #88, Dez Bryant! Easily a special and gifted talent. Words can't describe his athletic ability, but my favorite statement is that he's the best "above the rim" WR, I've ever seen. His performance in the Green Bay game was one of his career best. We can look for a lot more of that this year. Numbers aren't the issue with a run oriented team, but his plays will be significant contributions to the success of the offense. First downs and touchdowns will be what we see.
Zeke Elliott is an easy pick, as he's one of the best players in the league. When I watched him in Oxnard, he impressed this guy with  how well he read the blocking, putting his foot in the ground and taking off with an amazing first step. He's terrific in space running routes and its almost criminal for anyone to cover him. We all know he can take a handoff or a swing pass and go the distance.
Tyrun Smith is a player to hand out props to for his outstanding play on the blind side. We take it for granted that he's an All Pro at LT. We hear the term, "shut down corner", well he's that at tackle. Saying that, Olivier Vernon has given him worthy battles in the past. Watch their battle in game one to start the season!
Zack Martin is another lineman that speaks softly but flat out is one of the best that the game has ever seen at guard. Needs more years under his belt, but he's as technically sound and strong as they come. When you need that first down, it's Zack or Tyrun that they run behind. Watch Zack in pass sets, amazing to watch him lock a player down, stone's them in their place. Frustrates the heck out of a defensive tackle!
If you subscribe to NFL Game Pass, in the ALL 22 you can see these two lineman in particular be exceptional in their job. Honorable Mention, would be Travis Frederick, who is every bit as good at C as his two teammates are at LT & RG.
Players That Must Step Up:
La'ell Collins, LC to his teammates, is the first player that comes to mind in this category. In time, this move to RT will be a great move, but in the short term, he'll have some struggles. Give a little help and he'll be fine as he gets used to the position and playing with his weak hand on the outside. The first four to six weeks will be real battles for him. He needs to step up and just do a workman like performance.
The starter at left guard hasn't been officially announced but whoever it is has to step up and be formidable in the running game and stout in pass protection. It's a tough call, but expecting the team to choose Chaz Green as the LG. Question is can he make it through a game without injury? He needs to step up and produce, albeit a new position. It's his third year and he's seen limited opportunities. Man on man expecting him to be fine. My concern is how he handles the stunts that he will surely see this week. That's where I foresee trouble as he gets acclimated to the inside. We take for granted the weapons on offense, but it all starts up front. Green or Cooper have to do a solid job. Not expecting great, but solid would work just fine.
Players, Few Are Talking About:
The player that fits this bill is Terrance Williams. Twill as he's known, isn't the flashiest WR, but he's big, strong and deceptively fast. As Romo told us, Terrance is easily the best blocking WR on the team. On a team that features the likes of Dez, Zeke, Beasley & Witten, Terrance isn't the primary WR on many plays. He'll make his 45-55 receptions and his share of TD's but he's got a knack for making a big play in a key moment. That happens as Dez draws double or triple coverage, leaving Terrance man on man. His return this year after becoming a free agent, spoke volumes to his being a team player and accepting his role on such a talented WR/TE grouping. The addition of Ryan Switzer adds another player to the WR room who may snatch of a few receptions from Williams as well.
Another player who's flying under the radar is Ryan Switzer, from North Carolina. He really wasn't seen by many during the preseason. We were able to see him the day before he started having the dreaded hamstring issues up in Oxnard. He was out there with the 1's as Bease was just working his way back in to the practices. He took a Beasley like bubble screen and blew past the defense in a flash. Personally, I didn't think anyone had a legit shot of tackling and they blew the whistle when he got in the clear, about 30 yards down field. In watching some of his college tape he has more ability down field as a vertical threat than Beasley. Not sure how they'll use him, but can say he'll give a few coordinators a nightmare or two. As a punt returner the team is counting on him flipping field position from time to time. They're looking for the type of returns that shorten the field, anything more is a bonus.
Player's No One is Talking About:
James Hanna & Geoff Swaim definitely fall into this category and two players who I believe will be important to the success of the team this year. Hanna is probably the best blocking TE we have. Witt's real good, but Hanna is a notch above as a blocker and Swaim is no slouch. Both are capable of getting out into routes and making key plays. Expect those flash plays probably on waggle's by Dak. Swaim, in Oxnard was always there for Dak and came up with nice plays in scrimmage each day.  True we lost to the NYG's in both battles last year and Zeke struggled in those games on the ground. Remember, that Hanna was out all year and not able to set the edge. New year, different story!
Wanna See:
A player that I want to see is WR, Noah Brown. He's got the makings of being a solid big bodied WR down the road. What I'd love to see especially against the Giants is him crashing down on a crack back on JPP or Vernon as the OL pulls and clears the road for Zeke. Unfortunately, with the first five WR's on the active squad its highly doubtful he suits up in week one. But when and if he does get on the 46, look for his blocking on running plays!
Key to the Season:
It was just announced that the judge in Texas granted Zeke a TRO on his suspension. This story line will continue throughout the next few weeks for sure and likely thru the season. What it does is add a touch of uncertainty week to week on Zeke's availability. For now, we'll assume he suits up each week. Now if the locker room media would just end the questioning every day, maybe the team can focus on the upcoming game!
The OL doing their job up front to open the holes for Zeke & Co and protecting Dak! All starts up front, win the battle in the trenches and all things take care of themselves.
Success on 1st down, much like last season to get into 2nd and 4, 2nd and 5 situations. As defenses creep into the box, unleash the WR's.
Getting Dez involved in games early. Let him, Butler & Williams stretch the field. Opens holes for #21.
Saw it in Oxnard and that was Zeke being more active in passing routes. He showed he's fantastic in space and no way a linebacker can cover him across the middle or down the sidelines.
Scoring TD's at a high rate. FG's are nice but they also get you one step closer to losing! A major key against the NYG's!
Limit turnovers! Hard to believe we'll see only 4 interceptions from Dak again this year but anything under 10 would be terrific. Part of my preference of Morris over McFadden is that Morris does not put the ball on the turf!