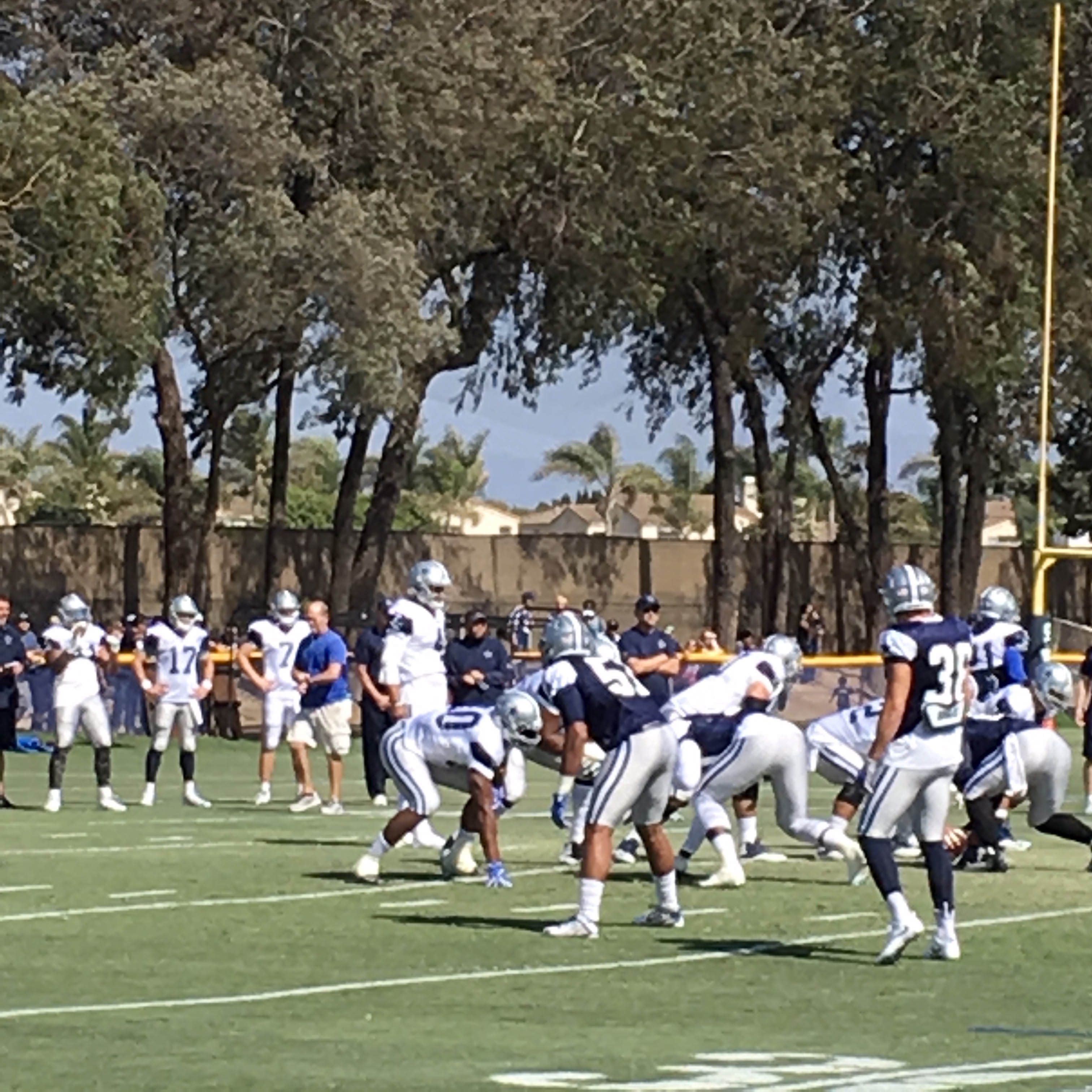 Everyone had to get down to 53 today and there were a few minor surprises with the Cowboys.  The "Getting Down to 53" we put out yesterday was pretty darn close to what the team did themselves. Don't think for a minute that the team is done! There are pretty much 1184 players that were being released today. The scouts have been watching every player, from every team. This makes more moves not only possible but likely. The team made only one trade to nab a player at a position that they wanted to be sure that they fortified with a veteran. If and when a few things shake out with the Zeke situation, then at least another move may be happening. That whole mess cost someone a job and still leaves things unsettled. The team will have more decisions to make when Demontre Moore is eligible to return, likewise with Irving after his four game rip.
One of the keys to the 53, was the situation with Kellen Moore and the team went the directions the most prudent, yet a bit risky. With practice squad eligibility and knowing that no one grabbed him a few years back while in Detroit, it was a risk worth taking. Believe they have every intention of bringing him back via the practice squad. Once teams have set their rosters, wouldn't surprise me that they flip flop Rush & Moore on the practice squad. Long shot, but it's possible. If they lose Moore, then McGown may get another look and considering that they ponied up a guarantee deal for a few hundred, it's not beyond the realm of possibility.
While the offensive line is set for the moment, its fair to think that they may look for an upgrade at LG. Just saw that Alex Boone was released by the Vikings. How much of that was a salary dump or a quality of play issue? Haven't watched him personally to assess his skills at this stage, but worth looking at some film. If DC scouts feel there's still a few gallons of gas in the tank, he may be an upgrade. Its an unsettled position, so keep an eye at this spot.
What was surprising is that they kept Gathers on the 53, while thoughts may have been to put him on IR for either 8 weeks or the season. Didn't think they'd keep as many players as they did that are injured, in Gathers, Hitchens and Jourdan Lewis without using the IR designation.
Once Duke Johnson (moved to IR) went down, the likely beneficiary looked to be Marquez White. Yet the team pulled off a trade before the cuts and picked up a rather uninspiring veteran, Benwikere from the Panthers. The signing of a veteran at CB considering the health of the rookies really shouldn't surprise us. Wrote about this possibility a few days ago.
The release of Lewis Neal was one that was a mild surprise as I thought with the suspensions on the DL, he'd be around for a few weeks. A good candidate for the practice squad.
Considering the mass release of players today, the 53 may not be settled for a few days. Keep an eye on linebackers, particularly someone who can come into the Mike spot. Nzeocha looked shaky at best in the dress rehearsal game and they may jump at someone they view as an upgrade. Andrew Gachkar was released by the Jags and is a favorite of Bisaccia. While an average LB at best, he was high on Bisaccis's list with ST's. The dual flexibility, may bring him back. They moved on from him in the offseason and I'd look elsewhere for someone who brings a little more upside.
Overall, there's not much arguing with the moves the Cowboys made. The trade for the CB doesn't impress me, but its about protecting themselves at this stage.
Building the Practice Squad, look for several of these players: Lance Lenoir, Lewis Neal, Marquez White, Jameel Showers, Nate Theaker and of course, Kellen Moore and Brandon-Dukes RB they picked up this week. They'll be scouring other teams cuts to fill out the PS.