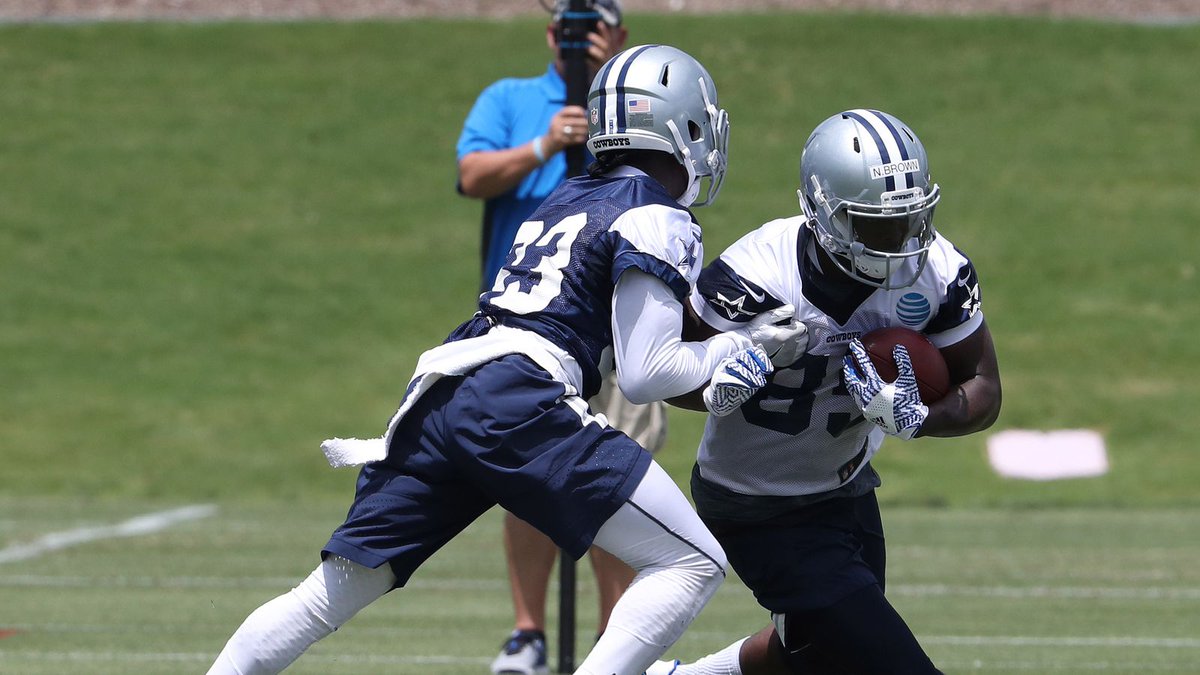 Today marked the completion of the 4th day of Cowboys Training Camp in Oxnard. After a rocky couple of days with the media, things have started to settle down now that the pads are going on. Plenty of that was petty and a total waste of time, so we'll let that go here this evening. If you know anything about my passion in quest of the next SB victory, my mantra is, "No D, No Rings"! It's a most sincere statement having watched all of our SB wins and there was always one common denominator, we had extremely good to great defenses. This has made the need for our improvement on the defensive side of the ball, the missing ingredient. The drafting of three corners (Awuzie, Lewis &  Marquez White) and a safety, Xavier Woods. For non regular readers,  Xavier's my pet cat this year.
We have several clips that might interest those looking for these men on defense. The first, well, he was my Pet Cat last year and he's starting out nicely here in camp this year. That's Anthony Brown! He gets the first clip where Dak overthrows Dez and Anthony takes it in for 6. Nice to get one early in camp to get a defenders mind in the right place.
Defense having a good day out here. Anthony Brown picks Dak. #Foxnard pic.twitter.com/PfEh0otJph

— Mike Doocy (@MikeDoocyFox4) July 27, 2017
We throw in a little offense just for the excitement of watching #88 rolling in camp for the first time pretty much in three years! A healthy Dez can only do great things! This clip is just to get us all pumped up just a little more …….
Dak finds Dez over the middle, Byron Jones trailing. pic.twitter.com/UMHaH89bYP

— David Helman (@HelmanDC) July 27, 2017
Now this is a pretty sweet INT, by Chidobe on a pass intended for Brice Butler. First, lets point out how physical Awuzie was with Butler when he came out of his break. He went up with the taller Butler and knocked the ball up & out of his hands. Chidobe keeps the presence of mind to look for the ball, keep his balance in shifting directions and makes the interception. Great athleticism. This is precisely what the team was looking for and INT's are desperately needed from the secondary. Seeing what this young man can do, in all aspects of one play should be very encouraging to all.
Awuzie beat Brice Butler in 1-v-1. Jump-cut a slant ran by Brice, tipped the ball and tipped it again for a clean interception. ✭ pic.twitter.com/DaIjj9IJWs

— Miss Ni (@whoolawd19) July 27, 2017
Not a lot is being said about Rod Smith, in part because is not currently high on the depth chart but many eyes are on his brother Jaylon. This clip below is one of several that have been posted where he's doing a really nice job running the ball. Going into camp, felt his only way onto the 53 was via special teams where he does a solid job for Bisaccia. Watching his running ability, albeit early, may move him into consideration as a RB. Many have tried unloading Alfred Morris, and today the scuttlebutt was that he perhaps was the best RB on the field today, bar none. Morris's limitations as a blocker, pass receiver and special teams may make the decision a difficult one between Rod Smith & Morris. Personally, I like Morris as a RB when running zone blocking plays. He's far better than McFadden on those plays, but again he's not the blocker that Darren is nor the receiver out of the backfield. Talented players, tough decision!
The team signed former Bronco RB, Ronnie Hillman. There were people clamoring to see if it had anything to do with Elliott and the suspension forecasted by Schefter. The real facts of the matter were that the UDFA Jahad Thomas, out of Temple is still hobbling around with a hamstring issue & expected to miss two more weeks. Doling out veterans days to McFadden on occasion puts the position in jeopardy for the workload in practice. Don't want to overuse Elliott either. For the time being Hillman is a camp/preseason body, but one that is a capable veteran and may work himself into the mix?
Here's that Rod Smith clip ……
Rod Smith. House call. pic.twitter.com/WLvJG8Hqeh

— David Helman (@HelmanDC) July 27, 2017
Camp News & Notes:
A few scuffles went on today and Tyrone Crawford seemed to take responsibility for them. Banging on one another can be frustrating, especially for our defensive players. How successful is anyone going to be against the likes of Tyrun Smith, Zak Martin  & Travis Frederick. While he's new at RT, the guy with the new contract, La'ell Collins is tossing the DE's around pretty good. Can be frustrating trying to get by that bunch! What's funny, depending on how you look at things, is a good rush against this O Line is if you can get one of them off balance or move them back a few feet. That's how dominating they can be up front.
My Pet Cat from this years draft, Xavier Woods, while no film, he has been in position and knocking down passes on a few snaps. Marquez White, the 6th round CB had a nice play himself in knocking a pass away in 1 on 1's. Yesterday, the newly signed Nolan Carroll had a rough day, mostly in 1 on 1's, which greatly favor the offensive player, but rebounded nicely today. He had coverage on Dez and knocked three balls away. Those looking to release him after yesterday, remember he's a veteran and they're going to want a veteran presence in the secondary, given all the new kids. Doesn't mean they don't beat him out at some point, but its wise to keep a veteran CB and his three year deal may be more than they want to chew on as well. The old pro himself, Orlando Scandrick looked solid in covering Dez, just didn't give him room on a few attempts. A year removed from the knee surgery looks promising for "O"!
Injuries are always a concern and yesterday we had a few supposedly minor one's. First Tapper with cramps in his calf, then Maliek Collins with a hip flexor. He'll likely get a few days off with that. Today's injury may be more of a concern and that was Ryan Switzer, who pulled up lame with what appeared to be the dreaded hamstring injury. We'll keep an eye on that one.
Jourdan Lewis joined the team after being vindicated in his court case. He's in the league protocol for two days, which limits them until they do the fitness drills showing their fit and ready to go. He was doing individual drills and fielding punts today, so he's moving in the right direction.
There was a featured 1 on 1 yesterday, with TE James Hanna (remember him) & Heath. It was only a short in route, but Hanna got the win, which after missing all of last year, helps with his confidence.
While he was given today off, Jaylon Smith strapped on the pads yesterday and got 8 snaps in team work. Reports and videos showed he moved well. Plays weren't in his direction (intentional?) but he got to deal with the speed of the game again and a little hitting to avoid blockers. All in all another step in the process. Word is he'll get Friday off then practice again on Saturday.
We don't seem to discuss the offense much but Dak has been very accurate and completing several into very tight windows. Zeke has been Zeke and getting a little more work out of the backfield. Witten had Wednesday off and wasn't happy about that, same for Sean Lee. In the 1 on 1's Witten vs Byron, Witt put a double move on and laundry was found on the ground as Jones had to grab #82 as he tried to recover. Brice Butler is doing well. Saw one clip of Noah Brown and he did a great job on a slant of planting his right foot and creating instant separation.
Wrote earlier about the domination of the men on the O line. Here are a few really good videos courtesy of Jon Machota. Watching these shows why the defensive players may have gotten a little hot under the collar!
La'el Collins vs. Tyrone Crawford pic.twitter.com/193t8iOrMA

— Jon Machota (@jonmachota) July 28, 2017
Tyron Smith vs. Benson Mayowa pic.twitter.com/MK0odyzyQ2

— Jon Machota (@jonmachota) July 27, 2017
Tyron Smith vs. Benson Mayowa pic.twitter.com/MK0odyzyQ2

— Jon Machota (@jonmachota) July 27, 2017