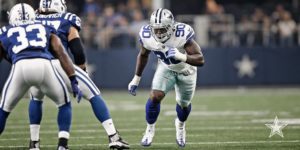 Well, they better not if they want to keep the train rolling! The petal must stay pinned to the floor or it gets very difficult to restart it. Just ask the Saints or the Rams. The two hottest teams out of the gate and now they're taking some shots with things not quite what they were. Now the Dallas Cowboys are the team that's in the midst of a five game winning streak. Improving game by game and learning what it takes this years rendition, to win. For their sake there can't be a letup, they must compete at the highest level and let the chips fall where they may, in this game and going forward. Just can't take their foot off the petal. Their run the last five weeks has them on the cusp of snagging the NFC East crown.
Honestly, the way the Cowboys were playing through their first eight games, looked awfully bad to many of us. Albeit an ever improving defense and an offense that sputtered badly. Has that really changed in this five game streak? Their red zone efficiency is one of "the" worst of the 32 teams in the NFL. Worse yet, is their struggles in goal to goal situations. During this streak thees struggles have continued and thru three quarters this past Sunday, admit it, we were sick to our stomachs, with what we were watching. We've watched them look really good 20 to 20, but after that, its been frustrating.  We hear Garrett repeat the mantra, great win, but we have things to clean up. When you have a defense playing this well, yeah, you can rip off a streak up to and thru the Super Bowl? Think back to 2007 & 2011 when the Giants won. Think back to the Ravens first SB win, with Trent Dilfer. This team will go as far as this defense can take them. Just need the offense to finish a few drives with TD's and not settling for FG's. Taking a breath, really? No  stinkin' way!
Now the Colts have won six of their last seven games, so they're peaking. To be honest, I don't put their wins in the category of being all that impressive. The Raiders, Tennessee, the Bills, Jags, Miami & Houston the lone playoff contender. Their one loss in this run of theirs was to the Jags, 6-0. Really? Andrew Luck was sidelined all of last year with a shoulder injury thanks to the beatings he was taking behind a porous line. Now they appear to be a a much more patient offense, willing to matriculate the ball down the field. Dink and dunk, run here, run there. Watch how LVE & Jaylon handle the middle of the field, a key component of this game. The quality of the Colts opponents isn't the highest, but they have made this run to put them in contention for a playoff spot. That alone, makes them dangerous! A young, hungry team, that is on the rise overall, with a nicely rebuilt OLine and a few standouts on defense. They are playing for their season and a home game against a Dallas team at its peak, would be a great victory for them. Expect them to either be their best and make this game a tight contest or wilt under the bright lights, as they step up in quality of an opponent. Out here in California, the Cowboy game wasn't scheduled for being the featured Fox game, as of last Sunday. By Thursday, that changed. We're used to seeing Dallas on primetime, everywhere, every week. How else is the NFL going to get better ratings? America's Team is still the ticket to a ratings bonanza!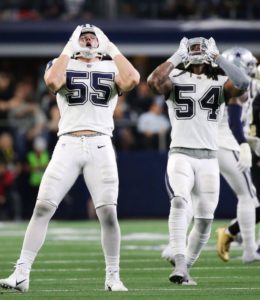 I can find any number of reasons to say that Dallas is the better team, but that alone isn't what wins games. This is a game that has great significance to the Colts, so don't sit in front of your TV and thinks its going to be walk in the park. Realize that 7 of the Cowboys 8 wins are by eight points or less. That means virtually every game comes down to a one score difference, regardless of their opponent. First thing I look at in determining who has the best chance of winning a game is looking into the eyes of the defense. The Dallas defense didn't endure 90 plus snaps last week as they only played 22 plus minutes. They should be ready and if they travel well on the puddle jumper up there, they will do their part to bring home a victory. Would be great to see the Dallas offense, punch a few in for TD's. When I see FG's, they scare me as being the quickest path to defeat, the failure to capitalize on opportunities.
Remember Eric Ebron from his days in Detroit, where he was clearly labeled a bust, even with average statistical seasons? Well, that bust is now tearing it up in his new digs. His stat sheet finds him at 58 receptions, three off his career high and he's pulled in twelve of those for TD's. Only had 11 in four years in Detroit. Controlling his production will be crucial to how this game plays out. We should be keenly aware that he will be the main red zone target for Luck.
This game comes down to efficiency on scoring opportunities for Dallas. Can knock a few in will tip the scales in Dallas's favor. I'm interested to see how Connor Williams does in protecting Dak and opening a few holes for Zeke. Like to see how Tyrun holds up in this game too. I'm also expecting a lighter work load for Zeke after last weeks 40 touches. That will factor in how this game goes. What workload can he handle? The running game still needs to produce a 125-145 yards. We'll see more Rod Smith, then we had been. This is a big game to give Zeke and a few guys that last game off. Expect to see Matt Eberflus call for a few blitz packages to see how the O Line does and how he covers Amari. Does he stack the box or play it straight. I'm betting that he'll rely on his young stud LB'er to handle the middle till proven otherwise.
Expecting the better team to win, but I'm also expecting a tough, close game. That's how this Cowboys team rolls! Six weeks ago, I didn't see an NFC East crown, but its theirs for the taking.