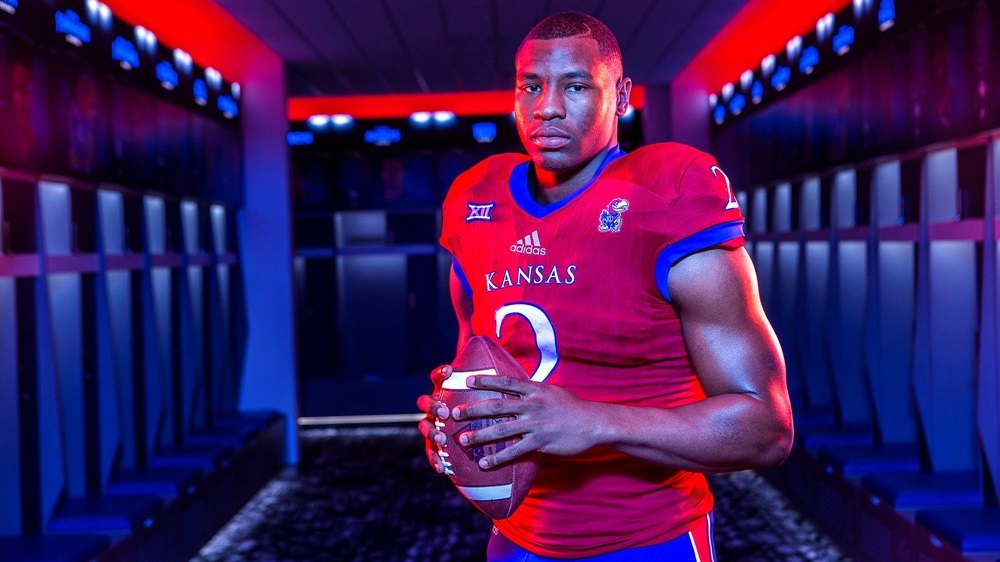 Edge Defender-Defensive End/Outside Backer
University of Kansas
Listed Height- 6'3″
Listed Weight- 246 Pounds
Overview
Dorance Jr. will be a junior this year at Kansas. He wasn't highly touted out of high school but appeared in all 12 games as a freshmen, starting the last 5. His freshmen year in 2015 he recorded 23 tackles, 5 TFLs, 3.5 sacks (2 of those against Oklahoma). Armstrong really burst onto the scene his sophomore year as he started all 12 games. Finishing the 2016 season with 56 tackles, 20 TFL, 10 sacks (had 3 games with 2 sacks, 7 total games with at least 1 sack), also added 3 FFs. This earned him First Team All-Big 12 honors. Dorance in his freshmen year was a long, skinny athlete at DE, playing at only 225 pounds. Coming into his sophomore year you saw a big improvement in his strength and physique. He is now listed at 6'3″ 246 pounds & has nice length for his body type.
Strengths
Dorance is a speed-rusher with very explosive jump off the ball. To go along with it he has very nice (not elite) bend, flexibility and balance to turn the corner on O-Tackles. He really reminds me of a less explosive Vic Beasley, Vic is just a freak athletically though. That being said Dorance is still a great athlete. Often times he exposes un-athletic O-Tackles on the edge. He does very well of using his length to rip and free himself around the corner of linemen. He comes with a lot of force and when he strikes the QB, they feel it and it hurts. Forced 3 fumbles last season. You see him used on twist stunts at times, he has a nice ability to maneuver between interior linemen, leaving himself with a free shot at the QB. He shows pretty nice agility and has shown good potential in developing a spin move. With the way he explodes off the ball and rounds the arc, a spin would be a dynamic move added to his arsenal. You could also see a side step move being developed as well. He flashed this move a few times outside, where he'll pretend he's going to rip off you but then flying around your hip, killing your QB. Often times against Texas last season they used him as a QB spy, did very well redirecting and making plays standing up. His hand work is a huge plus for his potential as a rusher, he has shown the strength/skill to take advantage of his length. As a run defender, you have to love his tenacity. He shows quick/fantastic recognition of blocks and explodes to the ball, lead to 20 TFL last season. He can cover a lot of ground in the run game, does well of containing the sideline (edge) and chasing running plays away from him down the line. Has a real nice ability of maneuvering between moving/pulling blockers and getting in the backfield. Does very well as tackler, he comes with a lot of force. Can tackle a little high at times but not much, wraps up well. If you haven't heard of this guy prior to this you're welcome, if your friend hasn't, tell them about this guy. You'll sound smart when he's in the first round out of Kansas in 2018.
Weaknesses/Concerns/Room for Improvement
I would worry about him holding the edge if a team tried to run directly at him. He actually surprises me sometimes with the plays he makes with the ball coming at him but I doubt he can hold the edge against NFL O-linemen consistently. Would likely get blown off the ball, don't think he has enough strength in his base. As a pass rusher he has a very nice combination of explosion off the ball and bend but I don't believe he will win with just that in the NFL often. I would like to see him add some more strength to his game, be more explosive with his hands around the corner. He shows really nice potential with his outside rip move. He can become too focused with capturing the corner. If a linemen sells out to protect the edge, I'd like to see him either counter inside or drop his pad level and come with a bull rush. I felt he came a little too high with his bull rush last year, would like to see him play with better leverage (in the run game too). I don't believe he has the strength to just win with a straight bull rush but with the amount of explosion and force he comes with off the ball, he should definitely be able to get penetration and collapse the pocket. I don't believe he has great speed, so I wouldn't expect his 40 yard time to be great but the 10 yard split should be excellent. In the run game, he can have a little bit of tunnel vision. A play will set up inside and he'll explode there but then it ends up being a misdirection and he's left out of the play. This could be a Kansas scheme thing. I worry about his size holding up in the run game if he's forced to hold the point of attack as a 4-3 DE in the NFL. I would also like to see him rush more from the right side this year, he did it his freshmen year but his sophomore year was spent almost entirely from the left side.
The Rundown
Overall, Dorance Armstrong Jr. is a very fun speed rusher with a lot of potential. Having not watched Aqib Talib come out of college, Dorance is by far the best player I've seen come out of Kansas. If he's able to add some more strength, be more explosive with his hands and be more consistent with counter moves there's no reason he shouldn't be in the first round. I could see him peak in the top 20 with a great season. I certainly want him on the Cowboys.
Scheme Fit
As I mentioned in the strength's portion, I look at Jr. as a poor man's version of Vic Beasley. Typically a style like Vic and Armstrong would be best fit in a 3-4 as the weak side OLB. However, we've seen in Dallas that they want an explosive guy who can just fly off the ball as their weak side guy like Atlanta does with Vic. If Dallas truly decides to go with Taco as the RDE, Armstrong could be our Vic Beasley, flying off the edge at LDE. We'd be fortunate to add him, he gets a ton of pressure and makes a lot of plays on the ball.
Draft Position?
Potential Top 20 Pick
Top 50 ?
2016 Games vs Texas Tech and Oklahoma
There isn't any highlight videos of Dorance right now but I can post plenty on my Twitter @dexterharris28
Other Comments
If there's someone else you want me to do a report on, let me know and I'll definitely check him out. You can either leave a comment on this report or you can tweet me @dexterharris28 on twitter.