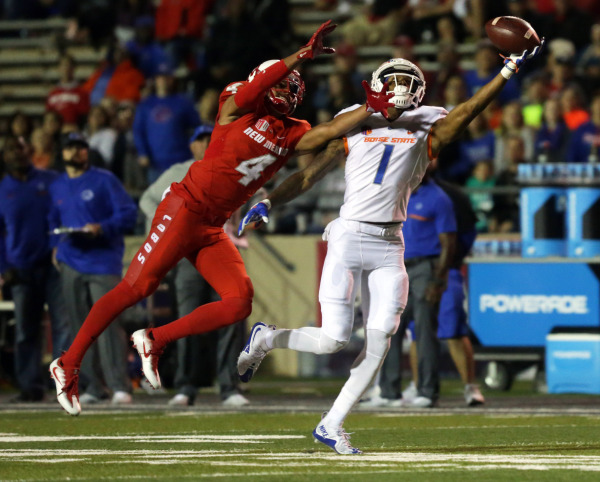 Wide Receiver
Boise State University
Listed Height- 6'2″
Listed Weight- 183 pounds
Overview
Cedrick will be a senior this year at Boise State. This will only be his second year at Boise though, he transferred from Coffeyville Junior College. As he made the transition from a high school QB into a WR his freshmen year, he had 629 receiving yards and 10 TDs. His sophomore year in 2015 he caught 66 passes for 1,045 yards and 17 TDs. Last season as a junior is when he decided to elevate his level of competition and join Boise State. He didn't disappoint either as he became a big time play maker instantly. He played in all 13 games (starting 5) and caught 56 passes for 1,129 yards (20.2 YPC) and 11 TDs. Cedrick also has a father that played 7 seasons in the NFL (49ers and Steelers). Look for him to make some more big plays as he is now acclimated to the level of competition.
Strengths
Wilson stands at 6'2″ 183 pounds, has really nice length to go with it. When I first came into watching Cedrick I thought he was just a speed guy who can only run the "go" route but I've learned he is a more complete player than that. The first catch I see from him is a 30 yard play down the left sideline against Louisiana Lafayette (2:33 in highlight video). In this play he had to adjust last second to a back shoulder throw by the QB. So he has the body control/flexibility to adjust and make tough catches. I would call Cedrick a smooth athlete. He has a knack for separating late in routes down the field. Pretty good speed for his height and length but not explosive speed. He does well with using his hands to fight with DBs throughout the route, without drawing a flag. You also see him kick in a second gear when he's out in open space to run away from defenders. He does a really nice job of making catches over his head. He has very nice upper body flexibility to make tough reaches for catches. Really extends his catch radius. Whether it be a catching a fade route over a DB or tracking the ball over his shoulders on a deep pass, he has a knack for making these types of grabs. His height and length certainly help him there. There's a catch he makes down the deep seams of BYU, where he is all the way extended for the touchdown that really shows off his ability, he makes a really nice grab (2:11 in highlight video). He shows a good understanding of timing with his QB as well as knowing where the open zone in the defense is. After the catch he shows good toughness and vision. He times his cuts very well to elude defenders despite not having the best footwork. He can make arm tacklers look silly despite his lack of size, some fly off his shoulders. He sells a really nice post route where defenders expect him to keep running a "go" then he cuts over the middle and has room. Can make catches away from his body and shows nice leaping ability. Has experience as a returner (punt/kicks), had a nice 73 yard return against UNLV where he nearly scored. His history of being a QB flashed against Utah State when he threw 61 yard TD across his body to the RB (32 second mark of highlight video).
Weaknesses/Concerns/Room for Improvement
His lack of bulk is concerning at 183 pounds. I feel he'll really struggle against a press man corner who will be able throw him around. I worry about him making contested catches, more so over the middle. He has to more aggressive in attacking the ball, he lets DBs get too far inside on him and let them disrupt him at the catch point. He has to be willing to take the ball and take the punishment that comes with going over the middle. Although he can do a really good job of adjusting and making plays over his head, he's not special or elite at it. He lacks explosion in his routes, you'll see him drift into a slant or out route a lot of times. He needs to work on his footwork as a route runner. He can be a little leggy at times and not set up his routes well. This also hurts him after the catch, he can make people miss with his timing and vision but he lacks elite agility to make people miss in a phone booth. Nearly every reception I worried about him fumbling the football, he has to do a better job of tucking the ball away, he holds it too low and loose. As a blocker he's willing to throw his body in there but he lacks the strength to really move anybody out of a hole. A lot of his weaknesses could end up being fixed just with time but I do worry about his lack of size most. For his style of play to be an over the top WR, he's going to need more bulk.
The Rundown
Overall, Cedrick Wilson was a very enjoyable WR to watch. The guy clearly has skills but I also see a good understanding of finding the open spots in defenses. His size for his play style is concerning, you have to be pretty physical to go over the top on today's defenders. Weight room will be his best friend in his first offseason in the NFL no doubt. Teams could see him as less than an explosive athlete, which could drop him down boards as well. I see him more in the day 3 range but if he shows improvement in his frame and footwork he could possibly peak into the 3rd round. Draft position we know doesn't matter much for the WR spot, you can find a stud all through draft weekend.
Scheme Fit
I look at him as more of a "Z" WR, as he isn't big enough to stay on the line as an X and deal with the constant pressing. He also has some experience in the slot and has played both sides of the offense. For Cowboys fans, I know we just resigned Terrance Williams but that would never stop them from taking a WR with a day 3 pick. We drafted a guy like Devin Street in the past, Wilson is a similar mold but a much bigger play maker. Overall better player.
Draft Position
Potential Top 100
Day 3
Highlights/2016 Game vs New Mexico