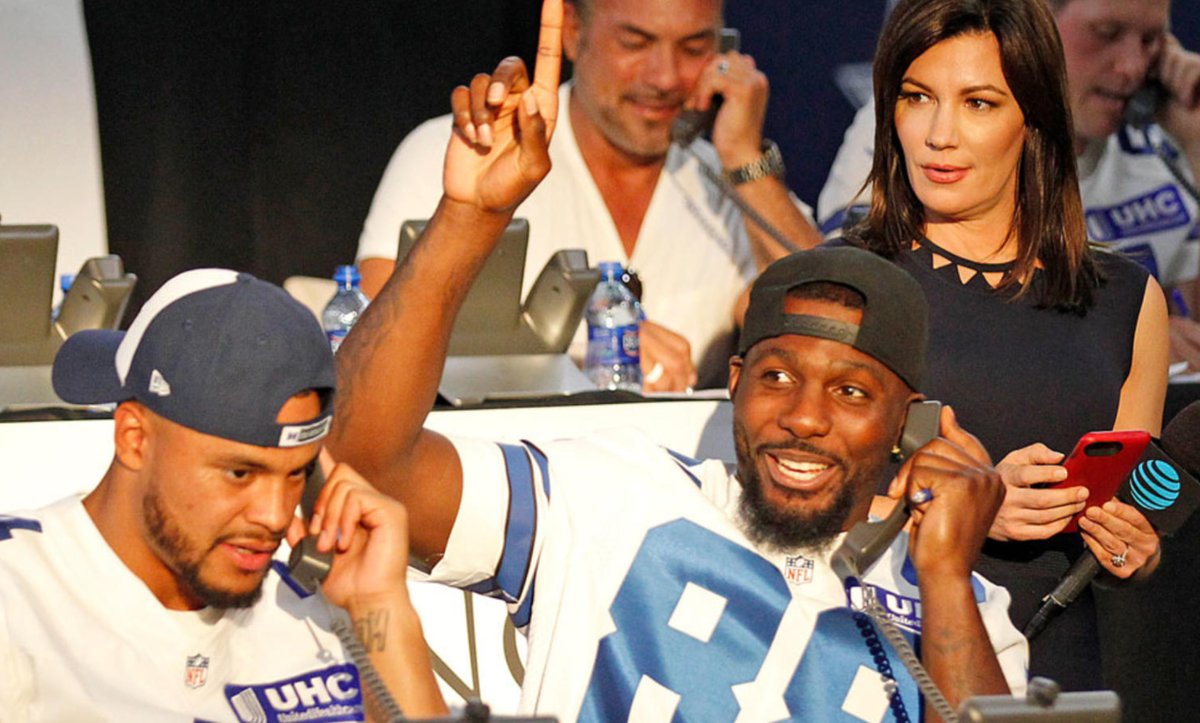 First how proud are you of our Dallas Cowboys such as Dak & Dez stepping up and in to help Houston?
Offense:
QB's 3 – Dak, Cooper Rush, Moore (I'd cut Moore and re-sign to PS)
RB's 5 – Zeke, McFadden, Morris, Rod Smith, Keith Smith (If Zeke's suspension is overturned or delayed then Morris's spot is up in the air)
OL 8 – Tyrun, Frederick, Zack, Cooper, Collins, Green, Looney, Bell,  (Cleary possible)
TE's 3 – Witten, Hanna, Swaim (Gathers has to go on IR no/recall)
WR's 6 – Dez, Terrance, Beasley, Butler, Switzer, Noah Brown (Jerry announced Brown on the 53)
Offense: 25
Defense:
DL 9 – Taco, Mayowa, Lawrence, Crawford, Maliek Collins, Paea, Thornton, Tapper, Neal
LB's 7 – Jaylon, Sean Lee, Wilson, Durant, Wilbur, Nzeocha, Hitchens
CB's 6 – Orlando, Brown, Awuzie, Lewis, Carroll, White
S 4 – Heath, Jones, Woods, Frazier
Defense: 26
ST's 3 – LP, Jones, Bailey
Total 54
I'm cutting Moore to get to 53! If you can bring him back via the PS, then fine, otherwise, we're already seeing Matt Barkley is available. Not a star but better than Moore if need be.
The team is in a bind with Zeke's situation for one as they have to carry him until a decision is made. We have Damontre Moore & David Irving suspended for 2 & 4 games respectively and players will have to be released to bring them on in the weeks ahead. We're running thin at CB with able bodied players for week one, yet Marquez White may be a player to be release to get to the magic number. As noted above, in order not to lose Rico Gathers, my view is that they have to put him on IR for the year. They don't want to put Hitchens on IR with recall, but they may have to do that. Don't forget that Carroll faces a DUI suspension and Damien Wilson's July 4th incident have yet to be dealt with by the NFL. The team has to factor into their decision any number of players and positions that can affect the 53. Don't be shocked at a trade of a fairly valued player to get a future draft pick versus cutting a player.
If you want to enjoy being a Cowboy fan & as proud as the size of the state of Texas, here's a great video clip with Jerry & Dez!
Listen as Jerry Jones calls the @SalvationArmyUS telethon and @DezBryant answers. #Cowboys4Texas pic.twitter.com/dawj4ooKpA

— Dallas Cowboys (@dallascowboys) September 1, 2017