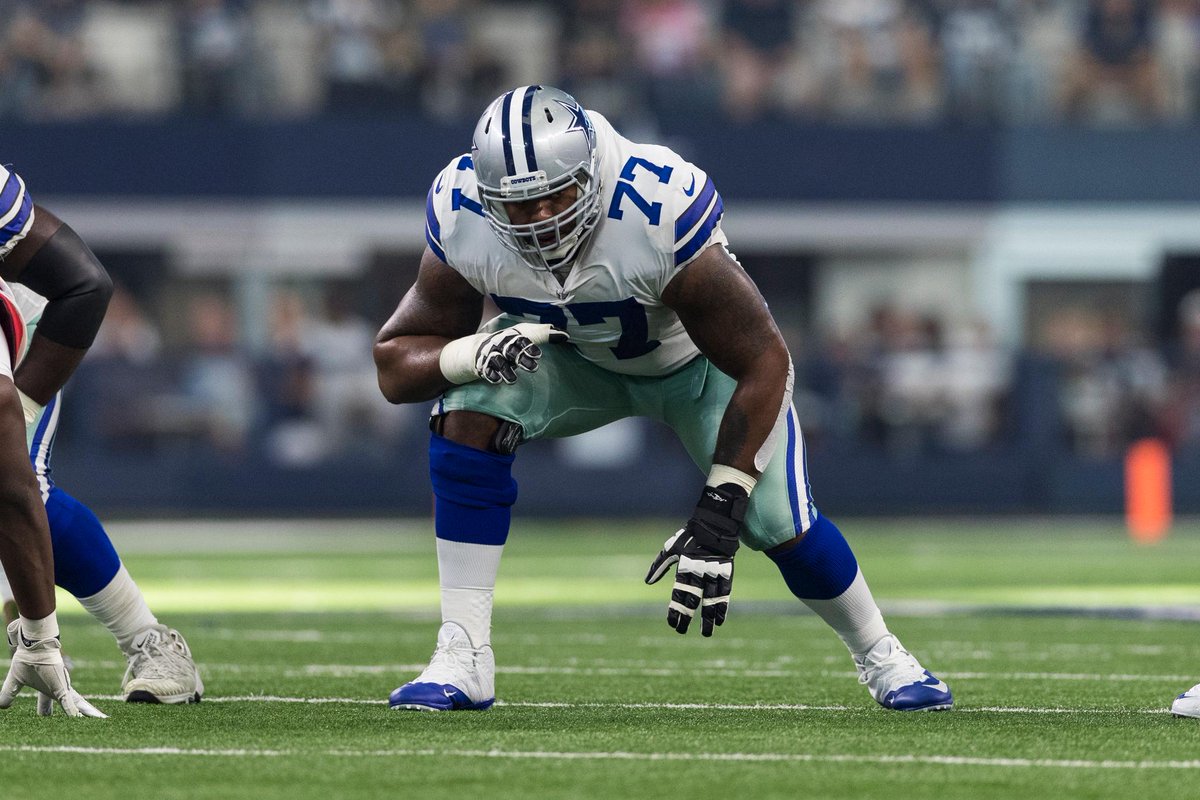 Not sure I've recovered from the debacle in Atlanta and doubt many of you have either. There were any number of reasons for the loss, but there were two issues that we have to look squarely in the eye in this game. The inability of the back up, Chaz Green at left tackle to do a reasonable job and the loss of Sean Lee at linebacker. Those two positions destroyed the Cowboys and each played mightily in the defeat. Game over, move on! However, what now? Is there an answer to these positions and what's the solution? Why such a lack of depth? Let's look at things a little deeper on these topics.
Let's first look at the left tackle position and what happened to Green on Sunday. We can give him credit for standing before the media and taking ownership of the blame. Doesn't change the outcome but he didn't hide or pout, he stood there like a man and dealt with a bewildered & relentless media as he got dressed. In my game wrap up, I said some of this had to go on Garrett & Linehan for not helping him out more. Then again, how much can you alter your offense to deal with a player being overmatched? Clayborn has one move to his game, self admittedly, and Green couldn't get out of his stance and get wide enough, quickly enough to cut off his man. A coach has to make adjustments and know when he has a man that's overmatched. I'm sure that being a three point game at half, they weren't panicking, but the old coach in me, said this isn't going to get better from what my eyes saw. They're being paid the big money, to micro manage the players and the game. Garrett admitted they/the coaches didn't do their job well enough. Kudos for manning up there too. I've ripped Garrett often enough during his tenure, but taking ownership of your failure in a game, puts you a step ahead of not repeating such a glaring error. I'm expecting Bell to get the start, but wouldn't be shocked that Green started. I think Bell scares the coaches or at least they should be scared. If you think that Green struggled getting out of his stance, Bell is worse IMO. Frankly if it wasn't for Green's health concerns that the team has, I don't think they'd have kept and carried Byron Bell. Facts are that Bell isn't good enough. Yes, the options are slim.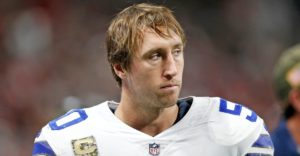 Had you asked me if Tyrun was out and if Lee was out, which would have been the bigger concern, I'd have said the loss of Sean Lee. Felt comfortable that Green had experience, did well enough in the past and had been getting snaps each week on Wednesday with Tyrun getting the padded practices off. The loss of Lee, I felt we'd seen hadn't gone well this season when he was out. Teams were gashing us on the ground and Atlanta ripped through the defense at will once Lee went out. Believe they scored on four consecutive drives, with three TD's. We'd all been hoping that Jaylon Smith would be the dynamic force or some resemblance of himself from his days at Notre Dame. He may be talented and gifted, but clearly he's not healthy enough to be a force in the NFL. Teams are able to take advantage of his physical challenges and he's probably over compensating for his leg and he's all too often a step late. Teams can expose the slightest weakness with so many great players. We're all still pulling for Jaylon and had Hitchens and Lee not been injured, Jaylon wouldn't have been pressed into action. The tools are there, but he needs a full recovery to properly play the position and enable him the opportunity of meeting expectations.
What went wrong and why? What do I see as a major pitfall for the Dallas Cowboys? A big part of the problem stems from the success that they have at any number of positions, the number of not only All Pro's but how many may be the best at their positions? When you take Tyrun, Travis & Zack Martin, who's better at those three specific positions in the entire, stinking NFL? Who's better at LB'er than Sean Lee? Kuechly is the only one that comes to mind, granted different positions, but both outstanding at seeing things pre snap that others just don't. So what happens when these guys go down? Yes there's a drop off and it is a considerable drop. Why such a shortage of depth? That gets into two big issues, one is the draft and the other the salary cap. When you look at the teams draft success the last few years, its dramatically improved but there are still positions where no one produces at a fairly high level. Many people point to the drafting of injured players, or other high risk type players that fail to produce. There have been some hits, but also any number of players that never quite made it or lack consistency. The other is the salary cap and how it hinders the building of the team. I mentioned three offensive lineman, considered the very best or best two at their position in the entire NFL. In Smith's case he got and gave a team friendly deal on an annual basis. The team did well and he got a deal for 8 years, worth over almost 110M with 40M guaranteed. Travis got the highest deal of any center when he signed. Now its Zack's turn and its very likely he'll get the highest deal for a guard. I haven't even gotten into the Demarcus Lawrence conundrum, do they sign him long term (back concerns) or do we tag him for 14M? Problem becomes what gives when you pay the best of the best and it eats up the salary cap so quickly. Nor can we forget that Tony's on the books with over 18M in dead money, 9M this year and next. The upshot is what's left for the other 43 players, once you pay off the top 10. Don't look too far, but Dak's up for a new deal after 2019 and he will break the bank when it's his turn. It's great to have some of the best of the best players in the game, but the price is steep. Makes it difficult though in picking up quality free agents, whether you're looking for that bridge player at a position or a valuable player for depth. When you're paying league minimums for guys that are past their prime with little or nothing left in the tank, you're behind the eight ball. Perfect case is Byron Bell. If you know me at all, I don't like dumping on a guy. But I saw some tape on Bell and I gasped in horror watching him play the matador, ole'. He never put a finger on the guy and just waved as he proceeded to the QB. If Chaz Green didn't show his inability to stay healthy during training camp, I don't think Dallas keeps Bell. How many swing tackles does a team keep? Can't remember a team keeping two swing tackles before?
When you're up against the limits of the salary cap you lose out on the better players in free agency. I categorize all players in three basic categories. Below average, above average and simply, average. Its unrealistic to snare above average players at bargain rates unless they're carrying some heavy baggage. You're hoping to land some solid, yet very average players to fill out the roster in back up spots. They come in that mid range level for their position and its border line above your teams budget. Then there are those that are below average players that have experience and become the left overs for the teams with little cap room. That's how we get a Byron Bell.
This challenge with the salary cap has been a problem for roughly ten or more years. It plagued the team throughout the Romo years. Then it was often high priced free agents eating up the salary cap, now it's the drafted players that fall into the elite category at their position and if you want to keep them, you have to be at the top of their market value.
We have several players on the team currently who's contracts exceed their production. When that happens they become expendable from a salary cap perspective. Every year its part of the NFL that players are given the option of accepting less money on their deal or being cut. This year, there was scuttlebutt on Orlando Scandrick, as he was coming off an injury plagued year. I didn't think his deal was costly for a player of his caliber at CB. Didn't we pay Brandon Carr 10M a year and he was never the defender that Scandrick has been? The conundrum the team faces is a tough one to allow them to build a deep team in case of injury. Losing All Pro's is devastating and right now, the team is without four of the best at their positions, Smith, Lee, Zeke & Dan Bailey.