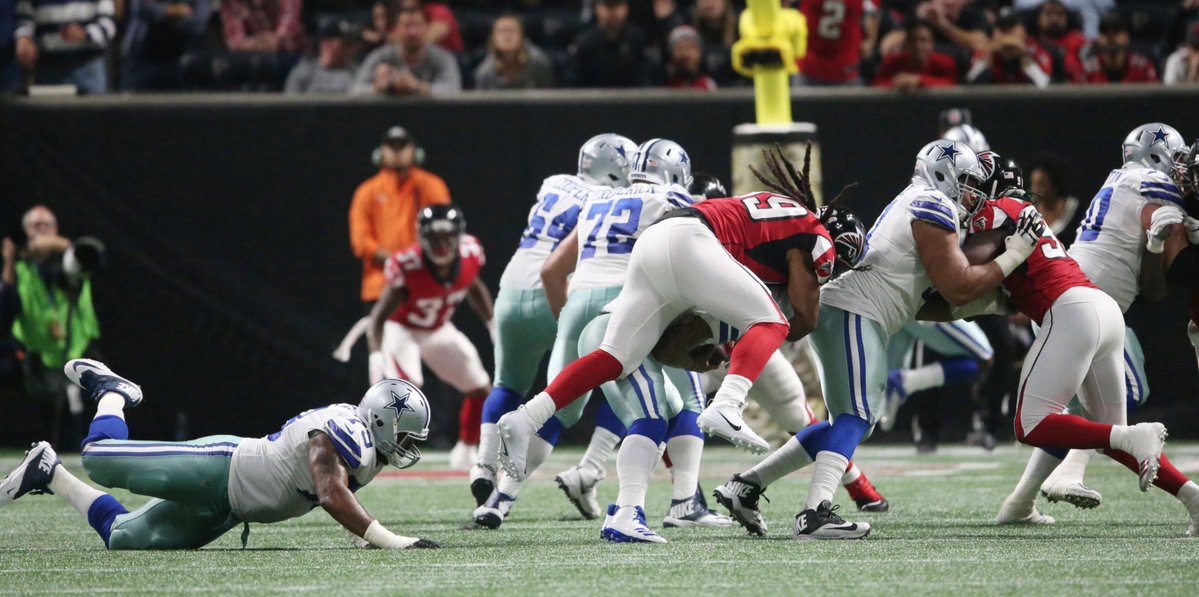 A picture's worth a thousand words and the photo leading this story tells all ya really need to know. Officially the word count is 995, for this story. Well the first eight minutes weren't bad! We had a 7-0 lead and had only allowed one sack to that point. There really isn't much to write about to excite or enjoy for any of us who are fans.
Really sorry, but the team gave me little to write about for you to enjoy. I can only give you my take, of what we all saw and what we didn't see. How do I write this without completely torching Chaz Green? I doubt that Chaz rolled out of bed in the morning with the intent to get whipped on virtually, every single play. He had one of the worst games, any of us have ever seen for that position. When you're a coach and you see that one of your guys is being beaten like a drum, you have to do something! Did they consider putting Hanna on that side and forcing the newly minted, All Pro, Adrian Clayborn, to the middle, where Green could get two hands on him? Or at the very least how about using McFadden, the presumed best blocking RB out there to chip him. Look, I get that changing the blocking in either way, tips off the defense that a pass play is more likely the call, than a running play. But Dak had somewhere between a little time to pass and no time to pass. How could they go virtually the whole game without giving Green some type of help with the blind side? A major portion of the blame has to go on the player, who into his third year has proven very little. He did have two decent starts for Tyrun in the past, so its not like he doesn't have some ability. But here on November 12th, 2017 he brought absolutely nothing to the stadium on this date.
But how much has to be on his coaches? Position coach, Frank Pollack, I"m sure was working with him on the sideline. Have to believe Pollack & Linehan had a few conversations. Why didn't Linehan make the adjustments with a TE to help Green? Or at what point do we ask Jason Garrett, why he didn't insist that Linehan make some changes with the left side of the line? Clayborn came into this game with all of 2, yes two, sacks in the first eight games. But he'd eclipsed that by half time. So I'll go back to why didn't Garrett at least "demand" that they get the poor guy some help? We all have a bad day but they did nothing to help Green either. It is mystifying to me that they didn't do a blessed thing. I didn't think that bringing in Byron Bell in the 4th was going to help, as I've seen tape on him and I didn't have any illusions that he wouldn't suffer the same fate as Green endured. I replied to a bud on Twitter and basically that's what I commented. I'd seen Bell's footwork and knew he'd get blown up too.
What's a little funny was that by mid way in the second quarter, I thought my main take or side story would be about how Ed Hochuli had totally taken over the game to that point. I'd seen more of Fast Eddie to that point than I did of Dak & the Boys. It seemed as though they were calling penalties on every other play. You felt worse once you saw the replay and saw obvious penalties that weren't called. But as the game wore, on the only thing I was watching was the jump that Clayborn was getting on Green. I wasn't paying attention to if it were a run or pass play. My only concern became one of getting Dak out this game in one piece. Dak may be big, he may be strong, but he was taking big hits. He keeps taking those types of shots and he'll be visiting Romo's doctors in the not too distant future. There was one point before half time where he was running for his life that he was seriously sucking for some air. He went down it seemed from sheer exhaustion once he secured a first down.
The loss of Sean Lee in the first quarter to another strain to his hamstring, certainly changed the complexion of the game. To that point, Atlanta wasn't able to run the ball. After that, they were able to do anything they basically wanted and didn't have to press as they turned us one dimensional with a punishing pass rush off their right side.
My final thoughts boil down to a player who had a dreadful day, one which he will not forget and one which likely puts his career on life support. The only good thing that came from that, is that they (the brain trust) must realize they need to draft a swing tackle in the next draft. Green is not the answer, nor will he ever be for this team. By leaving him on an island they've destroyed any semblance of confidence he might have had. The coaches have some serious blame in this too and it starts with the head coach. He must step up and make demands of his staff. Perhaps you noticed or maybe you didn't that #32, Orlando Scandrick, appeared to give Jason a piece of his mind. We won't ever know what was said, we can forget that, but if I were in the shoes of OS, I'd be asking why in tarnation, didn't you give my teammate any help? That could also be simplified into two or three words too.
For those who wanted to see the two good plays of the game, here's the first career interception by Xavier Woods and the TD run by Dak to get us out in front.
Great plays by Anthony Brown & Xavier Woods to create an INT. pic.twitter.com/uNrRyJEUJQ

— Cowboys Nation (@CowboysNation) November 12, 2017
.@Dak Prescott will do it himself…

Touchdown, @DallasCowboys! #DallasCowboys pic.twitter.com/vnL6Iicoqg

— NFL (@NFL) November 12, 2017