Today in Cowboys land, was a tough day to accept, a loss of one of the most special players to don the uniform. One, Desmond Demond Bryant, better known simply as "Dez", who repped the #88 with style and a ton of athleticism.
Sorry for being away for this long but two things kept me away. First the passing of my mother and the work that follows. Secondly, I'm not one for writing about "what if's", or should we sign every guy of some quality that is released. I despise checking the fake news reports on every player released and their fit in Dallas. If you've watched the team over the last half dozen years, they're not fond of making a splash signing nor do they have the cap room. But there are those who write story's ad nauseum about every player released coming to Dallas. Just annoys me, day after day. I prefer to write an opinion that is straight from the gut, that makes sense, if only to you and I. Today we have something to write about.
My last blog was about how the big contracts eat up the cap and leave little for free agent signings. Frankly, I'm ok with that, as long as the player we're retaining is "that" stinking good. We did spend big dollars to retain "D" Lawrence, albeit with the franchise tag. Little was left after that, but used efficiently on "hope" more than anything.
In late December, I wrote another piece that centered on Dez and the chatter about him not being the player he once was and rumors heading towards the off season. My view was that a lot of it was nonsense. The Cowboys didn't have anyone near his ability. What was needed was players that would compliment his skills and spread the field out. Beasley and Witten jam up the short zone and Williams isn't much better in that regard, as he isn't the best at gaining separation either. Add to these observations the fact that Dak isn't fond of throwing to a guy unless he's wide open. In the NFL, with top ranked QB's if a WR has leverage, he's open. Dez sorely missed Romo. The team is pointing towards replacing or revamping the WR corp. Personally, I was looking at an upgrade over Williams and a vertical athletic threat at TE for the offseason. But not Dez!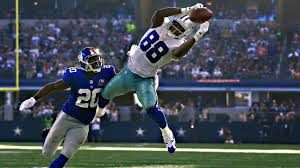 What does this move tell me? Where do I begin? First of all the reports I've read said a possible pay cut was never offered to Dez. If true, that means they're willing to absorb 8.5M in dead money. For 4M more they could have kept Dez or any amount that they may have lowered the deal to.
This tells us a few things about their decision. One, they might think that his skills are well on the way down. Possibly, that they didn't see Dez & Dak as a top tier combination going forward. Dez clearly performed at a higher level with Tony than he did with Dak. I certainly see a failure of them producing at that same level as a reason Dez has been released. They had to feel the duo wasn't going to get better. Tony would throw Dez open and could do so as a veteran top flight QB. Dak wasn't at that level nor should we have expected him to be there at this point in his career. But if you can't get them on the same page then, this is the result. It bothers me that in Oxnard, over the course of three days, I witnessed them as unstoppable on the back shoulder fade. During the season, Dak couldn't execute that play cleanly on his part, the ball would be all over the place, high, low, wide, etc. Dez & Tony were locked in on that and it really was unstoppable.
Now, the team has made their choice and one I don't think Jerry was on board with this. Reports say he listened to any number of people, past and present. It's something that came down likely from Stephan and maybe most of all the head coach. Garrett, had better get this team in the playoffs and at least to the championship game or he too will or should be on the unemployment line. Jerry went along, but the noose is fitted for one Jason Garrett by signing off on the release of one of the most charismatic and beloved players to have worn a Cowboys uniform. Jerry wanted Dez to be one of those lifetime Cowboys! Jerry led Romo toward that end, to have worn only one uniform and its importance. More value long term to have only worn Cowboy blue, than mixing it up for another team and worse yet, possibly playing for our most hated rivals in the NFC East. I'm seeing Dez's responses today as he's taking this very personally and he knows who was behind this. I feel bad that he's come out and said that as it may make his being welcomed back one day a little cold at first.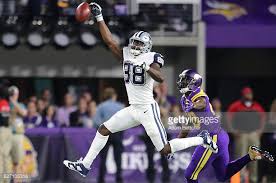 What we don't know, is whether or not, Dak had any input or say in the release of Dez? Or was there a tiny shove out the door? We all know that the top WR's generally demand the ball and maybe that didn't sit well with the young QB? I bring these issues up because from a dollars and cents perspective this was a very questionable move. Take a hit on the cap for 8.5M this year or top that off for 4M more and have one of the most capable WR's in the game? Think about that for a few minutes? Didn't even ask him to take a cut in pay, which 98% of fans thought was going to be on the agenda for today's meeting. It was a straight call to go on without his services, regardless of cost. Something smells rotten to me.
Who's going to open the middle of the field for Zeke now? I like Deonta Thompson's speed that may allow us to get vertical a little more. Yet, no one else has taken advantage of his speed to this point in his NFL career. But will Dak even throw the ball downfield once a game or does he stop trying because there isn't a car length between Thompson and a defender? True, Dak hit Brice Butler a few times downfield, but only when Butler had slipped past defenders and that car length was visible to Dak. I'll be watching Dak's performance this year to determine if Dak's the guy going forward. Great first year, very solid the first few games of year two, then he was under siege the last half of the season when Smith was out a few games. Did they decide to let Dez go so they can afford Dak next year or after the 2019 season? If they don't sign Dak after this season then they face letting him go into his final season and force them to choose to sign him to a long term deal who play the tag game and try to work out a possible top tier deal or let him go?
Dak's going to have to show real improvement in his progressions and ability to hit guys on the run in their routes. Bottom line is wins and those better stack up or they'll have to think about what they're going to do with Dak next. When you figure that he's up for a new deal after year three (2018) that decision has to be made before doling out 18M or more for a guy who isn't the most accurate to this point. Patience isn't there for teams at the QB position because of the big deals at the position. You can't risk a guy that is average at best if you want to run the table in the playoffs, unless you have a defense that is just that good! If you've been with me throughout the year, the important piece of the team is the defense if you want to hoist the trophy. Just ask those guys in our division who've won SB's or remember those which the Boys won in the 70's & 90's.
We should expect a WR to be drafted in the first two rounds based on this move. A bit surprising that Garrett would push for Dez's release as it does put the target squarely on him to produce. Sooner or later Jerry's going to tire of the game time decisions and failure to get to the playoffs with as many top tier All Pro's that reside in Dallas. It will be a very interesting season.
For your viewing pleasure are the Romo to Dez connections that allowed him to throw up the "X". Great memories!
Throwing up the X.
So. Many. Times.

Every @tonyromo ➡️ @DezBryant touchdown there ever was. https://t.co/Vcv3tZujCx

— NFL (@NFL) April 5, 2017