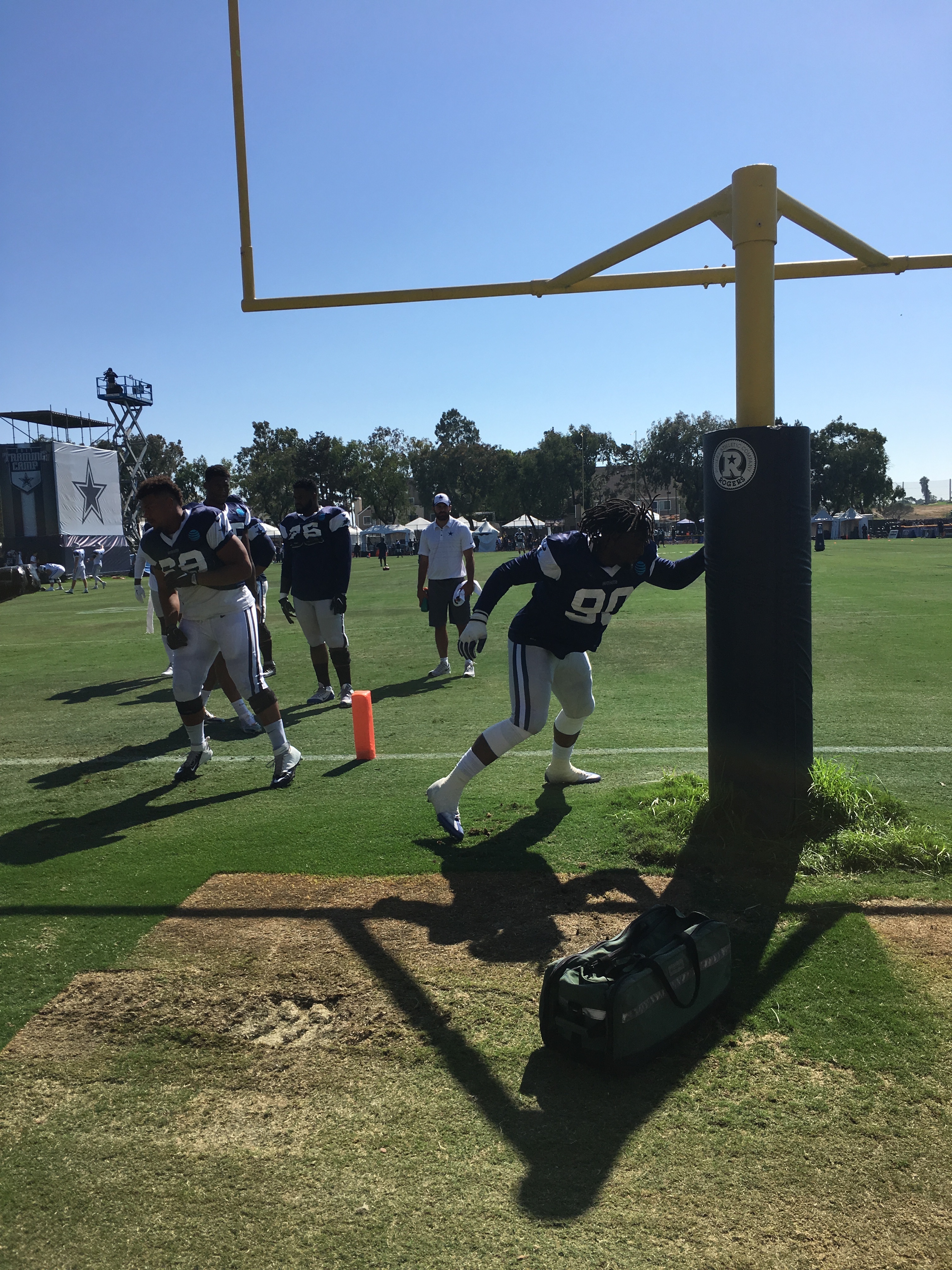 On Sunday night, Demarcus Lawrence sent a message to all who'd listen, I'm feeling good and I'm ready to roll. While I gave the defense a game ball, the big fella set the tone for the night. We're coming Eli and we're going getcha! That's how it went all night.
DLaw had two sacks and had shots on two other plays. Did y'all see his stat line from the Giants game? Five tackles, four of them solo, three tackles for a loss, the two sacks naturally and two hits on Eli. Defensive ends don't typically get those numbers, so you know it was a big night for him.
When I did the Thursday story last week, looking closely at the "Defense", Demarcus was first on my list. Having seen him in camp, I wrote any number of comments on how impressive he looked, how ready he appeared to be. Physically, it was impossible not to notice how powerful he looked. Only Benson Mayowa & Maliek Collins, came close to showing the physical power of Lawrence, in my opinion, yet Paea wasn't far behind. When Lawrence went thru this drill each day, seeing the power and quickness was noticeable to these old eyes. Here's a video of both Mayowa and Lawrence and it wasn't his most impressive but you can get a a feel for the drill, I'm referring to.
It was obvious that when he scrimmaged with La'ell he didn't hit with the same power, working more on his speed and hands in breaking down a OT. We can't ignore the fact that his contract is up after this season. If you can produce at DE, thou shalt be paid, handsomely, making this a big season for him on a personal level.
The key for him is being healthy and getting his back to be strong to enable him to be at his best. Below is a drill that Rod Marinelli was working on with Demarcus in Oxnard in early August, for a good ten minutes, one on one. As you can see, I was only about 15-20 feet away but I couldn't hear clearly the instructions, just a little from time to time. You can see DL leaning into the pylon and the drill on this was a slow, almost torturous thirty seconds, as Rod walked him through his technique to get small and turn the corner. It was like watching paint dry at first, but interesting to see the level of detail as Rod instructed him to drive around & thru the OT. Literally did this drill inch by inch. It appeared that the drill was designed to gain the leverage in the bend around the corner, using his legs and pushing upward to get the tackle off balance.
If we're going to have a good start to the season, then getting pressures and sacks will be crucial to the success of the entire team. We need a better defense than we've had in quite a few years. If you're strong on both of your lines, you can control the LOS (line of scrimmage). On the defensive line, best hope at the DE position were easily in the hands of Lawrence. Paired with Maliek Collins, we have the makings of a stronger front.
This play below was an amazing & savvy football play by Tank …. He read the play and stuffed the play before it got started. Notice how he tosses the OT like a rag doll. Physically he's incredibly strong ……
.@TankLawrence @cowboys played 33 quality snaps and on this play looked possessed pic.twitter.com/LZiYHAfV7G

— Brian Baldinger (@BaldyNFL) September 11, 2017
At least for one night Demarcus laid down D Law!