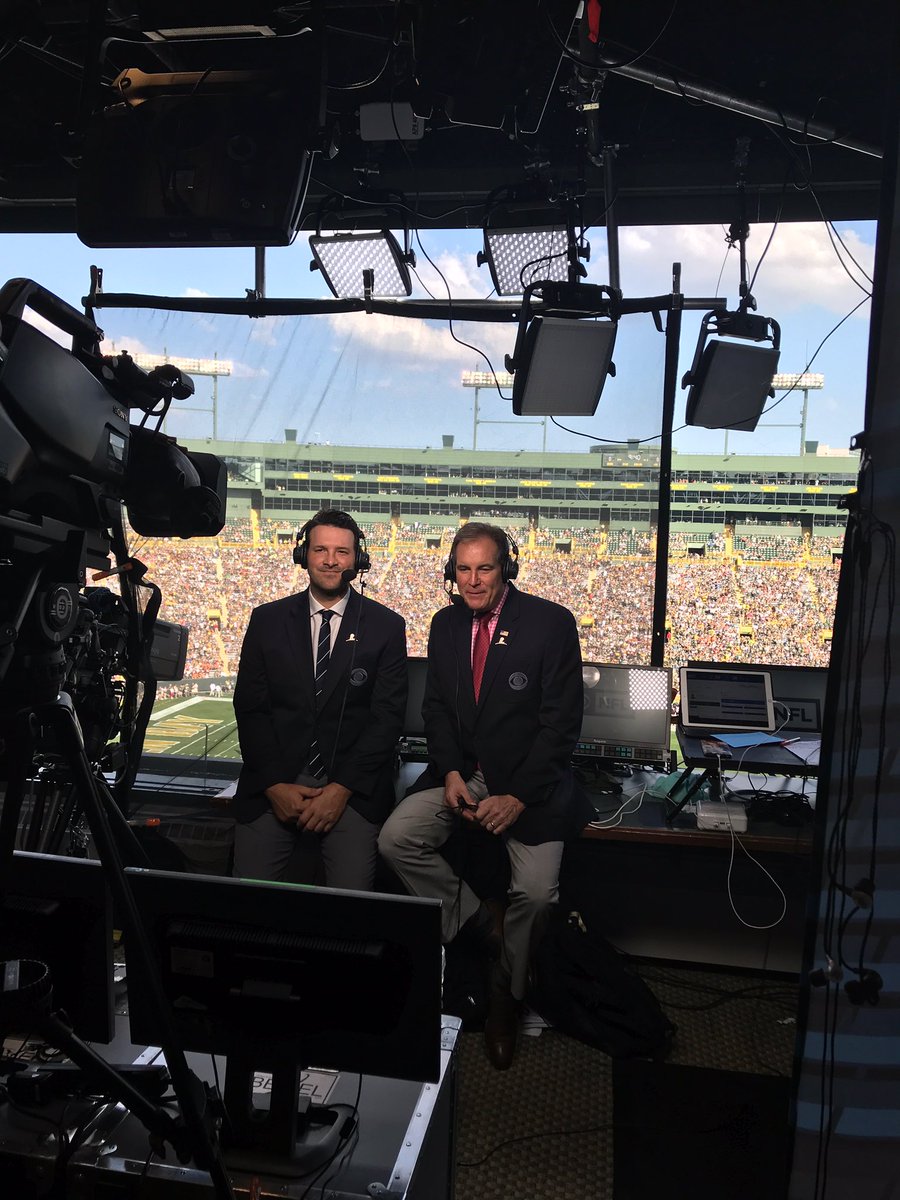 We think its bad enough having to wait all day for Sunday night to watch our Boys, but its worse when we have to wait a whole extra day for Monday night. Thought I'd recap all the games for you, with my view leaking out at times.
Denver vs Buffalo – Well Siemian played this week as I thought he would last week. Just proves value of home field advantage and a road game. Denver's well oiled offense last week sputtered and fizzled out this week. I've alluded to teams bringing their absolute best game of the year when playing America's Team and last weeks drubbing may have been one of those insane efforts by our opponent. Flash back from the 70's.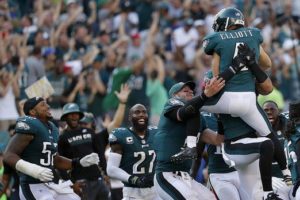 Giants vs Eagles – Hard to decide who to pull for in this match up. Does it make your stomach turn even thinking about who you want to win this match up? If the Giants win, they're back in the race. Eagles win and they think they can win the East. Eagles jump out in front, Giants rally with OBD hauling in 2 TD's. Walk off 60 yard FG by the Eagles ends Giants season. Eagles are flying high now! Eli had 3 TD's and only 2 INT's in this game, an above average performance for him.
Jaguars vs Ravens – Believe I mentioned that Jumpin' Joe Flacco wasn't a good QB in an interview with Shane Larson (@gametimeguru) and today was another one of his poor efforts. JJF's stat line was 8 of 18 for 28 yards, with 2 INT's, with a hefty, 1.6 yards per attempt. Guess when the Ravens left for London that they failed to pack their offense or defense! Blake Bortles has a near record day putting up 44 points. Jags, obviously got all their players on the flight across the pond!
LA Rams vs SF – The Rams looked good in the game offensively, which wasn't something we were expecting. Granted non one was thinking that SF was a good team, but they had a ton of fight in them. A missed XP, cost them getting into an OT situation, Thursday night. Being the Cowboys opponent next weekend, our work will be cut out for us if Goff gets time in the pocket. Sammy Watkins is a powerful WR, tough match up there. Goff went from dud to potential stud in one off season. Defensively Rams didn't look as good as I was expecting but Aaron Donald, is all world and needs to get paid. Full analysis later in the week prior to Cowboys game.
Steelers vs Chicago – Gotta love Steelers getting beat! Big win for Chicago, they won't win many, so they'll savor this one.
Patriots vs Texans – Texans by all appearances competed hard up in Foxboro, getting their nose in front late in the 4th. That got Tom's attention and he executed another GW comeback with his fifth TD pass of the game. Heartbreaker for the Texans. Watson threw for 2 TD's with 2 Int's, with an impressive 9+ yards per attempt.
Vikings vs Tampa Bay – This was a shocker and a thrill to my brother as Case Keenum had a great game with 369 yards & 3 TD's and found the near invisible, Stefon Diggs for 173 yards and 2 TD's. Jameis Winston by contrast had a tough game with 3 INT's.
Colts vs Browns – In evaluating the Cardinals, wrote how impressed I was with Jacoby Brissett and in his second game with his new team, he led them to a win. Good things happen when your QB has a QBR of 120. Kizer threw 3 picks but still managed to post 28 points in a losing effort. Look for him to be a good one, as long as they don't draft another QB next year.
Dolphins vs NY Jets – This was the big shock of the day. The talent dumping Jets got a win, hurting their chances for the #1 pick in the 2018 draft. Can't believe I wrote that sentence. McCown isn't a big name QB but can compete. Jets controlled Ajayi and forced Cutler to beat them, go figure? Jets can still get the #1 pick in the draft!
New Orleans vs Carolina – Bree's putting up 3 TD's is nothing new, but they've looked terrible this year. Carolina was all everything just two years ago and now, they can't beat one of the poorest teams in the Sean Payton era.
Atlanta vs Detroit – Matty Ice did his best to hand this one to the Lions with three interceptions. Tough break at the end with Golden Tate's knee coming down before the ball crossed the goal line. One of my five least favorite players in the NFL. Haven't forgotten when he lined up Sean Lee! Might be a good contest to watch on the NFL Game Pass with condensed video, takes 35 minutes or less. Concerned that Atlanta will glide to the best record in the NFC.
Seattle vs Tennessee – Sweet to see the NFC team lose in the NFC overall race. Ok I won't lie, I'm not a fan of Seattle at all, so love seeing them get beat for the 2nd time thus far. Demarco had a really nice 75 yard romp for a TD. They had 195 yards on the ground. Mariota had a really solid statistical day to offset Wilson's 4 TD passes, completely void of a running game.
Green Bay vs Bengals – Romo was the analyst for this game. It's special to watch him be correct a high percentage of the time on what's coming from the defense and what the counter is or s/b by the offense. He yelled at Dalton that his man was open coming off the line in a crossing route. Dalton didn't see it and was sacked for not listening. Expected this to be a one sided game as the Bengals hadn't scored a TD in their first two games. Turned out to be a good game to watch. Cincy fired their OC to start the week. They came out strong and put up 21 first half points. With Bulaga & Bakhtiari out at the tackle spots, Rodgers was sacked six times in this contest. Aaron also threw a pick six in this one. Second half was a wild comeback and GB got the tying FG within the last minute of regulation. In OT, GB's defense stepped up and got the ball back to Rodgers who hit Geronimo Allison for 72 yards to set them up for the game winning FG, two plays later. Shame that the Packers won this one, as we can use all NFC contenders to lose outside the division games.
FINAL: The @packers win in OT! #GoPackGo#CINvsGB pic.twitter.com/Q8fV34I2Sa

— NFL (@NFL) September 24, 2017
Washington vs Raiders – Going into the 4th quarter this has been an all Redskins game. A game we naturally need to see our NFC East enemies lose. Frosts me that they get to play them at home, while we face the Raiders on the road. Cousins is having a terrific night and makes you wonder how the dopey management blew handling the efforts to get him signed to a long term deal. The Cowboys faithful should hope that Cousins moves on to another team after this season.