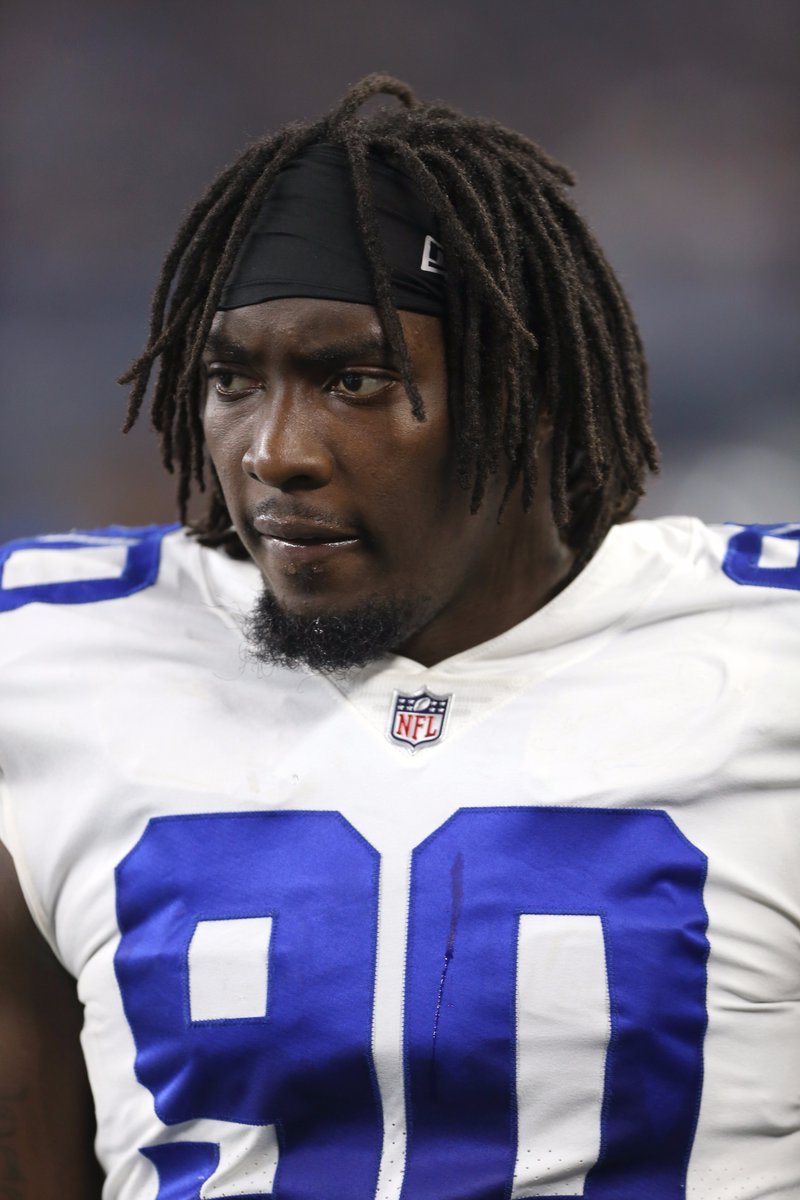 What a second half by Dak and Demarcus Lawrence!!!! This game, if you watched it, had the fans feeling they saw this game last week, only up in Denver. Video highlights are at the bottom in case you missed any of the action or if you just want to see the big plays one more time.
It actually appeared worse than the Denver game. Arizona was sharp coming out of the gate. At one point. Carson Palmer was 11 for 11 and 130 yards. That should give you an idea of how one sided things were. This was sandwiched around a Dallas three and out. Dallas got a real break following a nice tackle by Demontre Moore chasing down Palmer forcing Arizona to attempt a FG. Their kicker, Dawson pushed one right and it kept us in the game until we could get the offense going. This was a big moment in a game that was getting away from the Boys. Don't down play this miss!
After another three and out, it was our defense that started coming alive. On the following Arizona possession it was Xavier Woods who had a near interception on a blitz out of the slot, then he held a completion to just two yards, forcing a 3rd and long which Byron Jones had a pass break up (PBU). The Cowboys next possession saw the first positive plays highlighted by a thirty yard run, by Zeke. Minutes earlier, I had tweeted out that I was looking for our blocking FB to get in the action. Kept writing and tweeting the last week about going with 21 personnel to get another blocker in the hole. It happened to be the first running play with Keith Smith in at FB, who dug out one guy and Zeke cut right off that block for that sweet chunk of real estate. Unfortunately, the offense stalled with a bubble screen to Dez for a three yard loss then Tyrun getting flat out beat on an inside move for a sack of Dak.
Chris Jones pinned Arizona at their ten with the punt. Chris was a real weapon once again in this game, pinning them deep or not giving Peterson an opportunity with the directional kicks. Nice tackle on one punt by Kavon Frazier at the AZ seven. Not much is said about Jones but he's not merely kicking the ball, he's placing where needed, time after time. This is when the game turned. On first down, Sean Lee stuffed a run for a loss of two. Second down saw Jourdan Lewis close on a a pass in the flat holding it to a two yard gain. To this point we weren't getting any real pressure on Palmer, however, on this next play, Maliek Collins beat his man for the first sack of the night. Stuck deep in their own end and having to punt, set up Switzer for a nice twenty two yard return. This gave the offense the break they needed. It took a big third down completion by Dak, on a bootleg to Noah Brown for thirteen yards that set up a huge play. It may have only been thirteen yards and one stat on Brown's night, but it was a major moment for the Cowboys. Without the throw on the dead run by Dak, we settle for a FG and only inch along. On the next play, Dak ran the option, sticking the ball into Zeke, pulling it out and taking off for the goal line. Dak went airborne, did a flip and landed over the line to effectively square the score at 7-7. This was super play, number one, by Dak. The way things were going, Dak took it upon himself to get them on the board. A collective sigh of relief by all Cowboy fans, that we got back into the game just before the end of the first half!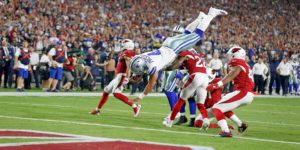 Arizona got the ball but on second down, Tyrone Crawford made his presence felt with his first sack of the season. That made Arians decide to run out the clock on the half. The second half we got the ball and were unable to move the ball again. The ensuing possession for Arizona was the resurgence of Demarcus Lawrence. On second down, he got his first sack of the night and that lead to a three and out for the Cards. The Cowboys started their next drive at the Arizona 46. Zeke ran off runs of 8, 3 & 20 yards to set up, the play of the game to this point. The next snap from the twenty, Dak threw a simple check down pass to Dez over the middle about six to eight yards down field. Dez pivoted and reversed course and ran a few yards put his head down and by sheer will and assists from Martin & Frederick the Cowboys took a 14-7 lead. See video clip of the highlights below …..
Three series later the Cardinals put a couple of big plays together and knotted the game at 14. We stalled again, then Lawrence again pressured Palmer inside the Arizona 10. It got the defense off the field. Dak was set up with good field position and he cashed that opportunity in. Dak was flushed out of the pocket to his right and found Brice Butler  behind the defender and he high pointed the ball for a 39 yard TD. Another huge play by Dak, who seemed to will the offense to success on this night.
Arizona ran off a 16 play drive but settled for a FG, to close the gap to 21-17 midway thru the 4th. After the kick off from the Dallas 25, Dak was under pressure, moved to his right and for a second appeared like he might run the ball, but he spotted Brice Butler downfield and ripped one that Butler hauled in for a 52 yard gain. At first it appeared that Butler wasn't touched down and had scored. But the Boys were in business in enemy territory again. Dak executed another read option and scampered for 7, followed by Zeke for another 7 yards. On first down, Zeke finished off the drive with a sweet 8 yard romp for the deciding points at 28-17 with 4:57 to go in the game.
On the next Arizona possession, Maliek, picked up his 2nd sack of the night on second down, followed by heavy pressure by Tank. A key change had been made in the 2nd half by Marinelli, where he went to a three man rush, two linebackers and six DB's and it made an enormous difference. They could man up, with two deep safeties and it actually gave the DL time to get after Palmer. While Dak was heating up and making plays in the 4th quarter, Palmer had an no completions on five throws in two series that pretty much was the difference. Palmer was under intense pressure in the 4th quarter.
Following Arizona's three and out, Dallas had one of their own. Arizona got the ball back again with a little over two minutes to go and down by 11. The closer, Tank Lawrence, said not on my watch and he sacked Palmer twice on their last possession.
The 2nd half and the fourth quarter in particular belonged to Dak & Demarcus Lawrence. Dak showed an unbelievable resilience, grit and determination. Arizona was making things difficult from the outset and Dak just powered through that and the Cardinals defense to will the team to victory. Demarcus "Tank" Lawrence was a one man wrecking crew, pressuring or sacking Palmer on almost everyone one of his snaps. That's how it looked as the game wore on.
Dez's TD run was incredible determination and could easily be the play of the game. But his QB's ability to move outside the pocket was critical to two amazing plays to Butler. For regular readers, I mentioned one of my requirements to victory and that's the need for your QB to make a minimum of five key plays. Dak met the requirements and it moved the Boys to 2-1. Defensively, Lawrence was incredible and you would think you saw another Demarcus out there on the field. You have to add Maliek Collins into a top performer this day. Also include two of the rookies, Xavier Woods and Jourdan Lewis. Without watching the All 22 its hard to give any full gradings, but the two of them just made plays out there and nearly combined on an interception. Brice Butler may have only had two receptions, but they were game changers, one for a TD and the other was inches from being another one, but a chunk play of 52 yards will have long lasting effect to stretch a few defenses out there.
.@Dak was throwing DEEP.
And the @DallasCowboys took it 28-17.

Full Game Highlights from #DALvsAZ! ??? pic.twitter.com/lRMG7gZ9un

— NFL (@NFL) September 26, 2017