Maybe it takes a rough evaluation in last weeks story to wake up the offense? I'm all for anything that brings out the best in the Boys. We all saw all the best of the Cowboys offense on Sunday. All the things we beg for we saw from the offense on Sunday. The ran Zeke often and , they they used Zeke in the passing game. We saw Dak finally taking and completing passes for chunk yardage. I've written several times about Dak making the box the only window he sees or throws in. Not so against the Lions, he was taking vertical shots.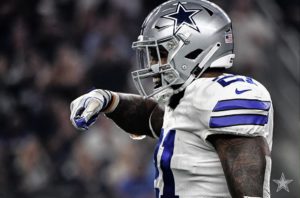 The Cowboys rode their horse, Zeke Elliott to victory with his 152 yards on the ground and four receptions for 88 yards and a TD. Two of those catches were especially sweet. The first was the screen pass, with great blocking for a TD. Who knew Joe Looney had wheels on that screen pass? The second was the game winner as he pulled in an over the shoulder reception on a beautiful ball by Dak. It was also one of the best plays by Dak, I've seen him make. He knew that he had Zeke, 1 on 1 on a linebacker. The throw was terrific, as was the catch, but the really impressive part was Dak, looked off and froze the safety preventing him from getting over and breaking up the play. That was a veteran move and one we don't see often from him. Props to Dak for his performance in Sunday's game!
Performances like this have been few and far between over the last dozen games by Dak and this offense. You can ask what was the difference in this game versus those last dozen? To me, he moved his feet really well, was in balance far more often than he had been and his drops were at good depths. He moved far better in the pocket than he had in quite sometime. Its good to know he can do that, but it doesn't come naturally for him, which is a concern. Can Kellen Moore ingrain in him, how to move in the pocket and repeat this? We can only hope!
What makes this offense go? Best thing to do is find ways to get, arguably the best running back in the game rolling. Clearly, the fans have been clamoring for getting Zeke more involved in the passing game for a long time. The vertical route that Zeke ran, was the first vertical effort to him that I can recall and this is his third season. With Zeke's speed, I'm taking those shots, as often as possible. When I went to Oxnard last year, no one, could cover Zeke. When I saw the route it developing, I yelled, "finally"! They started things out offensively by spreading the Lions out and going for those chunk plays.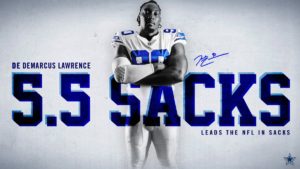 The Lions came in struggling to stop the run, which was tailored made for what ails this Cowboy team. On any number of plays, Zeke wasn't touched for the first five yards. He's showing great patience in the process. There also wasn't much to be concerned about in the passing game. With Zeke hitting them for those nice runs of eight plus yards, they had to respect the run, which opened up the passing game. Hitting on throws that actually were downfield 20 yards or more keeps them from loading the box. Made things nice and easy for the offense. That being said, the Cowboys didn't control the game with any authority and needed that final drive to get in position to hit the game winning FG. As good as it seemed at first, as I sat and thought about it, I wasn't jacked up as much as I'm accustomed to. How could things be that perfect offensively with Zeke breaking 200 all purpose yards and yet be on the cusp of failing? We played a team that's struggled, is now 1-3, with a defense that couldn't stop much of anything and we had to be thankful that we pulled out the game as the clock ran out. A wins a win in the NFL and for that we all have to be pleased. Too early to be in games that wins are desperately needed. I'm just concerned that they played a near flawless game offensively and the game still wasn't in our hands. Type of game I'd expect to hear the late, great Chick Hearn comment, that we can "put this one in the refrigerator, the door's closed, the lights are out, the eggs are cooling, the butter's getting hard and the jello's jiggling!" Throw in the fact that Stafford was under siege in the 2nd half, with Lawrence having three sacks and for a few minutes, we were on the outside of victory?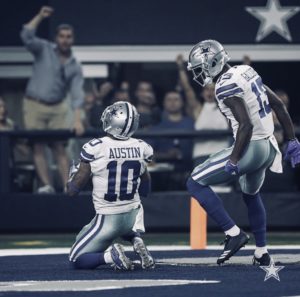 This week we move on to play the Texans, where we'll face the two headed monsters on defense, JJ Watt and Clowney. The Texans are a desperate team going into this contest and it's a concern. They're basically playing for their season, so this will not be a walk in the park. Defensively, they'll be coming after our inconsistent offense, that too is a concern. The Cowboys appear to be the better team, but they're yet to show consistency, that too remains a concern. Will the Cowboys spread the Texans out like they did last week or because they're facing a better defense in the Texans, will they pull back the reins and only work that 12-15 yard box, that I speak of? Or will they continue to go vertical, which is against their DNA, yet will players, like Austin, Thompson & Elliott, they have top line speed. Even newly resigned Brice Butler is a good deep threat. Will they repeat the vertical throws, or will Dak revert back to his old ways.
This will be an interesting outcome. Should the Cowboys win this battle then they get their nose above .500 and at least retain a share of first place, should Philly win. If they don't get the "W", they get to face a tough Jacksonville defense, which will be a genuine test for this offense. That's a game that will tell us all, whether or not they are on the upswing or a team that isn't going to be anything special. This game is a crucial one for the Cowboys to get the win and they have to know it. If the Cowboys D can corral Deshaun and limit their running game, then I like our chances. Will need some pressure from others beside Demarcus and everyone rallying to the ball. Would be nice to get a few turnovers for a change. Its as though we forget that's an option. Will the better team win or is the desperation of the Texans too much for Dallas? I like Dallas for the win, but I'm deeply concerned until I see some positive consistency.